The Digital Preservation Coalition (DPC) is delighted to share its new program of activities for its 20th anniversary year.
Focused on the priority digital preservation topics Members have specified through the annual Connecting the Bits consultation process, and through the Australasia and Asia-Pacific Stakeholder Group, the 2021-2022 prospectus includes publications, training, webinars, specialist briefings, as well as a range of exciting new activities and resources.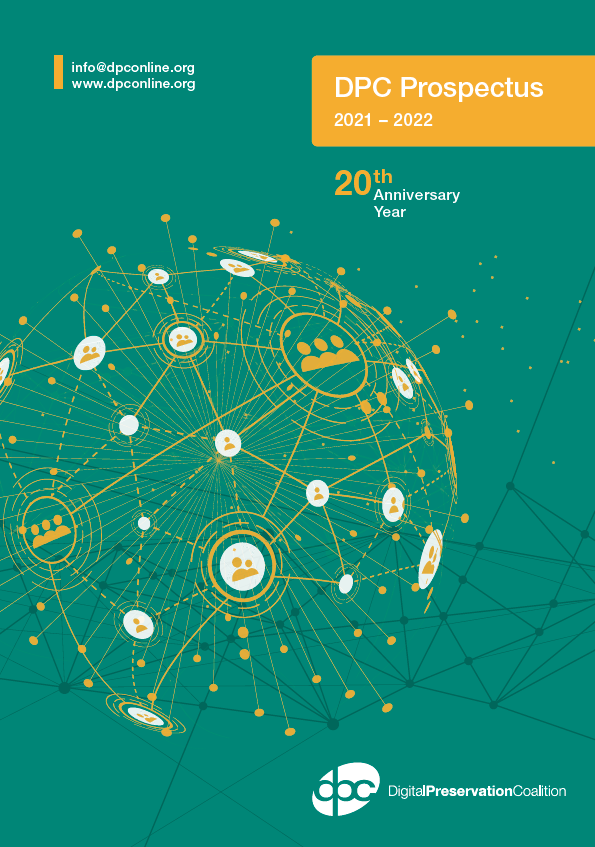 "This year is a special one for us," says William Kilbride, Executive Director of the DPC. "The Digital Preservation Coalition was launched in February 2002 as a collaboration between a number of agencies operating in the UK and Ireland. Now, 20 years later, the DPC is an international charitable foundation with a membership of more than 120 organizations and present in 5 continents. So, as well as our usual activities, we're inviting the digital preservation community to join in a range of other exciting activities as part of a celebration of twenty years of the Coalition!"
Highlights of this commemorative year include a 20th anniversary party in February 2022, as well as the launch of a new strategic plan and the celebration of the Digital Preservation Awards, both of which will take place as the DPC hosts the Eighteenth International Conference on Digital Preservation, iPRES 2022 in Glasgow.
With a global membership, the DPC's program of activities is accessible across multiple time zones and geographies.
The DPC shares its extensive catalogue of authoritative resources widely through its website, including reports, live streams and catch-up recordings of specialist briefing days.
Sarah Middleton, Head of Advocacy and Community Engagement for the DPC, explains why accessibility is such a key consideration in the delivery of the DPC's activities:
"With Members around the world, and so many still working at home, it is critical that we enable consistent access to our activities and resources. We will continue to hold events online, and in different time zones, so that as many people as possible can attend and receive uniform levels of support, whatever their geography."
"We know that digital preservation is a global challenge: so we will also continue to improve accessibility to key resources, providing more materials in a range of languages and also expanding multi-lingual support offered at events, through translation and consultation with the global digital preservation community."
A key part of the DPC's online offering is training: through the Novice to Know-How learning pathway funded by the UK National Archives and a new set of training courses developed directly in response to Members' needs. DPC training aims to equip anyone working in digital preservation with the skills required to address a broad range of digital preservation areas including Web Archiving, Risk Management, Maturity Modelling, IT Basics for Archivists/Librarians and Writing Digital Preservation Policy.
A program of briefing days will cater for different time zones, providing insight and advice on 'Social Media Preservation,' 'Preserving Geospatial Data' and 'Digital Preservation and Cyber Security.' Two new series of webinars will address 'Emulation' and 'Environmental Issues for Digital Preservation', and a range of task forces and working parties will continue to provide focused peer support on specialized areas of digital preservation.
Following the success of the 'COW Tow: Workflow Development and Sharing Workshop' and accompanying Workflow Webinars, this series will make a return to the program this year, enabling Members to exchange experiences and 'what's worked' for various parts of the digital preservation lifecycle.
The widely read series of authoritative but accessible Technology Watch Series will continue investigations into the latest topical and technical issues encountered by DPC Members, with a report on 'Preserving 3D models' planned for release in 2021, followed by titles including 'Digital Forensics and Preservation' and an update to the first edition of 'Preserving Geospatial Data.'
With a second version released in 2021, the DPC will invite Members to return annually to the Rapid Assessment Model (DPC RAM); a maturity modelling tool which enables rapid benchmarking of an organization's digital preservation capability whilst remaining agnostic to solutions and strategy. Members' RAM submissions will be collated, aggregated and offered as benchmarking information, for use in internal advocacy or as evidence to include within a business case.
World Digital Preservation Day will take place on Thursday 4th November 2021. With the theme 'Breaking Down Barriers,' the day will bring together individuals and institutions from across the world, with Member blogs, publications and online activities to showcase the importance of digital preservation and the work of the digital preservation community.
The DPC's own contribution to World Digital Preservation Day will be a new edition of the 'BitList of Digitally Endangered Species.', identifying digital materials the community thinks are most at risk as well as those which risk has reduced thanks to digital preservation efforts. The new edition will review the status of existing entries and will incorporate new additions.
Members of the Coalition receive free-of-charge priority access to all DPC events and publications, and the program is overseen by Full Members who commission research tied directly to their strategic needs.
An international charitable foundation and advocate for digital preservation, the Coalition helps its members around the world to deliver resilient long-term access to digital content and services through community engagement, targeted advocacy work, training and workforce development, capacity building, good practice and standards, and through good management and governance. Its vision is a secure digital legacy.