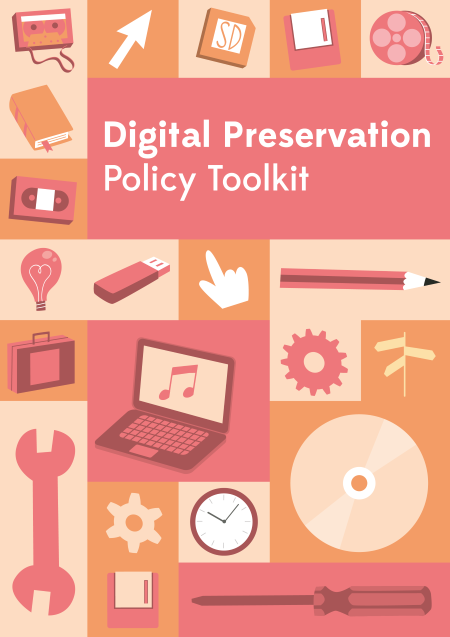 DPC Members only: please login to access all of the sections below.
This Toolkit provides information to assist in the construction of a digital preservation policy. It will help guide you from initial research and preparation phases, to drafting your policy, gathering feedback and, finally, polishing and communicating the finished policy.
There is no one-size-fits-all formula for writing a digital preservation policy. How you write your policy will depend on your own context and will need to take account of the intended audience and purpose, the drivers within your organization and its digital preservation maturity. This Toolkit seeks to guide you through a process which will help you to understand this organizational context, and then communicate a policy that is fully relevant to it.
An overview and introduction to preservation policies and this toolkit.
Use this to find out more about the toolkit and how to apply it.

Experience pooled from within the DPC on what makes a good (and bad) policy.
Use this to set off in the right direction for creating your new policy.

A step by step guide to the researching, drafting, establishing and sustaining a preservation policy.
Use this to plan out how you will develop and establish your new policy.

A detailed guide for building a preservation policy, with lots of references to existing policies.
Use this to establish the structure of your policy and to guide the development of its content.

An exemplar policy that was developed alongside this Toolkit, and a details of how it was created.
Use this to learn from the experiences of another organisation.

A list of additional guidance materials relating to preservation policies.
Use this as a reference point for further reading on the subject.
The Digital Preservation Policy Toolkit was delivered through the collaborative efforts of Stephen Gray, Emma Hancox, Debra Hiom, Hannah Lowery and Julian Warren from the University of Bristol; William Kilbride, Sarah Middleton, Jenny Mitcham and Paul Wheatley from the Digital Preservation Coalition; and invited experts Adrian Brown (Parliamentary Archives), Neil Grindley (Jisc), Edith Halvarsson (Bodleian Libraries, University of Oxford) and Natalie Harrower (Digital Repository Ireland).
Thanks are owed to the University of Bristol for funding and hosting the Toolkit Book Sprint, and in particular for feeding the Sprint team!
Thanks go to Joost van der Nat at DDHN for very kindly translating the latest policy work at the DDHN for us, which was fed into the melting pot of information from which we built the Toolkit.
Thanks to Tom Woolley for the lovely illustrations - it was great to work with Tom again, after we last worked together on the Digital Preservation Business Case Toolkit as part of the SPRUCE Project.
Thanks go to Martin Klein and Herbert Van der Sompel for advice on using Robust Links and to Colin Armstrong for implementing them.
And finally, a big thank you goes out to all the authors of existing resources on this subject which we have attempted to distill, enhance and build into this Toolkit.
Please note that the Preservation Policy Toolkit is made available for DPC Members only and is not CC-BY-NC.