This guide to computational access was created collaboratively by Leontien Talboom (who received support from the Software Sustainability Institute to carry out this work, the Digital Preservation Coalition, and invited experts from across the community.
The development of this guide was informed by an initial expert workshop held online in February 2022. Invited experts were encouraged to share their thoughts on the definitions of key terms related to computational access and answer questions such as 'what are the strengths, risks, opportunities, and barriers of computational access for digital archives?', 'what practical steps can practitioners take to move forward?' and 'what are the key resources people should access in order to find out more?'. The discussion was conducted across time zones and fuelled by cookies and cake. This workshop helped firm up the key elements that would be needed within the guide, and engagement with this group of experts continued as the resource was developed.
Also key to the evolution of this guide was an online launch event held on 6 July 2022. Lowering the Barriers to Computational Access for Digital Archivists : a launch event was intended not only to share this work with the community for the first time, but also to gather a range of helpful case studies that could be made available to further illustrate the online guide.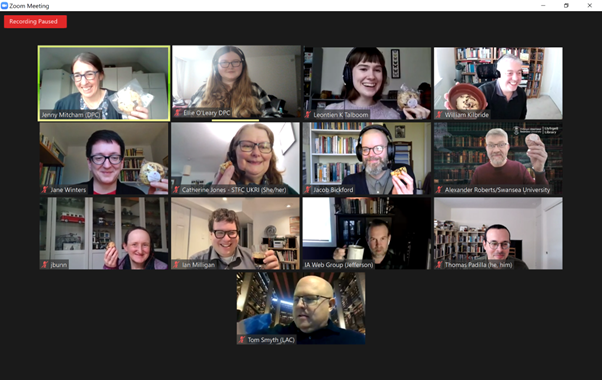 Attendees at the expert workshop on computational access held online in February 2022.
This guide was written by Leontien Talboom with contributions from Jacob Bickford, Jenny Bunn and Jenny Mitcham.
Our thanks go to the experts who contributed to the workshop and provided helpful comments on earlier drafts of this text:
Jefferson Bailey, Internet Archive

Jacob Bickford, The National Archives (UK)

Jenny Bunn, The National Archives (UK)

Catherine Jones, STFC

William Kilbride, Digital Preservation Coalition

Ian Milligan, University of Waterloo

Thomas Padilla, Center for Research Libraries

Alexander Roberts, University of Swansea

Tom J. Smyth, Library and Archives Canada

Jane Winters, University of London
Thanks also go to those who provided case studies on this topic at our online launch event:
Sarah Ames, National Library of Scotland

Jefferson Bailey, Internet Archive

Jacob Bickford, The National Archives (UK)

Ryan Dubnicek, HathiTrust Research Center, University of Illinois Urbana-Champaign

Glen Layne-Worthey, HathiTrust Research Center, University of Illinois Urbana-Champaign

Ian Milligan, University of Waterloo

Tim Sherratt, University of Canberra