This section provides an overview and introduction to preservation policies and this toolkit. Use this to find out more about the toolkit and how to apply it.
What is a Digital Preservation Policy?
A digital preservation policy expresses a set of principles which will guide an organization in the way it approaches preservation activities and responsibilities. A digital preservation policy should relate to organizational objectives and other policies (see Figure 1); set out, and be easily understood by, its audience; should identify roles, responsibilities and scope; and should be reviewed regularly in line with other organizational documentation.
While an institutional strategy is typically a long-term plan for the achievement of its vision and goals, many organizations do refer to their policy document as their strategy. Strategy and policy are complementary, but typically try to achieve different things. In reality, the terms are often used interchangeably.
The principles which underpin a policy are high-level guidelines which an organization has agreed upon. Practical day-to-day implementation of principles is generally described in separate, more detailed 'procedures' and 'process' documentation. The latter go into technical detail and are living documents which are regularly updated.
The purpose of a policy is to support consistent decision making about digital preservation over time (and across the organization). A policy can be either aspirational or describe the current state of play.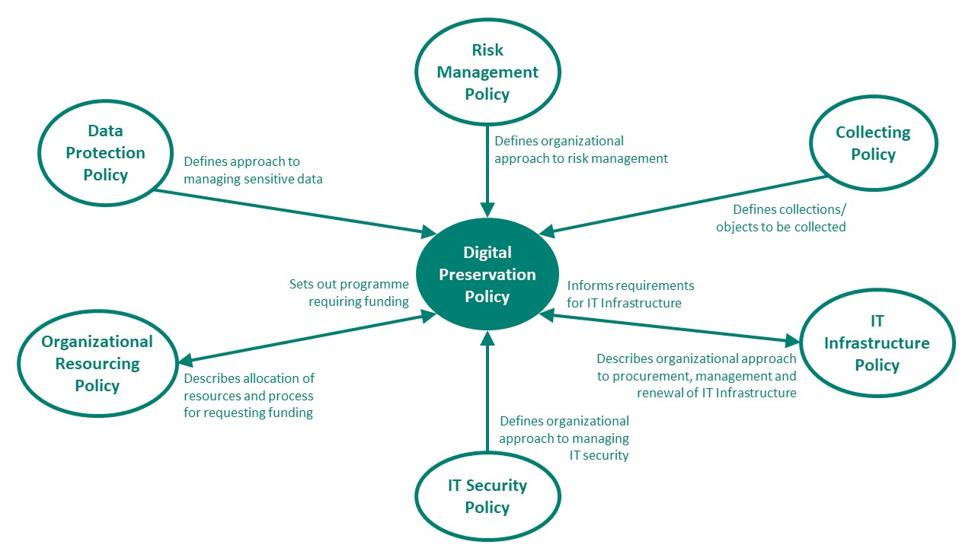 Figure 1: Possible relationships between a Digital Preservation Policy and other organizational policies (the policies included are not intended to be comprehensive).
Why do you need a Digital Preservation Policy?
Establishing a policy can be an important early step in developing a new digital preservation capability or formalizing and enhancing a well-established one. A policy does not just guide digital preservation activity, it can also act as a powerful internal advocacy tool.
Some of the benefits of establishing a digital preservation policy are listed below:
Provides a mandate for preservation and gives clarity on its scope and aims;
Guides staff in their activities relating to digital preservation and informs lower-level guidance and procedures;
Supports effective decision making;
Ensures digital preservation activity across an organization is consistent and efficient;
Helps to raise awareness of digital preservation across an organization;
Acts as a driver to establish buy-in from senior management;
Solidifies commitment of the institution/organization to deliver digital preservation;
Helps support a business case for further digital preservation activities and capital investments, such as a digital repository;
A published preservation policy can provide an indication of trustworthiness to those outside an organization.
Who is this Toolkit for?
This Toolkit is for anyone who would like to create a policy focused on digital preservation. It is targeted at all those working with digital materials who, for whatever reason, have chosen to, or are required to, create a policy to support digital preservation activities.
How was this Toolkit created?
The idea of creating a Digital Preservation Policy Toolkit came from the University of Bristol's request for help with creating their own organizational digital preservation policy. Rather than creating just one policy for one member, the DPC team decided to create a Preservation Policy Toolkit which would become available for all Coalition members. The Toolkit would be tested 'on the fly' whilst it was being developed, by staff from Bristol who would create a specific policy for their institution and feed back comments and suggestions to help refine the Toolkit.
The structure and content of the Toolkit was created in a three-day workshop that followed the format of a Book Sprint. The Sprint drew on an array of experience and resources that were gained throughout the SPRUCE Project as well as from the collaborative development of resources including the Digital Preservation Handbook and Executive Guide on Digital Preservation.
Each member of the Sprint team started by offering characteristics of their favourite digital preservation policies, and the example policies and discussion that came out of this session led to a clear direction of travel for the Toolkit. Content was created using successive iterations of brainstorming, writing down ideas, fleshing out text and multiple peer review in order to reach the end result. Google Drive proved to be an effective collaborative platform to develop the content, enabling multiple authors to work within the same document and the comment and feedback loop to occur rapidly. This blog post provides a more detailed description of the event.