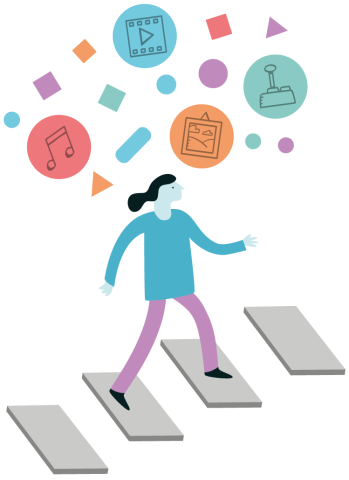 An outline of the the main steps to follow in constructing your business case including research, drafting, validation and delivery. Use this to plan out how you will develop your proposal.
1) Establish a foundation for your business case
Having the right foundation in place from which to launch a business case can be critical, especially if your organization is relatively new to digital preservation. The first section of this toolkit, Understand your digital preservation readiness, provides a detailed discussion of actions that may be useful to undertake before developing a business case, including:
Modeling your digital preservation maturity levels

Gaining an awareness of useful context and previous digital preservation track record

Understanding your staffing and skill levels

Developing a digital preservation policy

Establishing a digital preservation steering group
2) Perform pre-business case research and planning
In order for your business case to be successful, it is important to gather some key information about your organization and its stakeholders before you start writing. Initially you could establish expectations for the business case itself by:
Finding someone who has submitted successful business cases at your organization and learning from their experience

Understanding how much research/preparation is appropriate for this business case

Understanding the organization's expectations for a business case

Establishing whether the organization expects you to use a specific template for your business case?

Understanding the format (text, diagrams, tables, presentations) and extent (one-pager, 30 pager, elevator pitch, 10 minute presentations etc.) for different audiences.

Identifying organizational allies who can support the research and development of your business case. For example see "Digital Preservation and Enterprise Architecture Collaboration at the University of Melbourne" page 155.
3) Understand your organizational context
Understanding the context within which your business case will function is an essential part of preparing to develop the case itself. It is important to factor in the many different aspects of your organization that your business case will depend on. A PESTLE (Political, Economic, Social, Technological, Environmental, and Legal) analysis is one way to structure and guide an assessment of these contextual issues but some critical elements to consider are discussed in more detail below.
4) Align with your organization's mission and strategy
Any business case should further the broader aims of the organization, which makes it essential that you align your proposal with current strategic objectives. Typically these will be described in an organizational strategy or policy, but also perhaps in lower level departmental or sectoral strategic plans. There may also be a wider organizational mission that should be considered. Your business plan stands a much better chance of success if you can clearly demonstrate how it will advance these organizational objectives either directly, or by providing enabling actions that will provide the foundation for objectives to be achieved. So ensure you understand your organization's objectives and ideally gain a feel for the decision makers opinion on current priorities.
Some organizations will have established policy frameworks which can define constraints within which operations are conducted. Alignment with a digital preservation policy may prove beneficial (see Understand your digital preservation readiness).
Growing concerns about the impact of our actions on the environment and the climate make it especially important to consider how the activities outlined within a business case might have an ecological impact. Most organizations will have an environmental policy which should be considered carefully in relation to your business case.
5) Identify your audience
Before you start writing your business case, you need to determine your audience(s) so that you can adopt the right tone and language, as well as being prepared with the right background knowledge. This will ensure that your document is impactful. Consider the following: which organizations, departments or individuals will assess your business case? Which parts of the organization (like teams or committees) will be affected by it, and to what extent? By identifying the people to whom you are presenting your business case, you will gain a better understanding of your audience and their priorities. Think about who will be evaluating your business case or making the decision to implement your proposal, even if they are not a part of your organization. These external stakeholders might have different needs and expectations. Other practical tips include:
Network and find a champion for your business case amongst the decision-makers

Be mindful of staff turnover - make the most of time spent courting champions, and don't rely too much on one person

Be aware of your organization's appetite for risk, and don't over-promise.

Identify "hooks" that may play well to key stakeholders, e.g. avoiding reputational risks or facilitating a favored project. And at the same time avoid topics or arguments that may not play well with key stakeholders.
6) Choose the right moment to develop and submit your business case
Choosing the right time to develop and submit a Business Case can be crucial in achieving success, aligning with organizational processes, avoiding distractions and maximizing the potential support for building your case.
The business case should not come as a surprise to anyone and stakeholders should ideally have been brought on-board with key elements of the proposal as much as possible before they see the detail.
There may be constraints on when you can submit a business case within your organization's planning and funding cycles. If there is insufficient funding left in this cycle, then it may, for example, be more realistic to delay a business case until the next funding year. Some organizations have specific cycles and deadlines for submitting business cases on a quarterly or annual basis.
There may be optimum times for building a Business Case, such as when there is better availability of your business analyst support staff and other stakeholders who can make a useful contribution.
Avoiding periods of busy, or peak activity within your organization could be important. There may be periods of organizational downtime, for example outside term times at an academic institution. Staff turnover might leave critical posts empty or lead to the loss of critical champions for your business case.
7) Develop a realistic budget
Decision-makers will want to know how much money you will need to realize your plans. It is crucial you provide them with a clear overview of all costs involved, including staffing, training, procurement, maintenance, and development. Make sure you have an idea of available budgets before you start with your business case, for example by looking at previous examples for similar activities or projects within your organization. Consider the following questions:
Does funding work on a project basis or can a new and permanent funding stream be established?

Which components of the project will your organization provide funding for?

If your organization has any guidelines or constraints on levels of contingency etc., it is vital that you keep to these.

Consider breaking your proposal into separate phases, each with clearly defined objectives and success criteria if you think that will be more acceptable to your organization than making a significant one-off commitment to fund a single large proposal.
8) Draft your business case
The roles and responsibilities for writing the business case should be clear to everyone across the organization. This may be straightforward for a small organization, but may involve more people as the size and scale of the proposal increases. Prior to embarking on the full business case, options should be explored to establish whether there is scope for a pre-business case to be presented without detailed costings and other time-consuming content being included. This 'concept document' can be used to test the organization's appetite for a proposal (focusing on a SWOT analysis, strategic fit, need and viability) to make sure the time invested in developing a business case is not wasted.
When it has been established that the full business case is required, the sponsor of the proposal (ideally someone as senior as possible in the organization) should authorize commencement. Work should then begin to populate the most appropriate template with well-written, clear and focused content.
By the time writing starts, the key facts, evidence, costs, benefits, value, impact and other detailed areas of the proposal should all have been established. But it may be appropriate for the designated lead author to ask for specialist input from other key people (e.g. IT, finance, HR, third-party providers, technical writers) to ensure that the content and language is accurate and effective. See the section "Template for building a business case" for more help with the detailed content of your business case.
The document will almost certainly benefit from being checked by at least one person who can objectively assess the proposal without confirmation bias, especially if they have prior experience of assessing other business cases. Authors should approach the creation of the proposal with a flexible mindset and be open to ideas and changes to content and structure as the proposal comes together. Independent advice and feedback on your business case might be especially valuable. If possible seek guidance from the Digital Preservation Coalition and/or your peers at other organizations.
In many instances, organizations may prefer to initially respond to a summary pitch (often a slide deck) that represents the fuller proposal. The quality, clarity and persuasiveness of this summary is a critical component in establishing the value of the idea. If the purpose of the pitch is to provide a decision-making group with a foundation for discussion on the merits of the idea, it is vital that they start that discussion with positive feelings about the effort that has gone into drafting the proposal.