Julie McCormack is Senior Manager for Government Recordkeeping at Public Record Office Victoria, Australia
---
Public Record Office Victoria in Australia (PROV) is pleased to announce the completion of our Digital Archive Program, replacing our entire archival management and digital preservation environment that had been in place since 2005. This program represents a key initiative of our Victorian Electronic Records Strategy (VERS) to ensure continuous access to complete, authentic and meaningful digital records now and into the future.
Background
The Public Records Act 1973 requires PROV to select public records for permanent preservation as State Archives. As the archive of the State Government of Victoria, we hold over 600,000 digital record objects and around 100kms of hardcopy records created from the 1830s to the present day. Providing access to these records is a key part of PROV's role, to illuminate our past so we as a community can better understand the present.
Our repository of more than 100km of records with one of our most famous items, the 1891 Women's Suffrage 'Monster Petition', front and centre. VPRS 3253/P0000, Women's Suffrage Petition 1891.
Our archival management and online systems are integral to providing ongoing preservation and access. To ensure we could continue to meet our obligations into the future, an overhaul of our old systems was needed.
Program work began in 2015. But before commencing the build of our new systems we took the opportunity to review our archival control and preservation model, the first major rethink in a generation. Using the philosophy of "How can we do things better?" we aimed to have our conceptual approach supported by technology, rather than the other way around, i.e. our description, preservation and access requirements would be central to the new system design.
As a result of this ground work, we can describe records and their context, regardless of medium, within the same conceptual framework making them accessible via fully integrated preservation systems.
What we've built
The program saw the complete redevelopment of all PROV archival management, storage and access systems. In particular we have built and implemented:
New Digital Archive infrastructure capable of preserving and supporting access to modern digital records
A revised Archival Control Model (ACM) to enhance our records description practice
A new archival management system to support the new ACM
A new secondary asset management system for faster access to digitised records
A new warehouse management system for our physical collection
An updated online catalogue
Enhanced record ordering features and services including an improved request for digitisation process.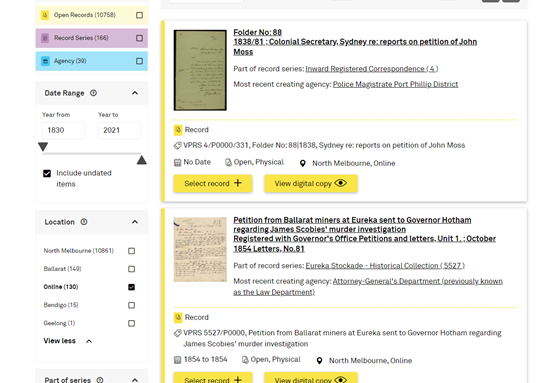 Our updated online catalogue now includes thumbnails for digitised items making online research and access a lot easier.
What this means for our users
Faster ingest times for digital records transfers, increasing ingest from hundreds of records per day to several thousand per day

The ability to transfer larger digital file sizes and a broader range of file formats, plus the ability to transfer our next generation VERS 3 VEOs.

Enhanced descriptions of records in the PROV catalogue, facilitating searching and identifying records of interest via the online catalogue

Faster access to digital content via the online catalogue

New digital content with more than 25,000 new digital images released

Enhanced online search and order functionality including:

Viewing thumbnails as you search making digital records easier to find and download

Filtering search results by multiple options (date, series, keyword) concurrently

Selecting and ordering records as you search.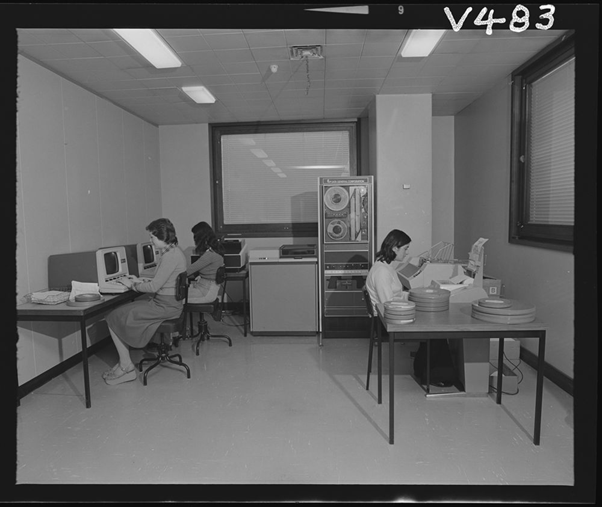 Among the 25,000 new images are photographs from the Education Department's Publications Branch such as this one of three women in a computer lab with a Data General Corporation Processor, c1970s. PROV VPRS 14517/P0001/51,V483.
Now that we have the new systems in place we are keen to advance our digital transfer program by developing creative and innovative solutions to capture and preserve records not previously possible, and position the PROV Digital Archive as a trusted digital repository for government information.
Not only does our new Digital Archive enhance our digital preservation capability, it aligns our preservation goals with the digital strategy of the Victorian Government; supporting the digital workplace, service delivery, data sharing, release and access to government information by citizens.
Finally we are hopeful our Digital Archive will benefit all Victorians; allowing individuals and communities to research, reconnect, and preserve identity and memory and to facilitate recovery, redress, and reconciliation.
Visit prov.vic.gov.au to learn more about PROV and explore our new online systems.