Eng Sengsavang is Reference Archivist for United Nations Educational, Scientific and Cultural Organization (UNESCO) in Paris, France
---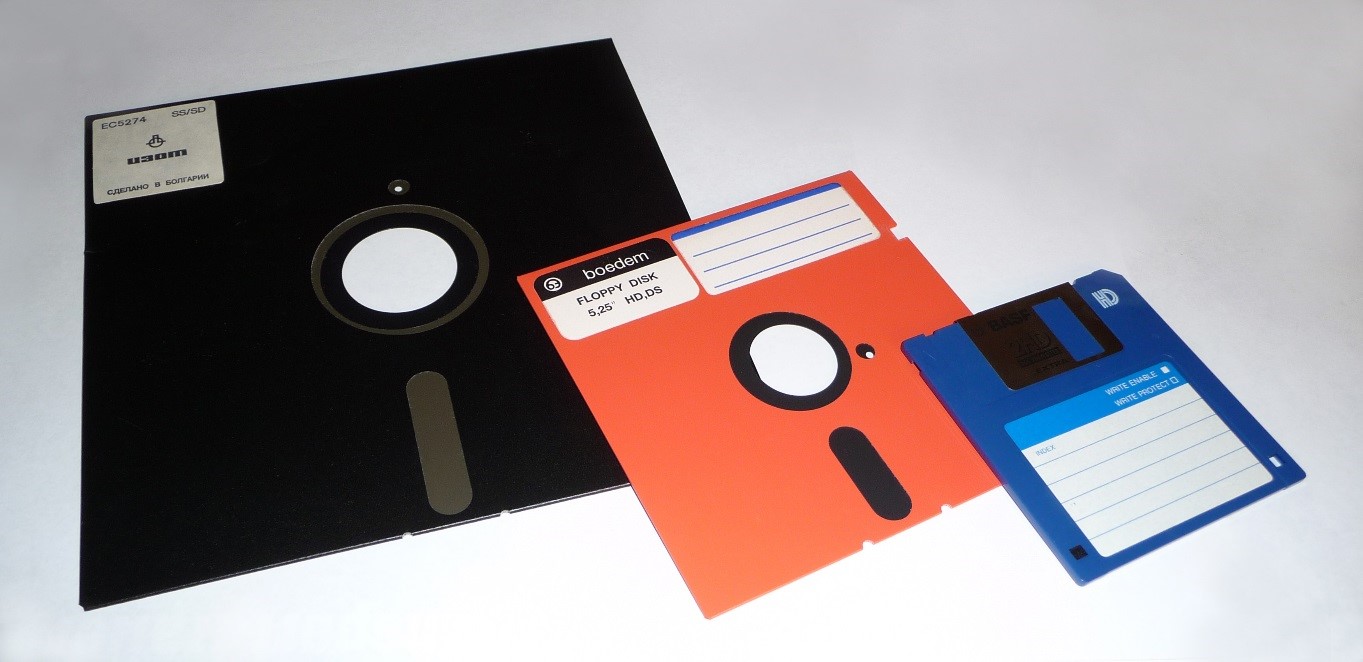 Credit: George Chernilevsky: https://commons.wikimedia.org/wiki/File:Floppy_disk_2009_G1.jpg#/media/File:Floppy_disk_2009_G1.jpg
My experience of technology is inevitably historical: as a child of the 80s, an adolescent of the 90s, and an adult into the 2000s, I experienced first-hand the paradigm shift from analogue to digital technologies, alongside the continual accrual of different eras of technology co-existing simultaneously. Of course, not only mine, but every person's experience of technology is necessarily historical: throughout our lives, we experience on a deeply personal and at the same time macro level the mutations of technologies that seem to gather speed over time, new technologies continually appearing and old ones disappearing or threatening to disappear, and being replaced or persisting in ways both predictable and unexpected.
Digital preservation is a young science, significantly younger than the advent of digital technology itself. But even before digital preservation emerged in more formal ways as a science and an ethos, there is no doubt that archivists and others have been thinking and worrying about preservation for a long time, particularly during moments when a given technology achieves popularization and becomes part of quotidian life within organizations.
Considering this year's theme for World Digital Preservation Day of "at-risk digital materials," my instinct is not to look forward into the future at preservation challenges posed by current technologies (for instance, a recent list-serv discussion about preserving Instagram stories; a colleague alerting me to the mass of video footage produced daily by drones, to take two examples). For me, the theme immediately conjures up images of media from the early era of personal computers (1970s to 1990s), before concepts such as migration and emulation existed as strategies within a discipline known as digital preservation. This period is potentially a digital preservation black hole rife with at-risk digital materials.
The digital media born between the beginning of the computer era and the mid-1990s and beyond, when digital preservation began to emerge as a set of formalized concepts, is doubly at risk because they represent the oldest generation of digital media in terms of both age and therefore technological obsolescence, and because migration and other digital preservation strategies had not yet become systematic practice. Much of the content on floppy disks and old databases, for instance, has likely been lost, at least in its electronic form. In those early decades, anything of importance or finality continued to be printed, filed, and ultimately archived in paper form. This is still happening even in 2019. As a result, the paper record of a digital original is often also the record of an event: the essay handed in, the paper presented, the report disseminated - and sometimes only the paper copy has survived. Drafts or internal documents in electronic form were likely not printed at all, or if they were printed, they may not have been set aside for archiving, leaving potential lacunae in the record.[1]
Efforts such as the UBC Project (Preservation of the Integrity of Electronic Records, 1994-1997), the report of the Research Library Group's Task Force on Archiving of Digital Information, Preserving Digital Information (1996), and OAIS (first published in 2002) were at the forefront of a sea-change that is still happening, and also symptomatic of a growing collective awareness of at-risk digital media.
In 2013, I was hired by a First Nations government to work alongside their staff archaeologist and a coordinator in their Treaty, Lands and Resources division to process a large collection of archival records. As part of that project, I worked with data that had been extracted from an old version of Filemaker Pro, which was eventually to be migrated back into a new database. Eventually, another Filemaker Pro database housing the library catalogue - an important resource for the community - was also to be migrated into the new archival database.
My work term ended before the implementation phase began, and another student archivist implemented the new database that had been selected and agreed upon. The new archivist and I continued to stay in touch until I moved out of the country, and I never found out for certain whether the Filemaker Pro library catalogue had been migrated. I am almost certain it was, given the careful planning and execution of the staff involved, and the oversight of the coordinator and director of the department. Nevertheless, I took away a feeling of how tenuous the survival of the information within the database was, and I know this feeling was shared by other colleagues. The spectre of technological obsolescence is never far even in the best of circumstances, but digital preservation is beginning to take us out of the dark ages, arming us with the tools and concepts to minimize the risks.
---
[1] Ronald W. Zweig, "Electronically Generated Records and Twentieth Century History,"Computers and the Humanities 27, no. 2 (1993): 73–83, https://doi.org/10.2307/ 30204478, in Baucom, Erin, "A Brief History of Digital Preservation" (2019).Mansfield Library Faculty Publications. 31. https://scholarworks.umt.edu/mlpubs/31