Andrea Goethals is the Manager of Digital Preservation at the National Library of New Zealand
---
This post is about the adjustments our digital preservation team at the National Library of New Zealand made during and after our Covid-19 lockdown.
Before Covid-19, with a couple exceptions, most of the Preservation Research & Consultancy (PRC) team came into the Library building in Wellington to work five days a week. One of us already worked remotely full-time from Auckland, and occasionally a few people worked from home, on the order of a day every other week.
Back in early March 2020, our team had been working on our BCP (business continuity plan) as part of our routine tasks. The BCP had different scenarios to plan for, for example, losing access to our building, which called for working from home as our strategy. We decided to test out our team's ability to work from home one day - Friday March 20. As it got closer to our test day, the news about Covid-19 started increasing around us. On March 18 the entire Library was told to work from home on March 20 as a test. We started to realize that our test day might intersect with a real call for us to start working from home. A few days beforehand we did two things that turned out to be important in hindsight.
The first thing we did was to make it easier for Library staff to use our digital preservation tools and access restricted digital content remotely. We prepared a guide for staff using the systems remotely. We modified staff accounts so that it was easier for them to work with restricted items off-site.
The other key thing we did was set up a Slack workspace for use by our team. We set it up to use on our test day, not realizing that it would become an important communication tool throughout our lockdown.
Over the weekend New Zealand went into lockdown, so our one-day test became a reality that would last for at least 4 weeks. At first, we went through the growing pains of the entire organization trying to adjust to the new virtual way of doing things. We were trying to use a technical infrastructure that wasn't designed for the entire organization to work remotely. We were working out of bedrooms, dining rooms and other spaces not designed for hours of computer usage. And we felt the social isolation of suddenly being apart from everyone else.
Our team adjusted to the isolation by creating Slack channels for everything, silly or work-related. We took turns asking a question of the day (for example what was your worst/most-painful/silly injury?). We had a daily tea break to do the local newspaper quizzes virtually. We traded pictures and recipes of things we were making. We took turns giving virtual tours of our homes. We actually got to know each other better during that time.
Like our colleagues around the world, we attended virtual events and conferences to stay present in the digital preservation space. The extreme technology problems we encountered when we first went into lockdown began to ease, as our organization's IT staff worked through improvements to the flow of our Zoom traffic, configuration of our firewalls and other network issues. Our home setups improved when some of us took advantage of a department program to deliver office chairs and other equipment to our homes.
As the weeks and months progressed, the local threat of Covid-19 started to dwindle and we could see that there was going to be a time when we were back working at the Library. As we were nearing the end of lockdown restrictions, I attended an online workshop called Past to Future. The instructor, Digby Scott, showed us a model for reflecting on our time in the most restrictive part of our lockdown and what we wanted our future to look like. The idea is that there were some highs as well as lows during the lockdown. We don't need to go back to exactly the way things were before Covid-19. We can try to bring what we liked during the lockdown into the future.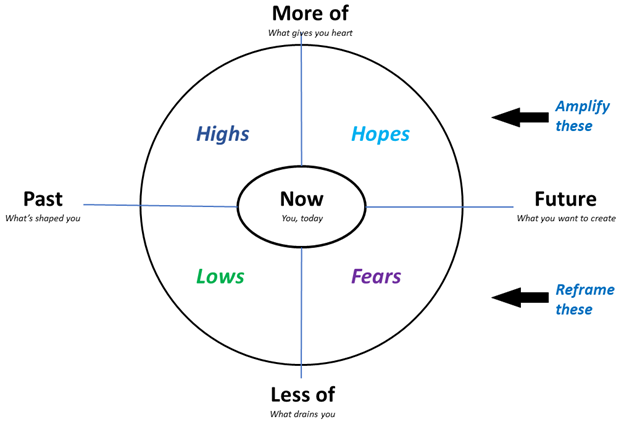 I brought this model to one of our virtual team meetings. We broke into Zoom breakout rooms to come up with our highs & lows of the lockdown, and our hopes and fears of going back to work at the Library. Some of our high points were not having to commute because of working from home; our new team dynamics spending more time chatting and playing a daily quiz, and other good team-building activities; that we had more control over our time to exercise, take walks in nature, etc.; and the slower pace / peacefulness. We recognized some low points - it's easier to communicate some things face-to-face, it can be harder to focus because of home responsibilities; and technical issues, especially in the early days of the lockdown.
Now that our lockdown is over, we have held onto some of the high points of lockdown. We now have two "anchor days" a week when our whole team is in the office, which makes it easy to schedule team meetings and have those face-to-face conversations. The other three days we can choose to work from home or come into the office. We have kept up our daily quizzes and Slack channels, although most days we don't post as much on that as we did back in the lockdown. We'll see how we do - I suspect that we will need to remind ourselves occasionally to not let ourselves go back to our pre-Covid-19 over-busy selves and to hold on to that little bit of slower pace we experienced in the lockdown.