Carrie Marks is a Digitisation Technician for Still Media at Imperial War Museums (IWM). She attended DCDC 2021 with support from the DPC's Career Development Fund, which is funded by DPC Supporters.
---
Hello Everyone! My name is Carrie and I am the Digitisation Technician for Still Media on the Preservation team at Imperial War Museums. I'm currently working on the Digital Futures project which involves digitising images that are at risk of deterioration over the next 5 years.
I wanted to attend DCDC21 as this year's theme of 'Collecting in Crisis' runs parallel with IWM's focus on collecting during conflict. I wanted to understand how the content I am creating on the Digital Futures project can be used to bring communities together online, develop new opportunities for researchers as well as open up collections for audiences unable to attend museums in person.
The session 'Digital Loans using Augmented Reality – Would you?' really caught my attention as I am passionate about preserving collections and I want to find a way to bring the physicality of photographic ephemera to digital users.
The possibility of digital loans was introduced through the Mackcessibility Project by the Glasgow School of Art. It began in response to the devastating fires at the school in 2014 and 2018, resulting in the loss of a significant portion of the Mackintosh collection. With access to galleries reduced and the ability to loan items now limited, the School embarked on a project to catalogue, digitise and make a range of the Mackintosh collection available using Augmented Reality.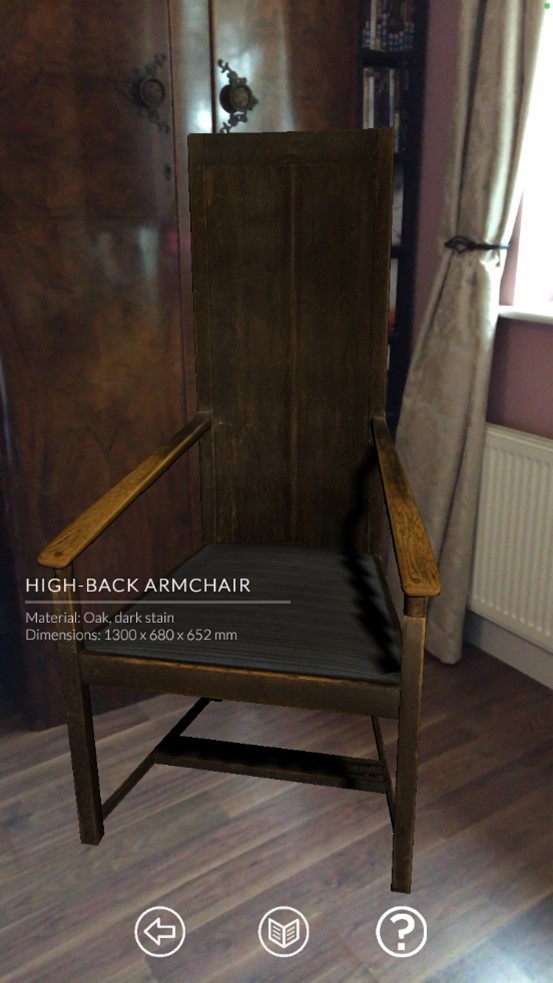 Through the use of laser scanning and photogrammetry, the team were able to capture an incredible likeness of various items in the collection. Even though they had difficulties capturing detail, they did a fantastic job as seen in the screen shot. When zoomed in, one can see woodgrain, scuffs from wear and tear, and even the texture of the fabric covered seat. But what about the items that were lost in the fire? With the use of pre‐existing photographs from conservator's reports and measurements from an architecture student's notes, the team were able to digitally rebuild some of the pieces of furniture that had been destroyed.
I was shocked at the level of detail that could be captured and my mind began to run wild with ideas; imagine seeing a WWII spitfire that flew on D‐Day in your back garden or being able to take a look inside the Warship your Great Grandfather served on? The opportunities here are endless and exciting.
Augmented Reality makes it possible to recover destroyed, stolen or otherwise lost objects and artefacts, and moreover, bring them into your own home or learning space. It has the potential to open up a whole world of history that has been lost in areas of conflict, through natural disasters or simply at the hands of time.
One of the many reasons I work in the Heritage sector is because I love being surrounded by objects that have stories to tell. I enjoy visiting museums and the notion of bringing museum objects into your home, classroom or gallery space as a loan is tantalising. The app created by the Mackcessibility Project would allow virtual visitors to engage with fascinating historical objects in a more interactive way. Since the app can include links to other resources, it provides the user with a wealth of knowledge that's easy to find and use. With the potential to include video demonstrations or audio guides, digital loans propose an interesting and even more collaborative way of working for museum professionals, as well as a more interactive and explorative way of discovering collections as a virtual visitor.
Technology is developing fast and I cannot wait to see what the future holds for Museums and Archives using Augmented Reality.
For more about the Mackcessibility Project at the Glasgow School of Art, please click here.
Screenshot of the Mackcessibility app in use