Nigel Bryant is Audiovisual Digitisation Officer at the University of Bristol Theatre Collection. He recently attended No Time To Wait 6 with support from a travel grant from the DPC Career Development Fund, which is funded by DPC Supporters.
---
As part of my role, I am constantly striving to improve processes and workflow for the preservation of AV materials. I am currently implementing an open source workflow employing the Matroska (.mkv) video format, ideally using entirely Free and Open Source Software (FOSS). Matroska is a purpose-built multimedia wrapper that carries a variety of payloads including video, audio, subtitles and metadata. In combination with the FFV1 codec, Matroska files can hold losslessly compressed video which is visually identical to uncompressed video. This combination has been adopted as the AV preservation format of choice for many institutions including the British Film Institute.
The benefits of open source include:
a considerable reduction in file storage requirements

increased embedded metadata capabilities

the freedom from proprietary formats and software which always carry a degree of risk for their continued support

no more expensive software or subscriptions
'No Time To Wait' is a symposium that champions the use of open source for audiovisual preservation and is attended by many of the leading figures in developing and implementation in this field. With the help of a travel grant from the Digital Preservation Coalition (DPC), I was delighted to have the opportunity to attend the 2022 edition in person at Netherlands Institute for Sound & Vision in The Hague.
My aim for attending was to gain a greater understanding of how other organisations are utilising open source workflow and how it can positively impact on the challenges of audiovisual preservation. This will allow me to make a convincing case for implementing the workflow in my workplace and advocating for it in other institutions. It will also equip me with the knowledge to overcome some of the technical issues I have faced so far and to implement workflows in the most effective way.
From a packed programme of presentations, there were several highlights: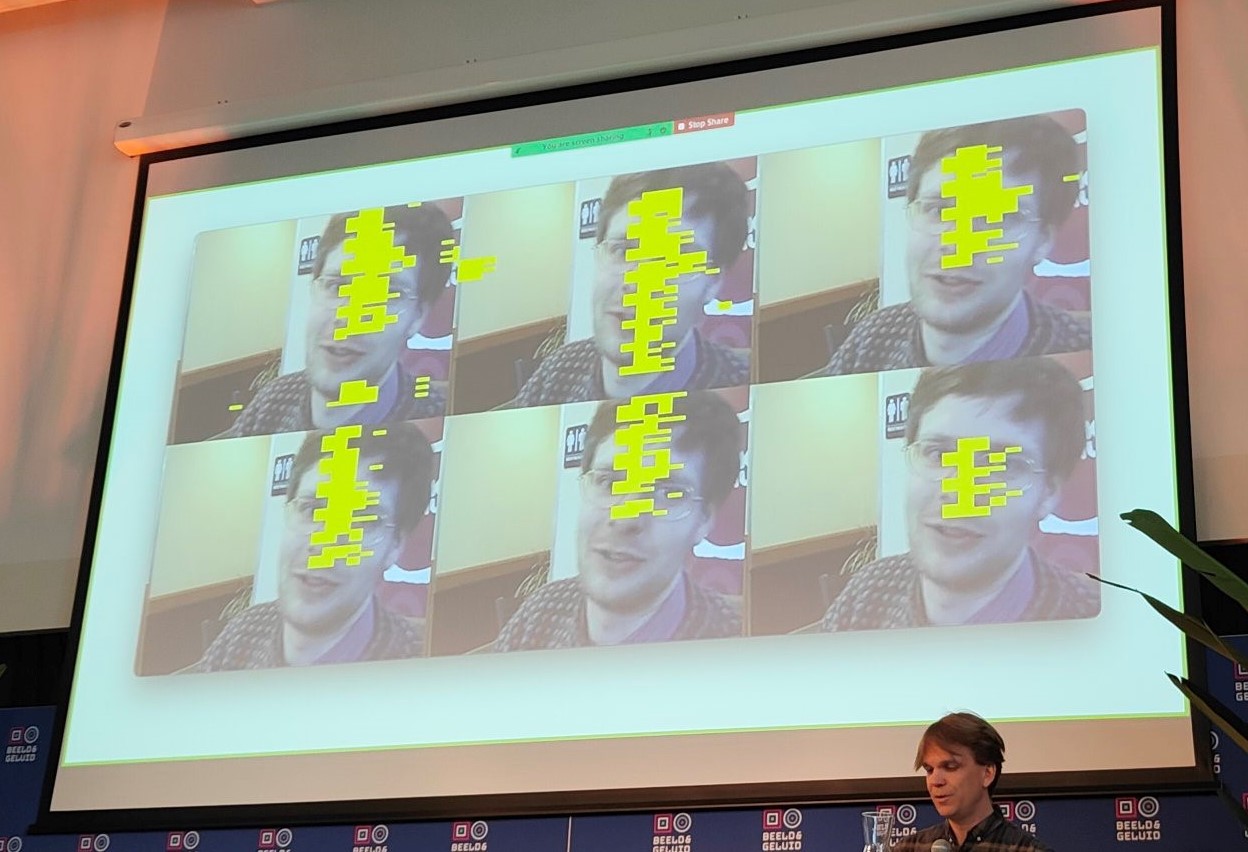 Dave Rice talks DVRescue – picture courtesy of Lode @oploader
Dave Rice began 'Deck Control!' with an explanation of the basic principles of using a software interface to control a video playback machine and then led us into some very exciting territory involving use of DVRescue, an open source software he designed to improve creation of DV files from the Mini DV tape family. DVRescue can be used to identify digital errors on tapes and rewind the playback machine to make multiple passes of the affected section of tape to compile a best quality version of the contents. He went on to show a cable he has designed for 9 pin deck control set-ups which can be opened to adjust the in/out connections to allow multi-compatibility. Using this will allow for similar multiple pass quality improvement when capturing other video tape formats via SDI.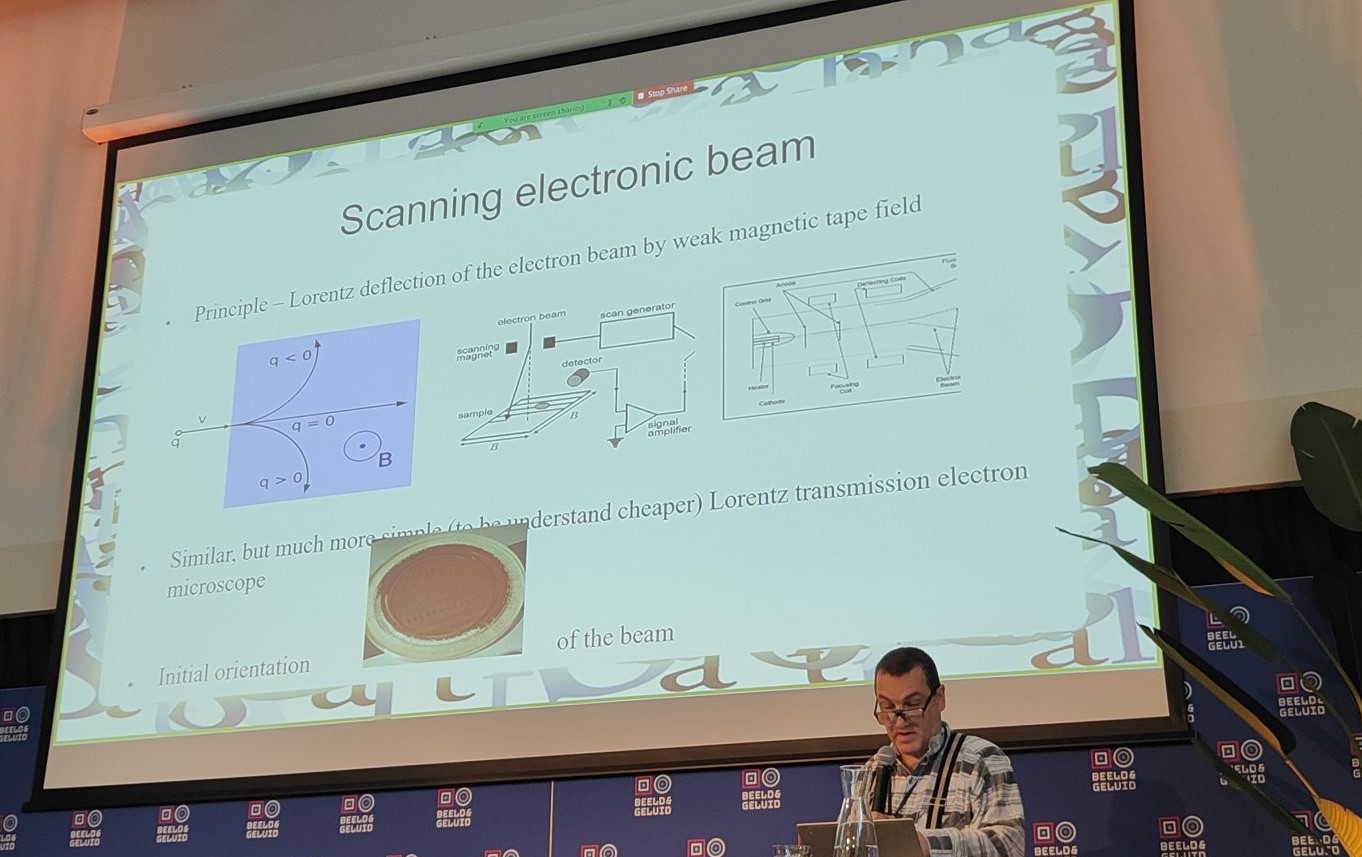 Radoslav Markov on hi-tech solutions for video capture – picture courtesy of Lode @oploader
In 'Direct Video Tape Capture: New Way for Video Capture' Radoslav Markov discussed the improvement of video capture quality by using a signal taken directly from the video head or RF board. This is a technique that has been previously employed but only for Betacam and at huge expense. Radoslav is working on developing a low-cost solution that will cover a range of tape formats. He also discussed using an electron scan beam for contactless capture from video tape (particularly useful for sticky-shed or deteriorated tape) and use of an NV quantum magnetometer that employs a crystal that can detect a magnetic signal on tape through molecular vibration. He hopes that "big science" will buy into these potential advancements so that they can be successfully developed.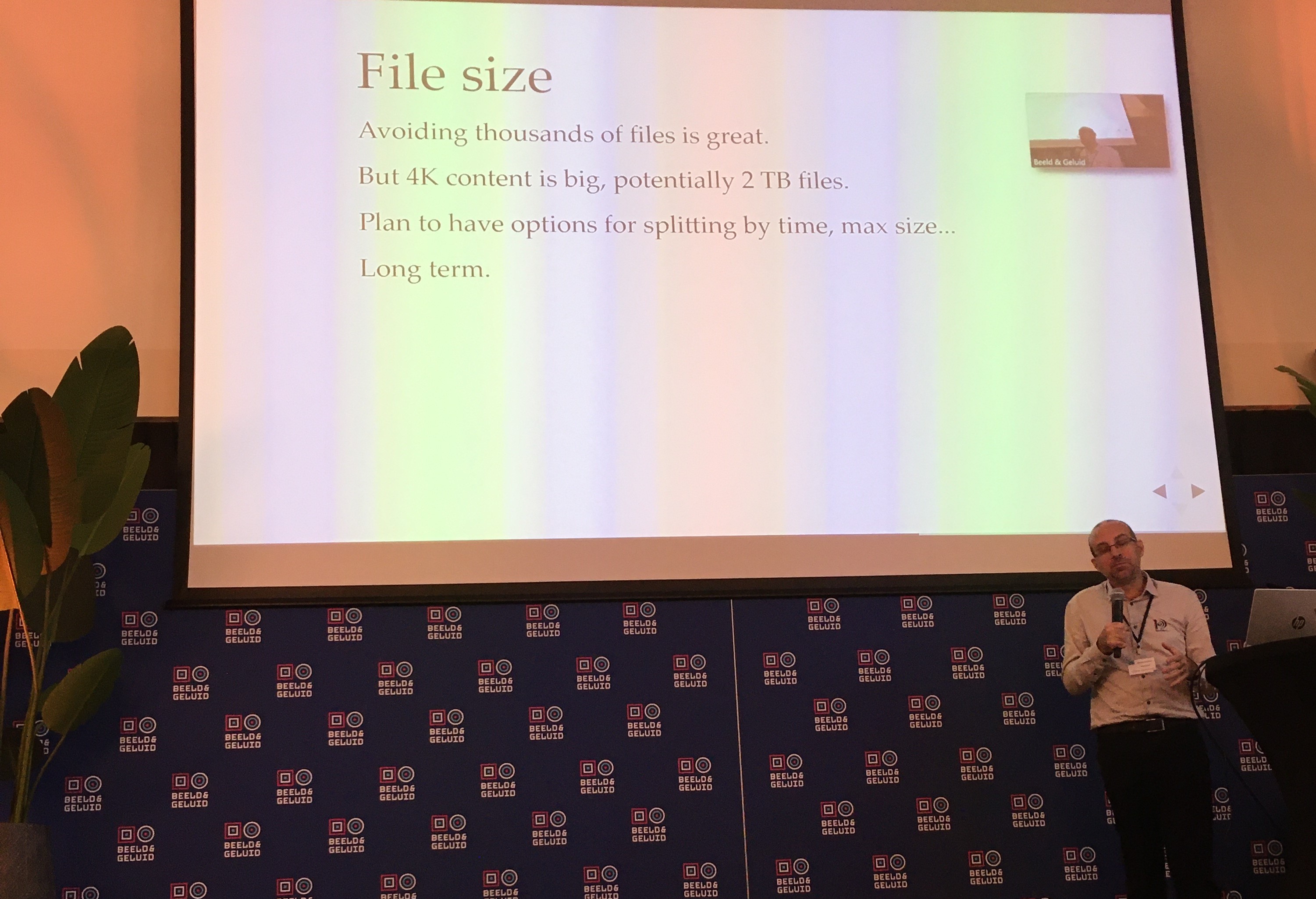 Jérôme Martinez on his RAWcooked recipe for cinema film preservation
Jérôme Martinez updated us on the 'State of RAWcooked', open source software that converts DPX scans of cinema film to a playable format at approximately half the file size. Unlike the widely used standard DPX which is a series of still scans of each frame with audio preserved as a separate file (if present), RAWcooked can produce playable MKV/FFV1 files with FLAC audio and sidecar metadata included. It also has the benefit of being reversible to the source format.
Other fascinating presentations included:
Jérôme's work on reverse engineering using open source tools to rescue a quantity of obsolete Nullsoft Streaming Video (NSV) files originally produced on a proprietary software

Evanthia Samaras' research on archiving practices for Film & TV Visual Effects (VFX)

John Daniel and Joanna White's work on preserving off-air TV using open source tools
The theme of Linked Open Data ran through discussions on metadata and some good advice from Information Architect Remco de Boer was, "make your metadata as elaborate as possible – don't think about the question, think about the data…the quality of the metadata defines the findability and reach of your collection."
A recording of the live stream from both days of presentations can be found athttps://www.youtube.com/watch?v=Ay4C1VSHX5w&t=0s and https://www.youtube.com/watch?v=-Pwt5KL-xRs
The warm and welcoming nature of 'No Time To Wait' facilitates conversation and connecting with colleagues working in this area has been invaluable in assisting my transition to open source workflows. I've found it's only possible to make these sorts of connections by attending events like this in person. With that in mind I am very much looking forward to attending the next edition in 2023 if possible!