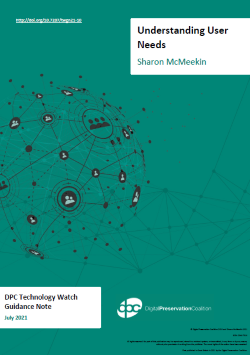 The DPC has released the next in its series of Technology Watch Guidance Notes on Access to digital collections. The new Guidance Note entitled Understanding User Needs by Sharon McMeekin is available as a one-month Member preview from today.
Understanding User Needs provides a pragmatic approach to conducting and interpreting a user needs analysis, whilst highlighting the importance and significance of the results.
"Developing a digital preservation program is a complex and challenging undertaking and there are many competing concerns, so the temptation is to prioritise the issues that seem most pressing," says Sharon, Head of Workforce Development for the DPC.
"But implementing a robust approach to understanding user needs through an analysis should be a key component of any digital preservation program. Understanding what our users want and need provides us with the end goal for any digital preservation program and informs almost every aspect of digital preservation work."
With a one-month preview for DPC Members, this and other Technology Watch Guidance Notes are 'bite-sized' papers that contain information about a problem, a solution, or a particular implementation of digital preservation and provide short briefings on advanced digital preservation topics.
Further Technology Watch Guidance Notes on a range of digital preservation topics are planned for release in the coming months.
The Technology Watch publication series is just one of the ways the DPC supports the digital preservation community. An international charitable foundation and advocate for digital preservation, the Coalition helps its members around the world to deliver resilient long-term access to digital content and services. It acheives this through community engagement, targeted advocacy work, training and workforce development, capacity building, good practice and standards, and through good management and governance.
Click to: