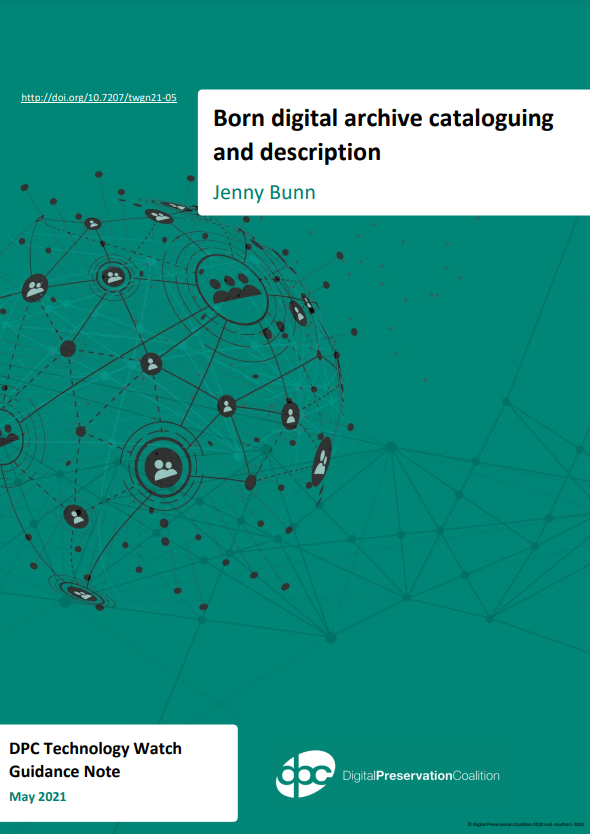 The Digital Preservation Coalition (DPC) has released a Member preview of the next in its series of Technology Watch Guidance Notes entitled Born digital archive cataloguing and description, by Jenny Bunn, today.
Born digital archive cataloguing and description seeks to provide guidance to support organisations and individuals in making sense of the technological developments relating to the presentation and accessibility of their collection information.
"This new Guidance Note provides a useful insight into the history and development of Collection Description for born digital archives. It provides a framework to help the community navigate this rather complex landscape," says Jenny Mitcham, Head of Good Practice and Standards for the DPC.
"This is an evolving field and there is no single recommended way of approaching the challenge. The strength of this short publication is in summarising work to date and signposting numerous references to follow up on."
With a one-month preview for DPC Members, this and other Technology Watch Guidance Notes are 'bite-sized' papers that contain information about a problem, a solution, or a particular implementation of digital preservation and provide short briefings on advanced digital preservation topics.
Further Technology Watch Guidance Notes on a range of digital preservation topics are planned for release in the coming months.
The Technology Watch publication series is just one of the ways the not-for-profit DPC supports the digital preservation community. An international advocate for digital preservation, the Coalition helps its members around the world to deliver resilient long-term access to digital content and services through community engagement, targeted advocacy work, training and workforce development, capacity building, good practice and standards, and through good management and governance.
Click to: