Last year on International Digital Preservation Day (as it was then called) I asked the question "What shall I do for International Digital Preservation Day?" In that blog post I talked about the blogging and tweeting I'd been doing at the Borthwick Institute and ended with "...and of course I now have a whole year to plan for International Digital Preservation Day 2018 so perhaps I'll be able to do something bigger and better?!"
A year passes very quickly and any ideas I had for World Digital Preservation Day 2018 had to be shelved when I accepted an exciting new role of Head of Good Practice and Standards at the Digital Preservation Coalition.
After a hectic few months winding down, tidying up and handing over at the Borthwick Institute for Archives I finally arrived at the DPC on the 20th November.
What a time to start!
Only 7 working days until the biggest two events in the DPC calendar - World Digital Preservation Day and the Digital Preservation Awards Ceremony!
My DPC colleagues (unlike me) had been preparing for these events for months. Hugely detailed event plans and blog schedules had already been created.
From the outside, it looks like World Digital Preservation Day 'just happens' ...but now I'm on the inside, it is clear just how much imagination, creativity and hard work goes into it!
So, there wasn't actually that much for me to do for World Digital Preservation Day apart from creating some awareness raising digital preservation cartoons and preparing for our trip to Amsterdam.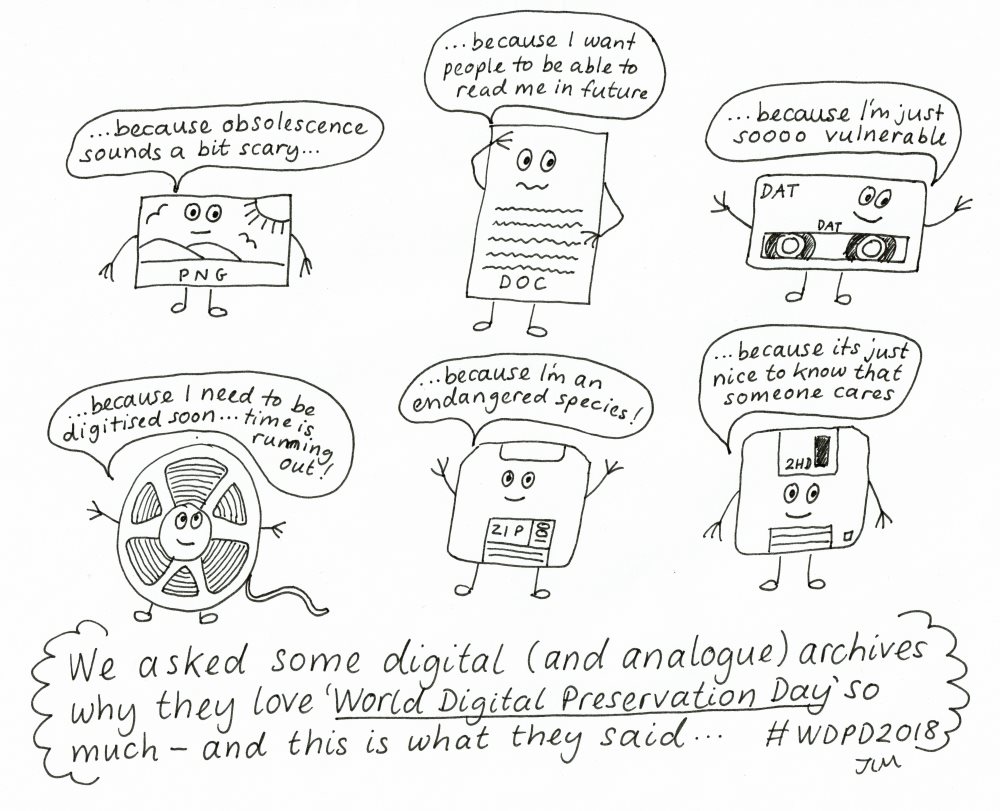 There was so much activity on the day (and at 40 hours, World Digital Preservation Day is a very long day indeed) that it was impossible to keep up with it all.
I spent the day itself in the beautiful city of Amsterdam, helping out at an ePADD workshop and attending the Memory Makers conference (as well as attending the Digital Preservation Awards ceremony itself).
I enjoyed watching the waves of #WDPD2018 tweets and blogs hit the shore but was not able to properly dive in. Of course any pictures of digital preservation cake were quickly applauded and retweeted, but there was little time to absorb some of the more detailed or complex messages.
So, it is with pleasure that I have found some time over the last couple of weeks to go back over some of the content that was released by the digital preservation community on the 29th November and give it the attention it deserves.
There are not only blogs that appear on the DPC blog written by members and non-members across the world (94 of them in total), but other blogs released on different blogging platforms (47 at the last count listed on this page) that celebrate World Digital Preservation Day. Some of the activity is nicely summarised in the infographic below.
I'll pick out a few examples here, but do make time (if you haven't already) to browse the blogs yourself. There are far too many for me to mention...
Blogs covered a whole range of topics and themes. They include posts from several of our recent Digital Preservation Award winners including the Archiving Crossrail project, An Archivists Guide to Kryoflux, ePADD and the Irish Film Archive. A great opportunity to find out a bit more about these award winning projects and initiatives.
A call to arms from Patricia Sleeman from UNHCR is well worth a read. It makes a strong case for the importance of digital preservation in an organisation "whose staff are often at the coalface of conflicts and operations which are concurrently taking place all over our world".
Advocacy on a smaller scale is described by Adam Harwood from the University of Sussex who tallies up his local efforts to spread the word about digital preservation. Bonus points are awarded if someone he has talked to about digital preservation then goes on to tell someone else! His total for the year comes to "223 people who might now consider that their digital outputs might need to be appropriately preserved in the future" and he's now set himself a target to beat next year.
I found a blog from Euan Cochrane of Yale University Library on Designing a Universal Virtual Interactor (UVI) for digital objects particularly valuable. Imagine if you could 'automagically' open a file in the correct emulation environment? This is a work in progress from the Software Preservation Network, and one that I intend to watch closely.
It was encouraging to see so many blog posts about the preservation of analogue AV archives and the need to digitise and preserve within a digital archive. These included a really detailed post from Bertram Lyons from AVP on the relationship between audiovisual preservation and digital preservation and something closer to home from Brecht DeClercq of the the Flemish Institute for Archiving What if all of your smartphone movies were suddenly all erased?
Also good to see lots of examples of institutions spreading the word about digital preservation to a wider audience, or trying to educate people about personal digital archiving. A history of you and me from Valerie Love of the National Library of New Zealand was a great example of this. Not only including a fabulous photo from Valerie's own archives and a personal story of digital loss, but also some helpful practical tips on how to locate, appraise and store your own personal digital archives.
An entertaining and thought provoking read from Micky Lindlar from the Technische Informationsbibliothek (TIB) in Let's be honest … a "honey we need to talk" with digital preservation. She describes our relationship with OAIS as like "the in-laws who paid for our house but now stop by far too often and always want the last word in every tiny decision".
Another blog that I really enjoyed was from one of our newest DPC members. Jean-Yves Le Meur from CERN talks about how time and degradation have changed a set of analogue photographs, described as a collusion between physics, chemistry, biology and art.
Anyone who hasn't yet visited Digital Preservation Island (not to be confused with the much smaller nearby Back-up Island) will be interested in this travel guide from Micky Lindlar, Oleg Nekhayenko and Merle Friedrich. You will definitely be made welcome there whatever time of year you visit, but do try to avoid the Swamps of Obsolesence and the Desert of Project Funding!
...and I can't talk about World Digital Preservation Day without a mention of the Digital Preservation Song challenge with an incredible entry from Serena Coates and Rachel Merrick of the State Library of Queensland and the equally brilliant awards ceremony video. Is this now going to be an annual thing?
I have long had a keen interest in the digital preservation and in initiatives and progress that is being made internationally, but in my new role at the DPC it becomes all the more important to keep my ear to the ground.
World Digital Preservation Day has provided the perfect opportunity to find out what is going on in this international and dynamic community.
So what did I do for World Digital Preservation Day this year? I had a ball! What a great way to start my new job!