Charlotte Armstrong is Project officer for the Open Preservation Foundation
---
In 2020, amid a global pandemic that isolated many people from their professional communities, the Open Preservation Foundation (OPF)'s Spring Hackathon brought together an international group of contributors to enhance open source digital preservation tools and documentation relied on by digital preservation practitioners around the world.
Running virtually over six weeks, this was our biggest hackathon to date. Contributors joined us from libraries, archives, museums, and universities in more than 10 countries. The event kicked off just as many countries were going into lockdown and the majority of people were working exclusively from home, if at all.
For us, this was an opportunity to give the community something meaningful to participate in and provide a distraction from some of the anxieties that emerged along with our newfound isolation. We also hoped to teach participants new skills, facilitate collaboration and empower users to better understand the tools they work with.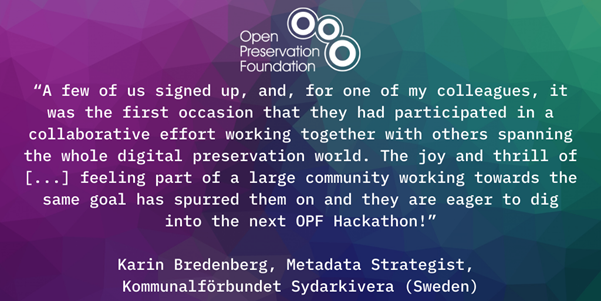 Because we wanted to make the hackathon accessible to as many people as possible, we offered tasks across three broad streams: development, documentation and research. Breaking down the work up in this way aimed to ensure that everyone who participated was able to find a relevant task that matched their knowledge, skills, and available time.
The development stream focused primarily on JHOVE. Tasks included configuration fixes, improvements to the PDF module, overhauling the command line interface code base, reviewing behaviour for module selection, and reviewing the implication of the byte stream module. Development tasks were managed on GitHub with a dedicated milestone for the Hackathon.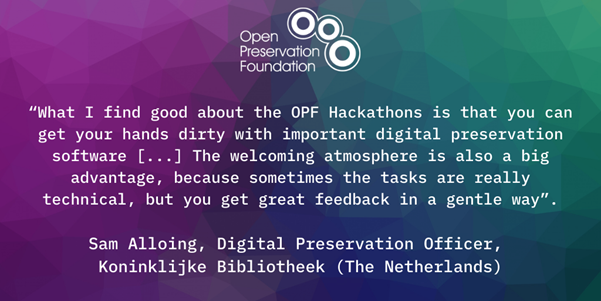 One focus for the documentation stream was to improve consistency between OPF product websites while streamlining content and improving accessibility. Participants with language skills also translated JHOVE error messages into German, Portuguese, French and Swedish. A consistent issue encountered by translators was striking a balance between providing an accurate translation of a technical term while keeping the terminology technically accurate but also accessible to newcomers to the field. The translators produced a draft glossary of key technical terms by format, which we hope to finalise and publish in the next months.
The research stream focussed on the future of the OPF Reference Toolset. Tasks included a gap analysis of modules (e.g. comparing the JHOVE TIFF module to DPF Manager, or the JHOVE PDF module to veraPDF) or identifying requirements for a set of common behaviours for validating archive formats. Research contributors also checked whether module standards were up to date, carried out some future scanning on upcoming standards changes, and added files to our format test corpus.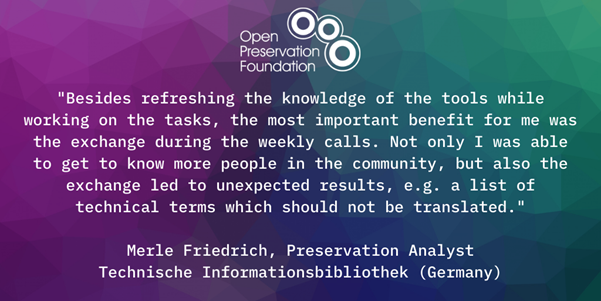 The hackathon transformed the open source principles of community, inclusivity and transparency into practice. As well as delivering meaningful contributions to open source software, our participants were able to get hands-on experience with tools, deep dive into file formats, and improve the accessibility of technical documentation.
Perhaps most importantly, the hackathon was a timely opportunity to collaborate with international colleagues, working together towards a common goal and perhaps easing the sense of isolation that many of us were feeling at that time. There is much that was lost during Covid-19 pandemic that we are eager to get back. As we begin to meet face-to-face with friends and colleagues once again, it's very clear that there's much to be gained from engaging in-person. But for us, working virtually with our friends and colleagues around the world is something that's here to stay.