Preservation Tools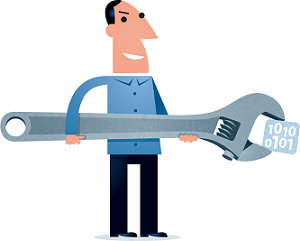 Software tools provide us with a way of automating specific and possibly complex or repetitive tasks. When applied to digital preservation they can help us solve very focused problems such as identifiying a file format or extracting metadata. They can also help to coordinate a number of atomic tools in a workflow perhaps as part of a trusted digital repository system. Read more in the Digital Preservation Handbook section on Tools.
Finding preservation tools
The COPTR registry brings together listings of preservation tools from a number of different sources, and makes it easy to browse using tags that describe the function of the tools. The COPTR data can also be viewed via the Digital POWRR project Tool Grid, which makes navigation even easier. COPTR is a wiki, and contributions of new tools or experiences in using the tools are very welcome.
Getting started
Digital preservation tools are not always easy to use, and to get the most out of them you may want to work from the command line. This does not however have to be intimidating or challenging! The Siegried file format identification tool is a great place to start, and there are simple step by step instructions on the home page here.
Also see - test corpora
Samples of files to work with can be incredibly helpful, whether setting up and trying out a new tool for the first time, validating it's effectiveness before moving into an a production environment or even testing the tool while it's under development. There are a number of useful sources for Test Corpora - see the detailed list on digipres.org.
For more from the DPC on specific preservation tools and how to apply them, browse the tags below:
Parent Tags
Articles
28th July, 0700 - 0830 UTC and 29th July, 0700 - 0830 UTC (click for local times) This training has been timed to be suitable for attendees in Australasia and Asia Pacific, but you are welcome to attend whichever session you prefer. Introduction Digital preservation relies on a wide range of skills and services, so practitioners and managers must coordinate a diverse set of skills, policies, tools and services from disparate sources within and outside their organisations. The...
---
Face to face training is available on request for members. This page provides access to the training resources for the Getting Started and Making Progress courses. Getting Started with Digital Preservation 'Getting Started with Digital Preservation' introduces delegates to common digitial preservation concepts and issues before walking them through the firsts steps they can take to manage their digital assets. This includes bit-level preservation, assessing their digital preservation...