DPC staff have been involved in very many events and webinars over the years, responding directly to members' needs and filling the gaps where other advice and support was lacking. The 'Greatest Hits Collection' will play that back over the coming months while colleagues and members are working from home and perhaps not able to access other development opportunities. And of course, we're always open to proposals from members who want to put together their own digital preservation themed mixtape.
---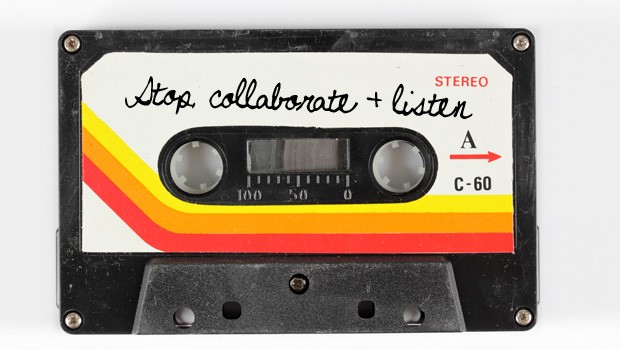 Image credit: https://imeetcentral.com/collaboration-playlist
Following on from Jen's collection on Good Practice last week, I think I may also have chosen another impossibly broad theme - Collaboration.
The strength of the DPC is absolutely in the breadth of the experience and expertise contained within in its members, but also in their willingness to share this experience and expertise with the digital preservation community. So, you might say that each and every one of the webinars, recordings and blog posts in the DPC back catalogue demonstrates that willingness to share and that willingness to collaborate.
But I am sure readers of the blog already know that and are unlikely to be coming to this thinking 'I could really do with knowing a bit more about collaboration' anyway.
Because collaboration isn't usually the question, it's an answer to the question – and often enough it's one of the best answers.
So, I wanted to pick out three questions to which collaboration just nails it, and the webinars, recordings and blog posts which show us how:
I want to make progress with digital preservation, but don't have the resources…
Sharing infrastructure, resources and effort among complementary institutions is a valuable approach for local institutions who want to improve their digital curation practices on limited budgets. While it definitely requires a high level of commitment to collaboration, as well as letting go of parts of the process, sharing resources this way can open doors.
My favourite example of this approach is not actually in a webinar, but in a World Digital Preservation Day blog post from 2018: https://www.dpconline.org/blog/idpd/consortium-working
In it, Sam Johnston of Dorset History Centre (DHC) describes how DHC and other local archives have clubbed together to purchase a shared repository. They even submitted their project for the Digital Preservation Award for Safeguarding the Digital Legacy in 2018, AND were shortlisted, so impressed were the judges with this simple but effective collaboration: https://www.dpconline.org/events/digital-preservation-awards/local-authority-digital-preservation-consortium
Digital Preservation Awards winners in 2016, DHN (then NCDD), also showed us how they created a network of institutions in the Netherlands to help other organisations do the same. This strategy is based on differentiation between domains while achieving economies of scale and other efficiencies by sharing jointly facilities and services where possible (login to watch webinar recording).
This idea was developed by Jisc into their Research Data Shared Service (more recently Open Research Hub). In March 2018, we held a Briefing Day explaining how this might work and heard some super case studies from project participants. The Briefing Day was recorded, so you can watch these case studies again: https://www.dpconline.org/events/past-events/shared-service-and-common-purpose
My organisation can't afford to pay for expensive tools…
Another of the incredible things about the digital preservation community is that people just develop 'helpful things' and make them available for anyone to use.
I'm mining the Digital Preservation Awards back catalogue again here, because there is always such incredible work on show within the shortlists each year. Some are collaborative efforts themselves, and others are simply collaborative in the fact that they have been shared for the greater good. Some favourites are:
ePADD - Winner of the 2018 Digital Preservation Award for Research and Innovation, and the product of a collaboration between departments at the University of Stanford, ePADD is free and open source software developed by the University's Special Collections & University Archives to support the appraisal, processing, preservation, discovery, and delivery of historical email archives. You can watch the webinar on this handy piece of software here: https://www.dpconline.org/events/past-events/webinars/dpa2018-ww-1
And, you can read about it on the blog: https://www.dpconline.org/blog/idpd/introducing-epadd
The Archivist's Guide to the Kryoflux - I know this has already made it onto at least one of the Greatest Hits mixtapes, but it's truly too good a collaboration not to mention again here. Winner of the 2018 Digital Preservation Award for Teaching and Communication, The Archivist's Guide to KryoFlux was developed and made available by Jennifer Allen at the University of Texas at Austin, Matthew Farrell at Duke University, Alice Prael at Yale University, Shira Peltzman and her wonderful students at the University of California, Los Angeles, and Dorothy Waugh at Emory University. Responding to a lack of accessible documentation and training resources for the Kryoflux, this team took it upon themselves to create and share their own. You can hear more about this tremendous collaboration in this webinar: https://www.dpconline.org/events/past-events/webinars/dpa2018-ww-2
And, you can read about this on the blog too: https://www.dpconline.org/blog/idpd/the-archivist-s-guide-to-kryoflux
veraPDF - Another great open source tool is veraPDF. A finalist in the 2018 Digital Preservation Awards, it is a conformance checker that validates all current parts and levels of ISO 19005 (PDF/A). It is accompanied by a comprehensive, atomic test corpus, covering each clause in the PDF/A specifications to test the software. veraPDF bridges a gap between memory institutions and industry with specialist expertise to create a product that meets the needs of both communities. Originally the product of an EU funded project, of which DPC was a partner, since 2017 the Open Preservation Foundation has sustained veraPDF as an independent open source project. Our own Paul Wheatley was involved in the funded project which saw the beginnings of this super useful development, and shares his experience of putting veraPDF into practice in this blog post: https://www.dpconline.org/blog/pdf-eh-redux-putting-verapdf-into-practice
Never mind all that…How do I even make the case for digital preservation in the first place?
Well, the answer to this precise question is contained in the Executive Guide on Digital Preservation. Itself a superlative case study of collaboration whereby a bunch of DPC Members all contributed statements on why digital preservation is a good thing relevant to their own organisation types, we're also working on making the Executive Guide more widely available by working with the UNESCO Memory of the World (MOW) Programme.
Chair of the UNESCO MOW PERSIST Project Policy Working Group, Robert Buckley describes the Executive Guide in this blog post for World Digital Preservation Day: https://www.dpconline.org/blog/idpd/unesco-dpc-dpeg
And we are delighted to hear from our colleagues at UNESCO that translations of this resource are in the pipeline as we speak… Hurrah!
My complete and utter favourite webinar which shows how to make the case for digital preservation is this one though, with Alistair Goodall on the collaboration between Transport for London and Crossrail – the 'Archiving Crossrail' project: https://www.dpconline.org/events/past-events/webinars/dpa2018-ww-4. Its got everything: the challenge, the teamwork, the inventive solution.
Even before that, I wanted to hug Alistair when, having won the 2018 Digital Preservation Award for Outstanding Digital Preservation Initiative in Commerce, Industry and the Third Sector he encapsulated the realisation we wish we could all bottle and share - saying this in an interview after the ceremony: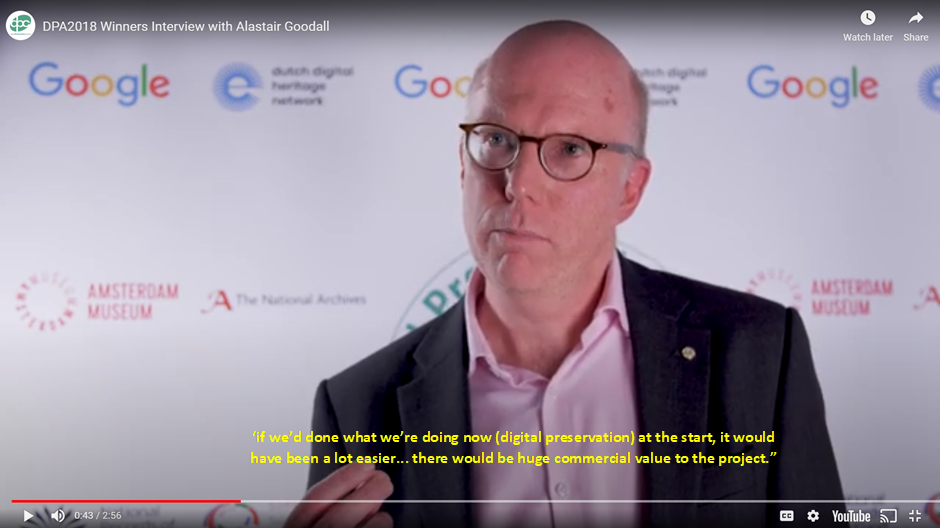 You can watch the whole interview here: https://youtu.be/R9HaOk2JP4Y
Talk about identifying an incentive for doing digital preservation! An IT professional, and self-confessed convert to digital preservation, Alistair also shared this tremendous blog post with us on 'how to sell an archive:' https://www.dpconline.org/blog/idpd/how-to-sell-an-archive
Which links seamlessly on to my final recommendation and one I am delighted to be able to make in my mixtape, it's a blog post entitled 'Ten IT skills you need to have to work with digital preservation and one skill to rule them all' by our much missed friend Dave Thompson: https://www.dpconline.org/blog/ten-it-skills-you-need
In it, Dave describes how IT departments and digital preservationists might work better together, by focusing on 'the social stuff.' A brilliant blogger, he expertly pinpoints what is required to make the case for digital preservation in this context, concluding by reminding us all to stop, and collaborate, when the time is right.
Greatest Hits - Volume 1 Greatest Hits - Volume 2 Greatest Hits - Volume 3 GREATEST HITS - VOLUME 5