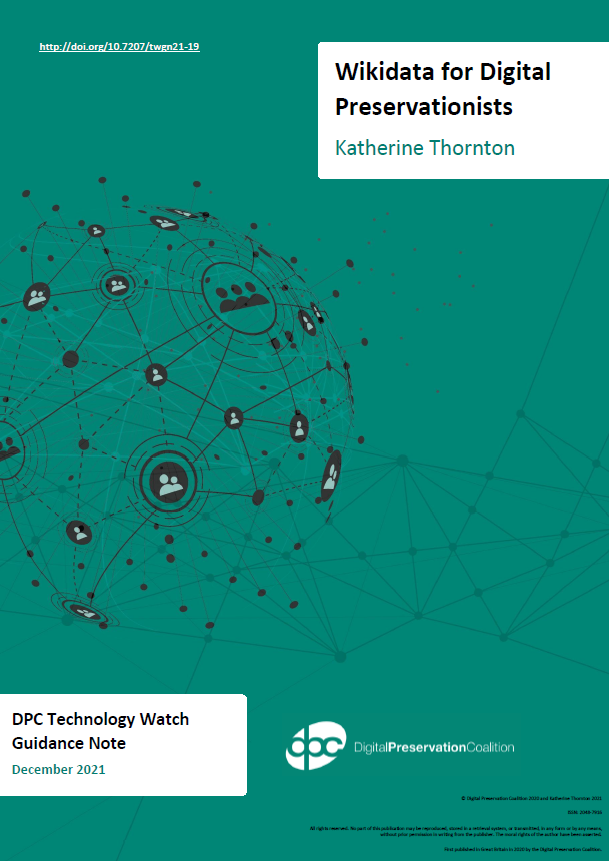 The Digital Preservation Coalition (DPC) has made the next in its series of Technology Watch Guidance Notes, on Wikidata for Digital Preservationists by Katherine Thornton, available on general release today.
Wikidata for Digital Preservationists gives a brief introduction to Wikidata before continuing to provide practical advice on using, contributing, describing and curating data entries to enable storage and access to trusted data.
This new Technology Watch Guidance Note and the rest of the series complements the DPC's popular Technology Watch Reports and is designed to be a 'bite-sized' paper that might contain information about a problem, a solution, or a particular implementation of digital preservation and will provide a short briefing on advanced digital preservation topics.
Paul Wheatley, the DPC's Head of Research & Practice and editor of the Technology Watch Series welcomed the release of the report saying: "This Guidance Note provides a helpful introduction to some of the opportunities and challenges surrounding using and participating with Wikidata and describes some of the practical steps we can all take to ensure it continues to be the extremely useful data set it has become."
The Technology Watch publication series is just one of the ways the not-for-profit DPC supports the digital preservation community. An international advocate for digital preservation, the Coalition helps its members around the world to deliver resilient long-term access to digital content and services through community engagement, targeted advocacy work, training and workforce development, capacity building, good practice and standards, and through good management and governance.
Click to: