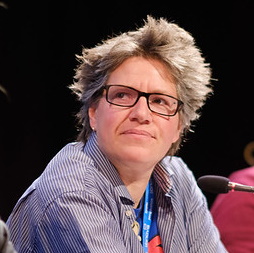 [deutsche version folgt]
Micky Lindlar has been awarded the DPC Fellowship today, on World Digital Preservation Day, as part of the Digital Preservation Awards 2020. The award was presented as part of an online presentation event which saw the gathering of leading organisations and practitioners of digital preservation to celebrate excellence and innovation in securing our digital legacy.
The DPC Fellowship is the highest award offered by the Digital Preservation Coalition (DPC) and is awarded every two years to an individual in recognition of a substantial, generous and distinguished contribution to securing our digital legacy.
Micky graduated Summa Cum Laudae in English and Humanities from Minot State University in North Dakota, before taking a degree in computing science from b.i.b. International College in Bergisch Gladbach, Germany, then on to a masters' in Library and Information Science at Humboldt University in Berlin. Having worked in different roles at TIB - German National Library of Science and Technology since 2009, they joined nestor working groups in 2009, the board of the Open Preservation Foundation in 2012, and the PREMIS Editorial committee.
Well known across the digital preservation community as an insightful and generous contributor, Micky works fluently between English and German and thus brings many people together. The judges have described them as an emerging leader in the community, but with much greater depth and breadth of experience than would normally be expected from this designation.
Micky has published and presented widely on various intricate preservation problems. These include the role of the PDF in digital preservation, file format validation, the opportunities and challenges of the OAIS model, preservation of architectural 3D data, active software stewardship, and the valuable linkages between library and information science, IT and preservation skills. One judge noted that this research consistently makes the complex issues accessible, and with a commitment to the practical application of knowledge in order to help digital preservationists solve problems on the job.
Another judge noted how Micky works transparently on the day to day challenges of preservation through Twitter - sharing tidbits in a way that very few do - and thereby lifting our collective knowledge one tweet at a time, and keeping the discussion of digital preservation technologies and challenges in the open and accessible.
In recognition of a substantial, generous and distinguished contribution to securing our digital legacy it gives the Digital Preservation Coalition great pleasure to award the DPC Fellowship to Micky Lindlar.
Read Micky's acceptance speech on the WDPD blog
---
Micky Lindlar mit DPC Fellowship ausgezeichnet
Micky Lindlar wurde am heutigen Welttag der digitalen Bewahrung im Rahmen der Digital Preservation Awards 2020 mit dem DPC Fellowship der Digital Preservation Coalition ausgezeichnet. Die Preisverleihung fand im Rahmen einer Onlineveranstaltung statt, bei der führende Organisationen und Fachleute der digitalen Bewahrung hervorragende Leistungen und Innovationen rund um die Bewahrung des digitalen Erbes der Menschheit feierten.
Das DPC Fellowship ist die höchste Auszeichnung der DPC und wird alle zwei Jahre als Anerkennung für einen umfassenden, großzügigen und herausragenden Beitrag zur Sicherung unseres digitalen Erbes verliehen.
Lindlar schloss ein Studium der Anglistik und Geisteswissenschaften an der Minot State University in North Dakota mit Summa cum laude ab und machte anschließend einen Abschluss in Informatik am bib International College in Bergisch Gladbach. Dem folgte ein Master in Bibliotheks- und Informationswissenschaft an der Humboldt-Universität zu Berlin. Seit 2009 ist Lindlar in verschiedenen Rollen an der Technischen Informationsbibliothek (TIB) in Hannover tätig. 2009 wurde sie Mitglied der nestor-Koordinationsgruppe und 2012 Vorstandsmitglied der Open PLANETS Foundation. Außerdem ist sie Mitglied des PREMIS Editorial Committee.
In der mit der digitalen Bewahrung befassten Community ist Lindlar für eine Fülle kenntnisreicher Beiträge bekannt. Im Englischen ebenso zu Hause wie im Deutschen kann sie viele Menschen zusammenbringen. Die Juroren beschreiben Lindlar als aufstrebende Führungspersönlichkeit in der Community – allerdings mit viel mehr Erfahrung als man normalerweise von Führungspersönlichkeiten erwarten würde.
Lindlar hat über zahlreiche komplexe Themen der Archivierung publiziert und referiert, u. a. über die Rolle von PDFs in der digitalen Langzeitarchivierung, über Dateiformatvalidierung, Chancen und Herausforderungen des OAIS-Modells, die Archivierung von 3D-Architekturdaten, aktive Softwarepflege und die wertvolle Verflechtung von Kompetenzen in den Bereichen Bibliotheks- und Informationswissenschaft, IT und Archivierung. Laut Jury macht diese Forschung komplexe Themen zugänglich und unterstützt dank des Fokus auf praktische Anwendung Digitalkuratoren im Arbeitsalltag bei der Problemlösung.
Die Jury schätzt außerdem die einzigartige Weise, in der Lindlar über Twitter regelmäßig ein Schlaglicht auf alltägliche Herausforderungen der Archivierung richtet. Jeder ihrer Tweets erweitert das kollektive Wissen und sorgt dafür, dass die Diskussion über Technologien und Herausforderungen der digitalen Bewahrung im öffentlichen Raum für alle zugänglich bleibt.
Der Digital Preservation Coalition ist es eine große Freude, Micky Lindlar das DPC Fellowship in Anerkennung ihres umfassenden, großzügigen und herausragenden Beitrags zur Sicherung unseres digitalen Erbes zu verleihen.