The Digital Preservation Coalition (DPC) was presented with the Information and Records Management Society's (IRMS) Award for Innovation of the Year in recognition of its re-imagined and revised Digital Preservation Handbook at an awards ceremony held at the Hilton Hotel in Glasgow on 22nd May.
Revealed by Iron Mountain's Tim Callister and beating off competition from the UK Government Department for International Development's Vault Project for digital storage, the Digital Preservation Handbook provides an authoritative and practical guide to the complex topic of digital preservation. Supported by a group of external funders, the new handbook was developed by an expert community of international authors, under the editorship of original author Neil Beagrie, in a series of innovative 'booksprints,' ensuring it spoke to as wide an audience as possible whilst retaining a deep understanding of the topics covered.
This is the second year the Information and Records Management Society has offered an award for Innovation, created to celebrate and encourage creativity within the profession. Speaking after the Awards ceremony, IRMS Chair Scott Sammons praised the Handbook, saying "This fantastic resource has had such positive feedback from our members. It takes the traditional idea of an information handbook and repackages it to offer essentially useful information in a way that is simple, easy to understand and easy to act upon. It ticks all the boxes."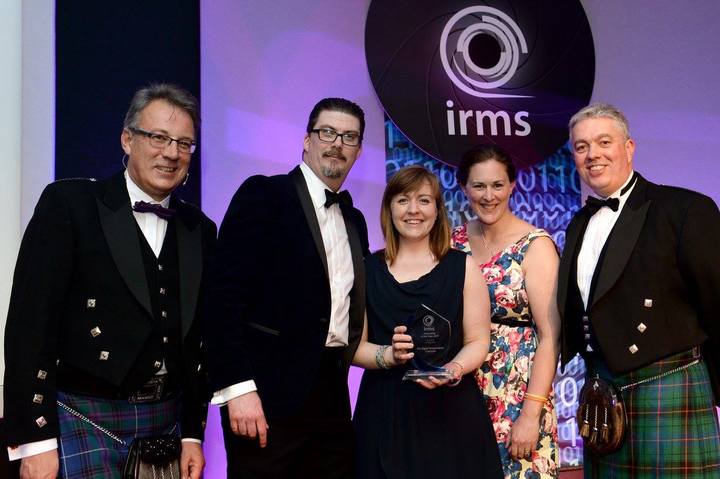 The DPC team collect the IRMS Award for Innovation of the Year from Reynold Leming, IRMS and Tim Callister, Iron Mountain. Photo courtesy of IRMS.
Not so much a handbook now, a new responsive website provides free-of-charge open access to case studies, videos and peer-reviewed online content which captures the state of the art in managing data for the long-term. It includes interactive functions, allowing readers to add comments and suggest examples and updates, while a completely new section called 'Getting Started in Digital Preservation' supports the DPC's programme of introductory workshops.
Neil Beagrie noted "The online Digital Preservation Handbook first went live in May 2002. This award is a wonderful way to recognise the ambition and vision of the DPC in instigating this revision, the innovation and effort involved in the Handbook's re-design and re-launch last year, and the Handbook's longstanding contribution to the profession and digital preservation practice. Thanks to all who made the second edition so successful: William and staff at the DPC, the funding sponsors, contributors (content, booksprints, peer review, and advisory board), Daphne at Charles Beagrie Ltd for design, layout and proof-reading, and Digital Bevaring for wonderful images."
Managing Editor, Sharon McMeekin of the DPC says "We are delighted to have received the Award for Innovation of the Year. It is a resource created by the digital preservation community for the digital preservation community. It is designed to be accessible, user friendly and most of all useful; so we couldn't be more thrilled that it has been recognised as the great resource it really is by the IRMS and its members."