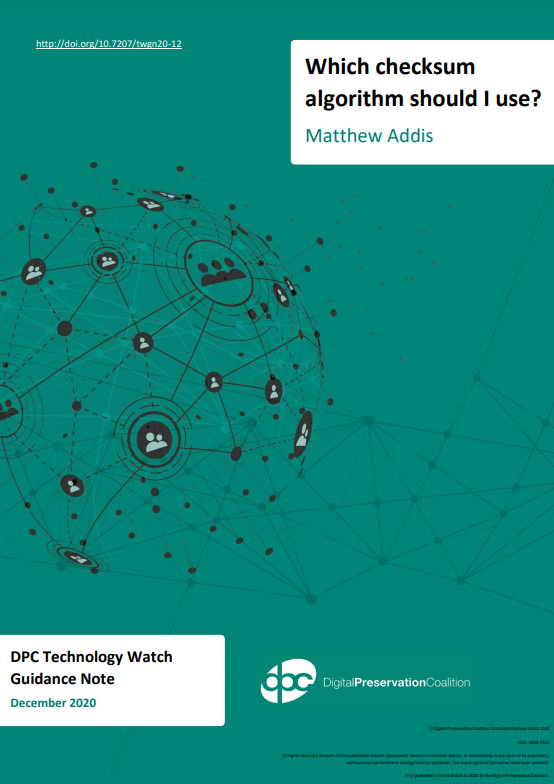 The Digital Preservation Coalition (DPC) is delighted to launch the next in its series of Technology Watch Guidance Notes entitled Which checksum algorithm should I use? by Matthew Addis today.
As the title suggests, Which checksum algorithm should I use? is intended to help answer one of the perennial questions in digital preservation. Starting by defining key terms, the report goes on to identify the reasons for using checksums and the algorithms which could be applied, before providing practical advice on where to store checksums as well as some of the tools available to create checksums and perform fixity checks.
This new Technology Watch Guidance Note and the rest of the series complements the DPC's popular Technology Watch Reports and is designed to be a 'bite-sized' paper that might contain information about a problem, a solution, or a particular implementation of digital preservation and will provide a short briefing on advanced digital preservation topics.
"Information on the application of checksums purely for simple integrity checking is often clouded by statements around how secure different checksum algorithms are. So, this Guidance Note aims to examine and clearly communicate the different roles to which checksums can be employed and recommends how to take forward and implement their use in each case." says Paul Wheatley, the DPC's Head of Research & Practice and editor of the Technology Watch Series.
Further Technology Watch Guidance Notes on a range of digital preservation topics are planned for release in the coming months.
The Technology Watch publication series is just one of the ways the not-for-profit DPC supports the digital preservation community. An international advocate for digital preservation, the Coalition helps its members around the world to deliver resilient long-term access to digital content and services through community engagement, targeted advocacy work, training and workforce development, capacity building, good practice and standards, and through good management and governance.
Click to: