The DPC was the proud host to the 18th edition of the International Conference on Digital Preservation in Glasgow (12-16 September 2022). On the last day, it is a good tradition for the iPres conference to recognize outstanding contributions and to celebrate these in prizes. This year we had a stunning four prizes to celebrate: for best paper, best poster, best first time contribution and the best combination of research and practice in digital preservation. Congratulations to all winners!
Best Paper of iPres 2022
sponsored by nestor

The Best Paper Prize (a trophy, a certificate, and £500) goes to 'Green Goes with Anything: Decreasing Environmental Impact of Digital Libraries at Virginia Tech' by Alex Kinnaman and Alan Munshower of Virginia Tech.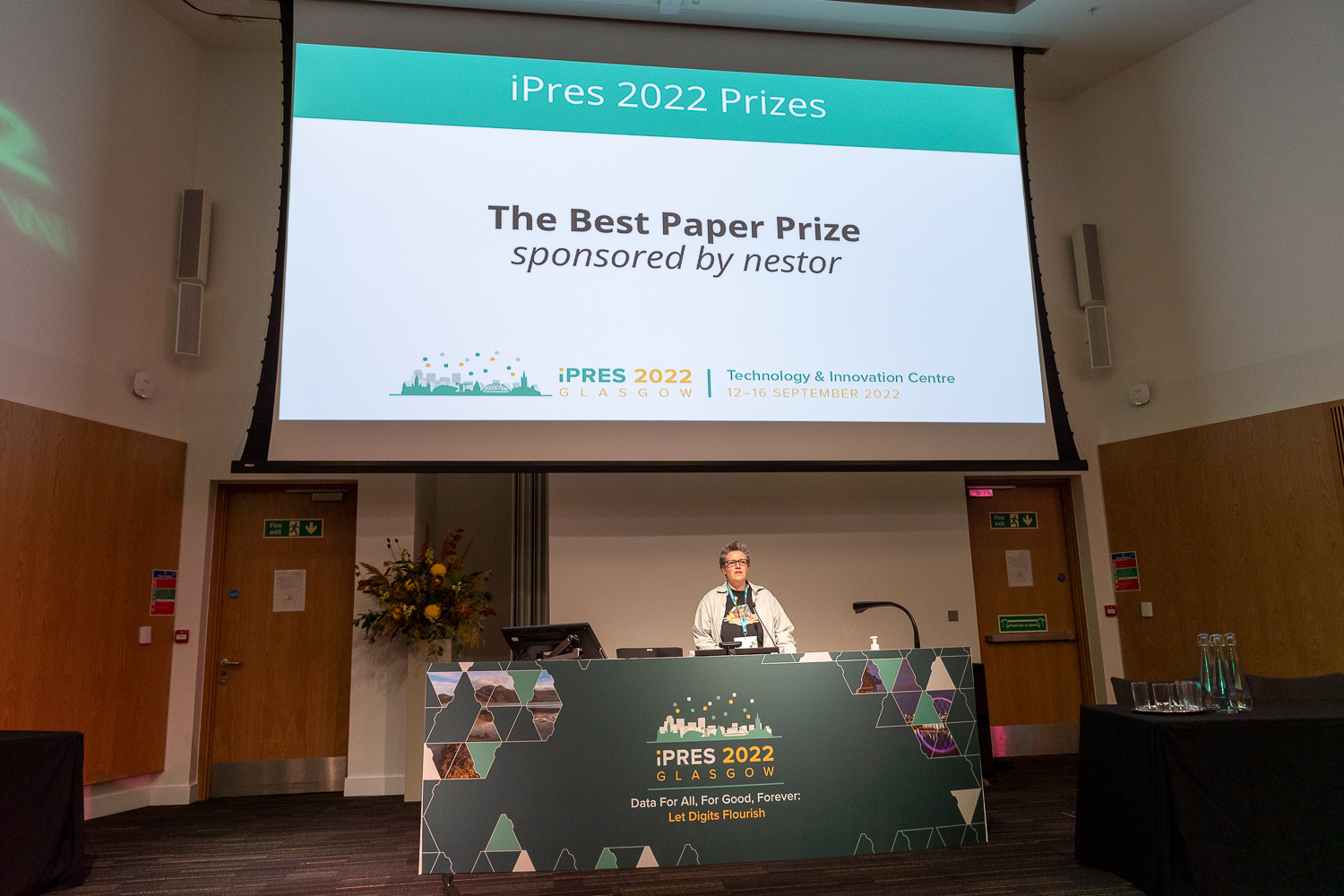 The topic of the paper couldn't have been more timely. Building on previous models put forth in the field, the authors convinced the jury with a thorough methodology and a strong practical implementation of measuring CO2 costs at their institution. Exploring changes in documentation and practice, the authors conclude with a strong set of recommendations for their own institution but also for the wider community fostering a more environmentally sustainable digital platform.
Best Poster of iPres 2022
sponsored by the Digital Repository of Ireland
The Best Poster Prize (a trophy, a certificate and £500) goes to: 'The CO2 Emissions of Storage and Use of Digital Objects and Data' by Tamara van Zwol, Lotte Wijsman, Robert Gillesse and Arie Groen of the Dutch Digital Heritage Network.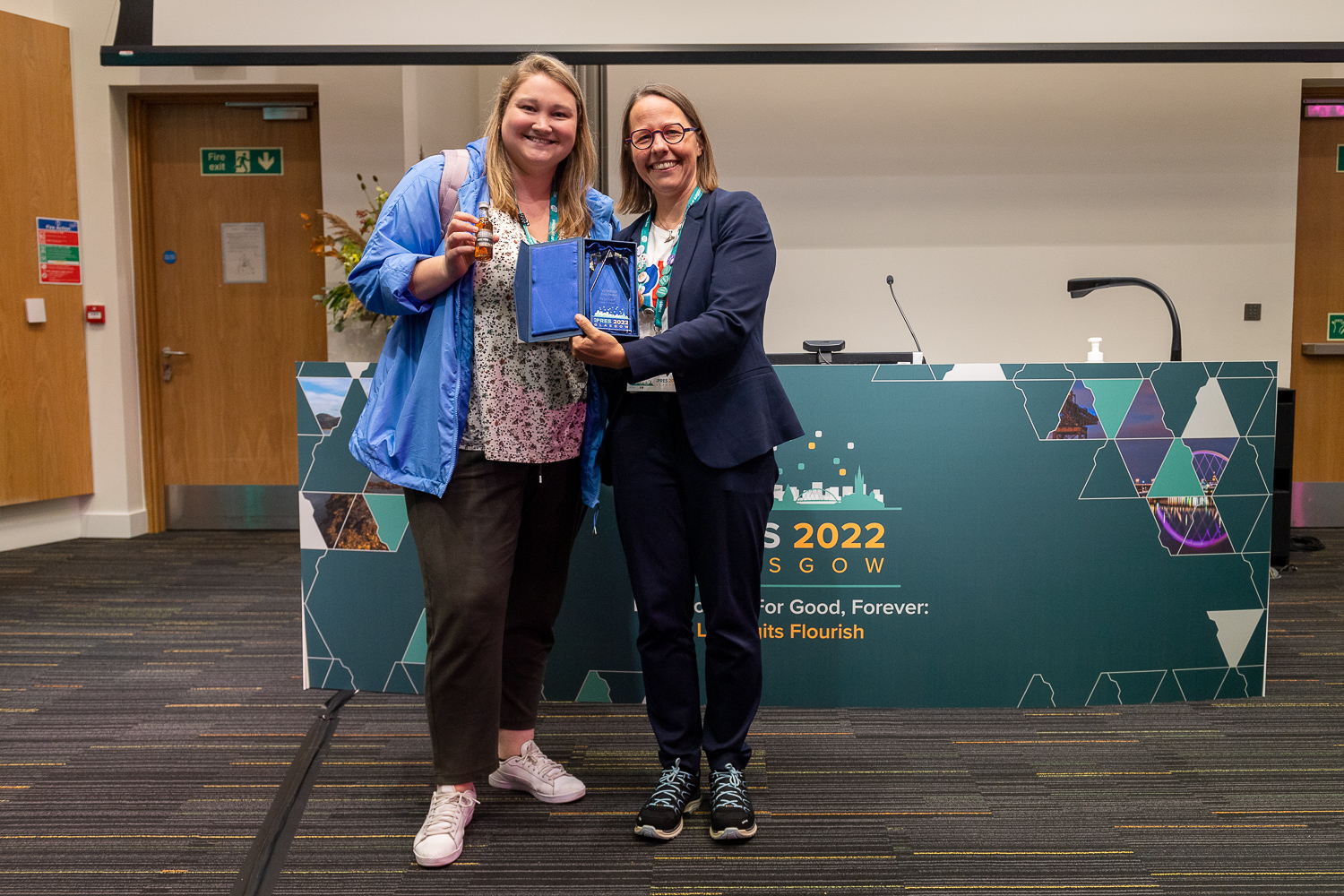 The abstract shared practical information on the case study by the Dutch digital heritage community. The poster managed to present this information clearly and concisely, while still offering practical tips to reduce energy usage and CO2 emissions for each of the four aspects examined. The visuals contributed in getting across the main points and take aways in a memorable fashion. This poster was in ideal fusion of message and visual on a topic that is of great interest to the digital preservation community.
Best First Time Contribution to iPres 2022
sponsored by the Digital Preservation Coalition
The Best First Time Contribution Award (a trophy, a certificate, and registration and a travel contribution to attend iPres at some point in the next three years – Champaign-Urbana 2023, Ghent 2024 or Wellington 2025) goes to Elisa Rodenburg of the Vrije Universiteit Amsterdam for the game "The Data Horror and Open Science Escape Rooms".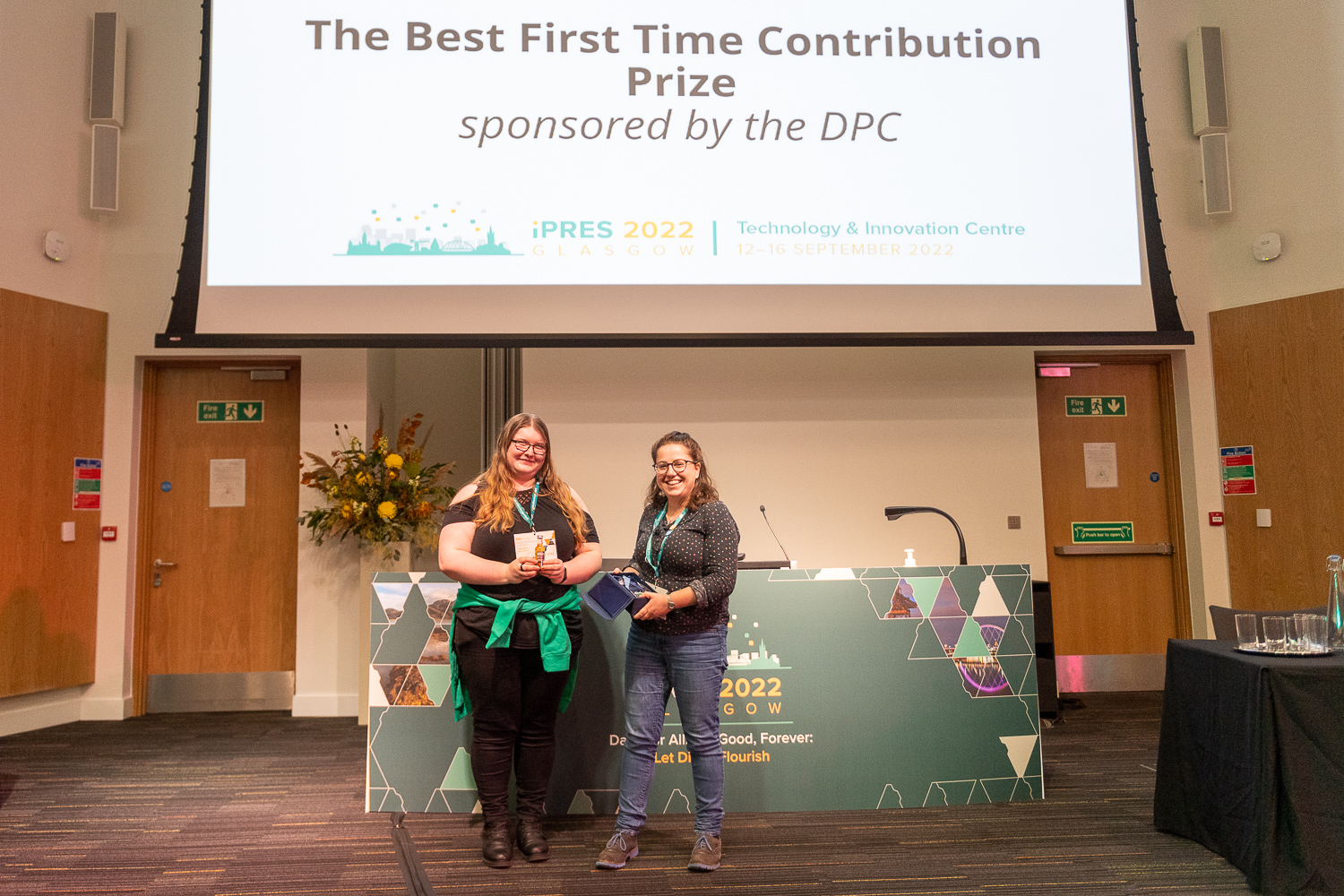 As a first time attendee to iPres, Elisa created an engaging and thoughtful game that raised awareness of good research data management and FAIR principles. The game resulted in a lively discussion with participation from all groups and it was interesting to learn during the session how the game was built and used with researchers as well to convey concepts. We hear Elisa is developing another game on research management software which would be a welcome addition!
Best combination of research and practice in digital preservation at iPres 2022
sponsored by Adam Farquhar
The Angela Dappert Memorial Prize (a trophy, a certificate, and £500) goes to Andrew Jackson of the British Library for his work on 'Design Patterns in Digital Preservation – Understanding Information Flows.' Special thanks to Adam Farquhar for sponsoring this award!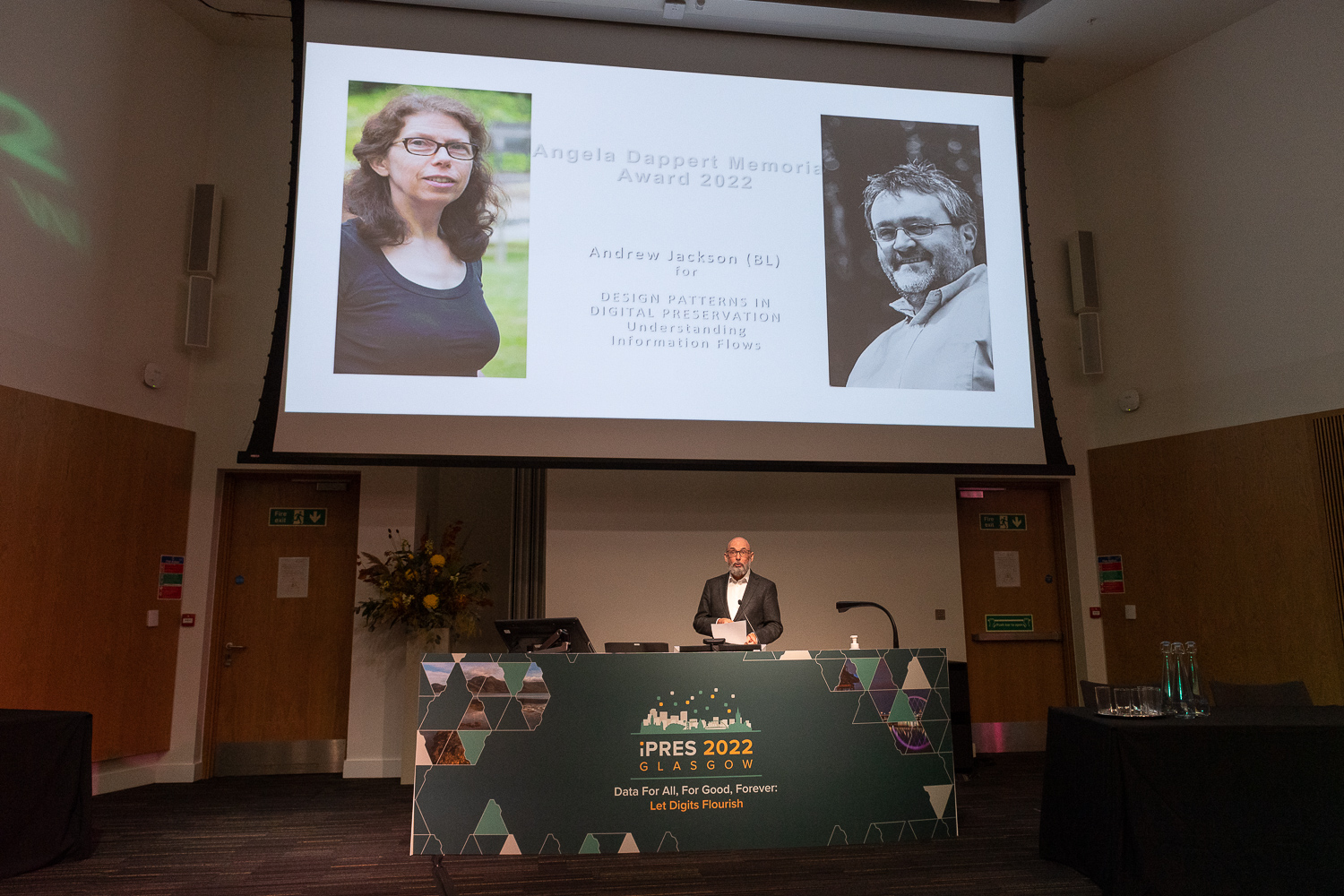 Three aspects of Andrew's work were very much consistent with Angela Dappert's values. It examines and establishes a theoretical framework in the light of established practice. It looks at relationships in OAIS, between the SIP, AIP and DIP (submission, archival and dissemination information packages), in the light of existing preservation systems and past projects. Secondly, it makes some insightful observations about these relationships and links them to the risks as well as the steps that one might take to mitigate them. Finally, it is clearly and simply written and frames the work in a way that should be hopeful especially to new members of the digital preservation community.
The prizes were awarded on Thursday 15 September at the iPres 2022 venue in Glasgow, and livestreamed to the online audience. Visit the iPres 2022 website to find out more about the prize-winning criteria.
Photo credits: Roberto Ricciuti