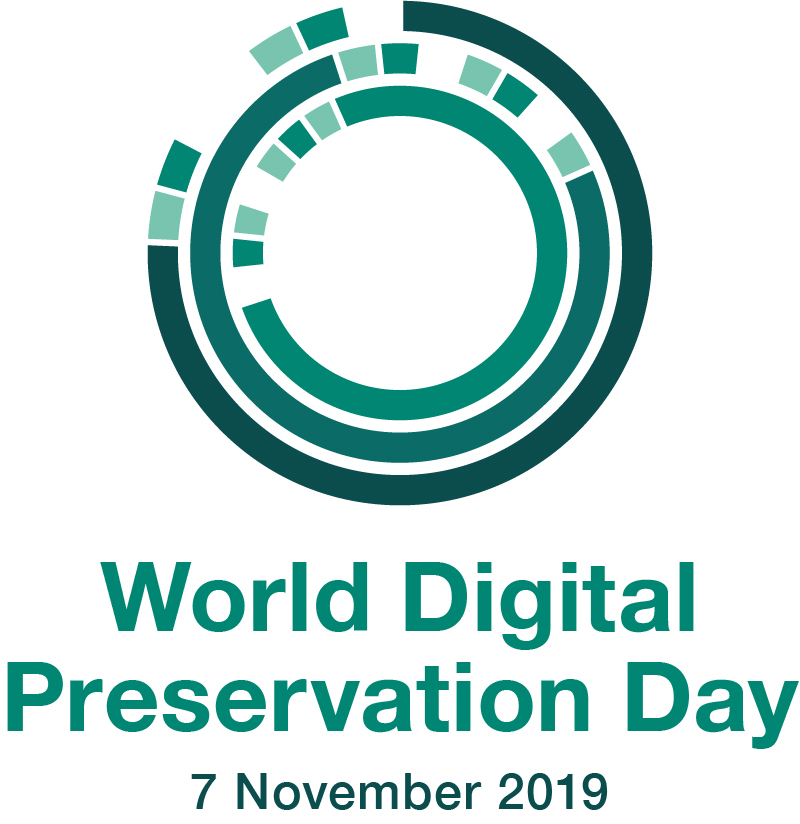 7th November marks World Digital Preservation Day 2019 (WDPD2019)
With the theme 'At-Risk Digital Materials' the digital preservation community has come together to celebrate their work: the collections they have preserved, the access they have maintained and the understanding they have fostered by preserving digital materials.
Pervasive, changing and ubiquitous, digital technologies are a defining feature of our age. Digital materials are a core commodity for industry, commerce and government. They are fundamental for research, the law and medicine. The creative industries, cultural heritage and the media depend on reliable access to digital materials while families and friends extend and sustain their relationships through digital interactions.
The aim of World Digital Preservation Day is to create greater awareness of digital preservation that will translate into a wider understanding which permeates all aspects of society – business, policy making, personal good practice.
Co-ordinated by the Digital Preservation Coalition (DPC) and supported by digital preservation networks around the world, World Digital Preservation Day is open to participation across all sectors, from anyone interested in securing our digital legacy.
"Digital preservation underpins many of our every day interactions. It isn't glamorous, and often goes unnoticed," explains Head of Advocacy and Communications for the DPC, Sarah Middleton. "World Digital Preservation Day is a great opportunity to raise awareness of a critical practice, especially among audiences who might benefit from - but not necessarily be aware of - digital preservation."
World Digital Preservation Day provides an insight into the daily activities of those involved with or thinking about digital preservation, as well as those digital materials the community considers most at-risk. Data creators, curators and consumers from around the world will showcase their own 'Digital Preservation Day' through numerous events and workshops, sharing their experiences through a series of blog posts, tweets and Instagram messages, all using the hashtag #WDPD2019.
This year the DPC's own contribution to the day will be a full revision and new edition of the 'Bit List' of Digitally Endangered Species, which will be launched at 12 noon GMT today in an online webinar.
The Bit List is a crowd-sourcing exercise to discover which digital materials our community thinks are most at risk, as well as those which are relatively safe thanks to digital preservation. By compiling and maintaining this list over the coming years, the DPC aims to celebrate great digital preservation endeavors as entries become less of a 'concern,' whilst still highlighting the need for efforts to safeguard those still considered 'critically endangered.'
WDPD2019 is just one of the ways the DPC raises awareness of the strategic, cultural and technological issues which make up the digital preservation challenge. The DPC supports members through other advocacy activities, community engagement, workforce development, good practice and standards, capacity-building and partnership; helping members to deliver resilient long-term access to digital content and services and derive enduring value from their digital assets.
For a detailed program and more information about World Digital Preservation Day visit the event page on the DPC website, follow the hashtags #WDPD2019 and #BitList on Twitter for updates or contact This email address is being protected from spambots. You need JavaScript enabled to view it. for more details.