About World Digital Preservation Day
World Digital Preservation Day (WDPD) is held on the first Thursday of every November. This year we celebrate all things digital preservation on 2nd November 2023!
The DPC invites all data creators, archivists, curators, community members and digipres folk from around the world to celebrate digital preservation by participating in a whole day dedicated to all of the benefits and opportunities enabled by the hard work of our dynamic and collaborative community.
With the theme 'Digital Preservation: A Concerted Effort', World Digital Preservation Day 2023 is a great opportunity to connect the digital preservation community and celebrate the positive impact digital preservation has had in another year where digital information and infrastructure have been so instrumental in supporting all parts of our global society. Taking digital preservation to the next level takes time and actively working together with colleagues, partner institutions, open-source developers, friends and other community members. Or, in the words of this year's WDPD theme: "No one can whistle a symphony. It takes a whole orchestra to play it!" (quote by H.E. Luccock)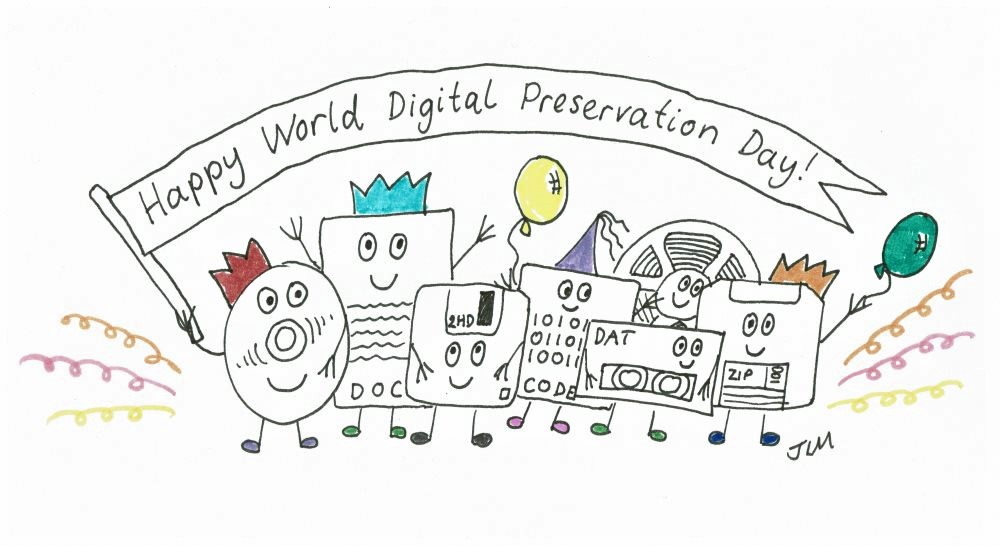 Participate in World Digital Preservation Day
Organized by the DPC and supported by digital preservation networks around the globe, World Digital Preservation Day is open to participation across all sectors, from anyone interested in securing a sustainable future for our digital assets.
MAKE, BAKE, CRAFT

Can you bake an at-risk digital material, crochet a file format, or reconstruct a process in Lego? Share your pictures with us on social media using the hashtags #BitListBakeOff and/or #WDPD2023.

SING AND DANCE

Channel your musical talents into creating a digital preservation song to share on World Digital Preservation Day.

Need inspiration? Just look at some of the awesome contributions from previous years…

RESOURCES

The DPC will publish a new edition of the Global Bit List of Endangered Digital Species as part of the celebrations.

NEWS

Read our World Digital Preservation Day news stories on the DPC website.

SOCIAL MEDIA

Highlight the collections you are working on by sharing photos, videos, and updates about your own digital preservation day using the social media platform of your choice OR take over the corporate social media account for the day to let others outside our community know about digital preservation.

Remember to use the hashtag #WDPD2023!