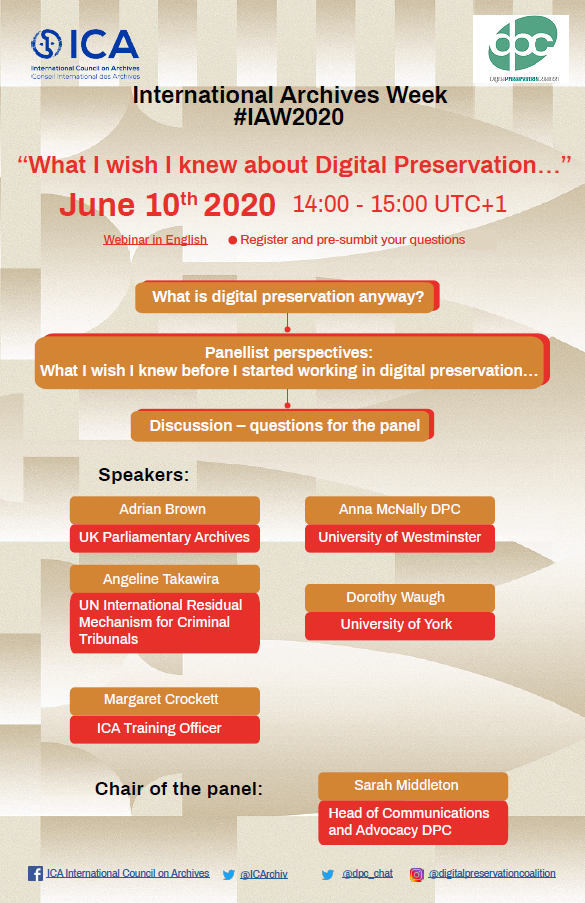 Ever wondered how to get started with preserving digital materials? What would you ask a panel of digital preservation experts given the chance? What is the one thing you'd like to know about digital preservation?
As International Archives Week approaches, the Digital Preservation Coalition (DPC) is delighted to co-host 'digital preservation day' on Wednesday 10th June! To mark the occasion, we would like to invite you to join us for a webinar on digital preservation.
In this webinar, the DPC will introduce the theme of digital preservation and archiving digital materials before handing over to a panel of digital preservation practitioners to describe 'what they wish they knew' before embarking on their digital preservation journey.
The second half of the webinar is your chance to talk to the panel of digital preservation experts!
The panellists will answer questions and discuss with attendees how to get started or make progress with digital preservation challenges. If time runs out, any further questions will be answered in a follow up blog post.
This webinar will take place in English, with the option to ask questions in English and French. Questions for the panel in any other language will be followed up after the event.
Speakers:
Adrian Brown, UK Parliamentary Archives
Angeline Takawira, UN International Residual Mechanism for Criminal Tribunals
Anna McNally, University of Westminster
Dorothy Waugh, University of York
Margaret Crockett, International Council on Archives
Sarah Middleton, DPC
Watch the Recording:
Outline Program:
Welcome and introductions
What is digital preservation anyway?
Panellist perspectives: What I wish I knew before I started working in digital preservation…
Discussion – questions for the panel