Karuna Bhoday is Program Manager, Integrated Archival Management System Program at National Archives of Australia.
---
The National Archives of Australia ensures that Australian Government information of enduring significance is identified, secured, preserved and accessible for future generations.
To continue to meet our vision of being world leading archive in this digital age and to fulfil our functions now and into the future a high priority for the National Archives is to embed an end-to-end archival management capability across the organisation and to accelerate its digital transformation. The integrated Archival Management System Program (IAMS) is a Digital Transformation Project led by our Chief Information Officer.
A new digital preservation platform which was recognised as a critical business need has been successfully established with basic capability with the help of the business areas. We are executing the roll out of Preservica in increments and embedding digital archiving capability into the systems and business workflows. The Prepare Ingest Metadata tool (PIM) is an inhouse developed app that is basically a data exchange mechanism. It prepares and builds a submission information package for ingest into Preservica. This tool automatically integrates our digital preservation system with our archival intellectual control system.
Our Design Reference Group are iterating with us throughout the journey. They are the business change managers and enable us to tap into internal networks. They nominate key staff to working groups on areas of development, testing, providing feedback, supporting the technical team to develop creative and smart processes. They work with us collaboratively to address risks, issues and find solutions.
A major milestone for the IAMS Program is the transformation of the management and preservation of our digital collection images with the launch of the new inhouse developed 'DigiApp'. It offers significant automation and business benefits for digitisation staff nationally. It validates and automatically sends digital images to Preservica (for preservation) and RecordSearch (for public access). Key benefits include:
automated validations, checksums, transfer and upload

new load monitoring with pause/continue in cases where there is network congestion.

one-click clean-up of incomplete transfers

eliminates the need to create additional small JPEGs for access thumbnails on RecordSearch

same day publishing to RecordSearch with visibility based on access status and indicators

consistent digitisation workflows nationally.
DigiApp is a key enabler supporting the digital preservation activities at the National Archives as the organisation ramps up digitisation of the Collection for greater visibility and access.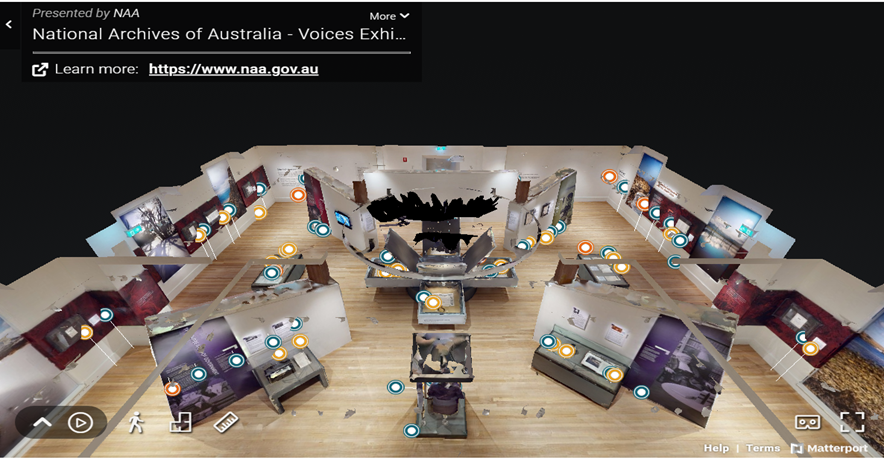 As part of the IAMS program we have launched an enhanced public engagement experience using emerging technologies to provide a 3D rendering of our Voices/Dhuniai Exhibition. It provides an immersive experience including high resolution images of display items and 'talking head' videos providing additional insights into the content. This digital twin takes visitors on a journey through Federation, the history of the Australian Constitution and the rights and freedoms it guarantees. This exploratory trial is a peek of what the future holds as the IAMS program implements contemporary and modern tools and technologies; and continues to takes a human centred approach to make the national archival collection available anytime and from anywhere. So that researchers for generations to come will have instantaneous access to digitised and born-digital records.