Nicole Kearney is Manager of Biodiversity Heritage Library Australia at Museums Victoria
---
The Biodiversity Heritage Library (BHL) is the world's largest online repository of biodiversity literature and archival materials. I manage the Australian component of this global project and, to celebrate world digital preservation day, I've been asked to share what we do to make Australia's biodiversity literature openly accessible and discoverable online.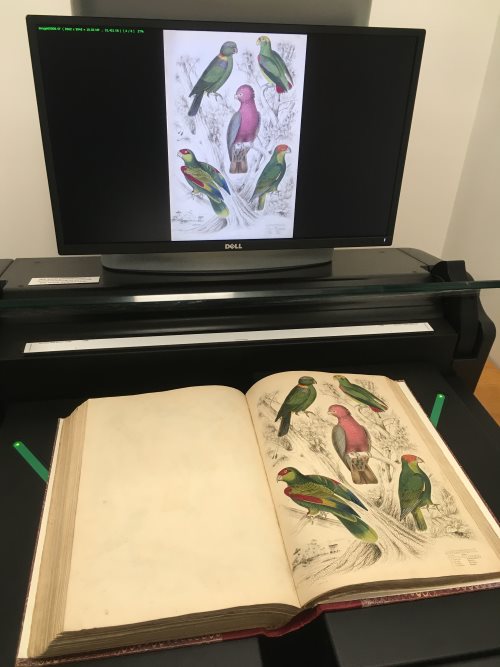 "The animal kingdom of the Baron Cuvier, enlarged and adapted to the present state of zoological science" by Baron Georges Cuvier, 1839. (from Museums Victoria's rare book collection, digitised by BHL Australia). Photo: Nicole Kearney.
The Australian branch of BHL began operation in 2010, digitising the library collection of a single organisation, Museums Victoria (in Melbourne). Since then, BHL Australia has grown to include 23 Australian organisations: museums, herbaria, royal societies, field naturalists clubs, government institutes and agencies, and independent publishers. Together these organisations have contributed over 250,000 pages of Australia's biodiversity literature, all of which are now freely accessible online. This includes both published items, such as rare books and historic journals, and unpublished materials, such as handwritten diaries and notebooks. The project continues to be hosted by Museums Victoria and is funded nationally by the Atlas of Living Australia.
BHL Australia has a fantastic team of on-site volunteers who scan the pages, prepare the images for upload, and add the all-important metadata that makes this content discoverable once it is online. We also have a tremendous workforce of online volunteers who transcribe the handwritten material (via DigiVol) and add machine-readable tags to the scientific artwork from the items we digitise (via Flickr).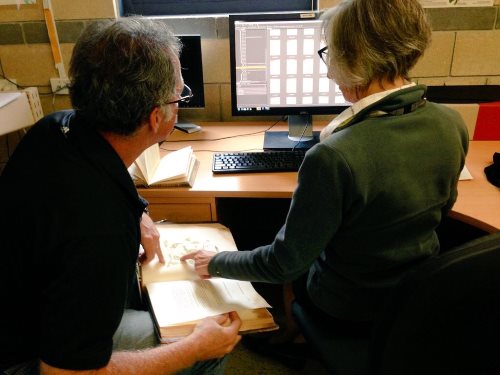 BHL Australia volunteers Bob Griffith and Tiziana Tizian preparing digitised items for upload onto the BHL website.
This work not only makes the content accessible, discoverable and searchable, it also links it to other related content online. For example, when a volunteer adds a machine-readable scientific name (e.g. taxonomy:binomial="Rhycherus filamentosus") to an historic image on Flickr, that image will be harvested across to the profile page for that scientific name on the Encyclopedia of Life, and, if they also add a machine-readable geo tag for Australia (geo:country=Australia), the image will appear on the Atlas of Living Australia's profile page for that species.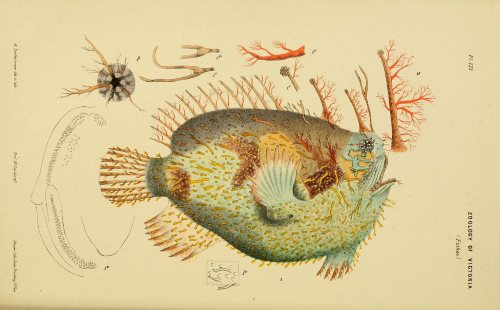 Tasselled Angler (Rhycherus filamentosus) from "Prodromus of the zoology of Victoria" by Frederick McCoy , 1886. (image now taxon-tagged on Flickr by crowd-sourced citizen scientists).
While the primary goal of our tagging project was a scientific one (to add scientific illustrations of species to the global and national aggregators of biodiversity knowledge), having this beautiful artwork on Flickr has brought it to new audiences, such as artists, historians and educators. Several of our online volunteers, passionate about attribution for (particularly female) historic illustrators, have pioneered a project to tag BHL images with machine-readable artist tags (e.g. artist:name="Elizabeth Gould"), as well as each artist's unique VIAF number (e.g. artist:viaf=95337417).
We used to think that if something wasn't online, no one would know it exists. But, there is now so much stuff online – over 55 million pages on the Biodiversity Heritage Library alone! Just putting something online isn't enough anymore. The projects mentioned above make our online content discoverable and searchable. We're also working to make this content persistently linkable and trackable. Our latest project involves assigning digital object identifiers (DOIs) to Australia's biodiversity heritage literature – the foundation upon which our understanding of Australia's biodiversity is based – so that it can be brought into the global linked network of research applied to current publications.
Peruse the 250,000+ pages made freely available online by Australia's natural history organisations: BHL Australia Collection
To find out more about BHL Australia, follow us on Twitter: @bhl_au