Laura Peaurt is Digital Preservation Officer at Manuscripts and Special Collections, University of Nottingham Libraries.
---
World Digital Preservation Day always provides a welcome prompt to pause and reflect on our digital preservation journey over the last twelve months. This year we have been asked to consider how digital preservation supports digital connections, unlocks potential and creates lasting value.
At Nottingham Manuscripts & Special Collections we have been begun to realise the opportunity provided by our digital preservation system to encourage broadening access to and use of our digital collections. This includes both our previously hard to access analogue materials (such as VHS and cassette tapes) as well as newly acquired born digital content collected on CDs, DVDs, and floppy disks over the years.
As mentioned in previous blogs (Reflections on the Year), the procurement of a preservation system in 2019 allowed us to scale up transfer of collections held on fragile or obsolescent physical media such as floppy disks and VHS tapes and provides a secure home for it as well as the opportunity to open these items up for use by our researchers.
Soon after this, the pandemic began to impact us all both personally and professionally early in 2020. We all switched to working from home and our facilities were suddenly closed to both staff and researchers cutting off our access to physical collections.
We were fortunate to be able to access our digital collections from home and continue to work on making them more accessible for the future. We were concerned that some of our usual important activities such as provision of student placement and career experience placements would be indefinitely on hold during lockdown and working from home. The library is committed to supporting placements at the archives to allow them to gain practical skills and experience of the work of professional archivists as well as developing research skills and an understanding of the needs of researchers. We also see it as an important part of our academic engagement activities, so we immediately started looking for ways to fill this need during the pandemic.
Our newly processed and preserved digital holdings provided us with the perfect opportunity to keep that important academic/student connection going through remote placements. We had recently acquired the papers of Matt Marks produced during his professional life. Matt Marks (1963-2019) was an alumnus of the University of Nottingham and a musician who collaborated with a number of writers, performers and theatre companies whose archives are already held by Manuscripts and Special Collections (Stephen Lowe/Meeting Ground, New Perspectives, Roundabout Theatre).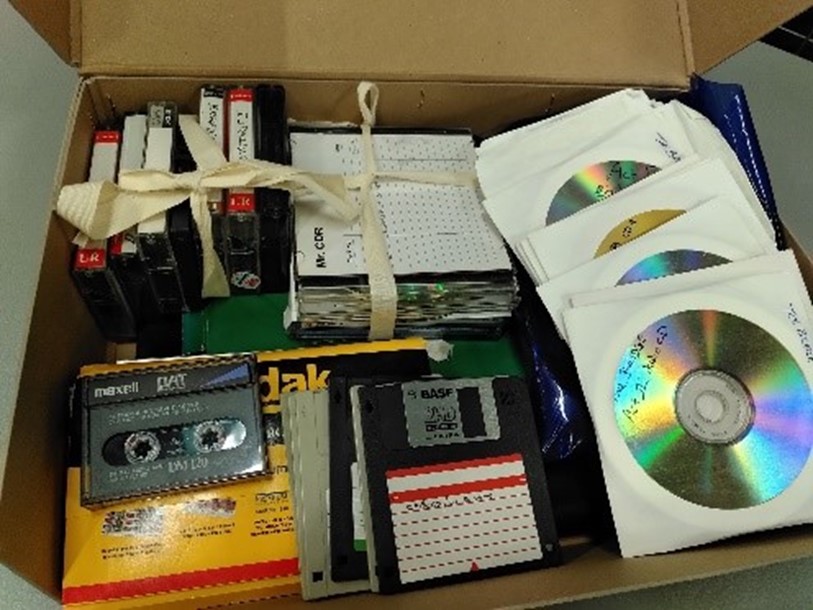 Image showing discs from the Matt Marks collection A3032
Prior to the pandemic, we had committed to offering a student from the English Department a two-semester placement which would involve working on one of our theatre collections in our reading room for the first semester and writing a dissertation based on that work during the second semester. When access to the University's campuses was abruptly curtailed, we realised that our previous work to transfer content from physical media such as CDs and floppy discs and upload it into our digital preservation system meant that we were able, for the first time, to offer a remote placement. This meant the student was still able to take up the opportunity to benefit from connecting with and learning from our archives and complete their dissertation. The English Department were very grateful for our fast action to salvage the placement which forms such an important part of the student's final year. It was also a significant opportunity for us to learn more about how undergraduate researchers might engage with digital archive materials.
The collection contained many CDs whose contents had been transferred off CDs and into our digital preservation system. However, this did not mean we had a vast amount of information available to us about what the discs contained.
We provided the student with controlled digital access to a box list of the discs and access to the digital files themselves. The student was then able to provide us with detailed descriptions of 19 of these discs. We used Microsoft Teams chat function to stay connected with the student and academic supervisor during the placement alongside Teams calls as required.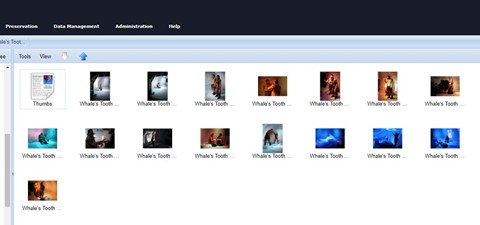 Image shows files from ACC3032/M0025, photos of The Whale's Tooth production, circa 2007. Matt Marks worked on the music composition in 2007.

Image shows files from ACC3032/M0026, recorded Whale Sounds relating to The Whale's Tooth production circa 2007. Matt Marks worked on the music composition in 2007.
Offering placements remotely has been a real success story for us and while space in our reading room continued to be restricted, we have also offered remote careers experience placements working on transcriptions of our recently digitised audio recordings of interviews with staff made in the 1970s (Tolley tapes). Placements were able to take place virtually using OneDrive, correcting auto transcripts created in Word online.
We now seek to continue providing this sort of remote opportunity, which should increase the potential for placements without relying on the ability to physically be present in the reading room. We have been able to follow up with another English dissertation placement offer involving hybrid working on our New Perspectives Theatre collection which includes both paper and digital materials demonstrating one of the immediate benefits our digital preservation system has been able to offer to our research community.