Laura Peaurt is a Digital Preservation Officer at the University of Nottingham.
---
This year I'm reflecting on the progress that Manuscripts & Special Collections at the University of Nottingham Libraries have been able to make during this challenging and unprecedented year to preserve our digital collections for future generations of researchers.
We have spent this year putting our new digital preservation system into action. This represents a great leap forward for us in terms of our ability to actively manage and continue to develop our growing digital collections. We have also successfully integrated the system with our Collection Management software meaning that in the future our end users should be able to access our digital records directly from the catalogue.
Our first steps have been to transfer our existing digital collections into the system for safekeeping including both digitised images and born digital collections, but we have also been able to spend some time actively collecting new digital content to document the university's role in responding to the pandemic.
Processing physical media carriers
We hold a variety of physical media carriers within our collections. We all know that content held on physical media carriers such as VHS, floppy disks, CDs is at risk of loss. In recent years, we have undertaken an audit of physical media carriers within our archival collections and created a Media Asset Register to record them.
We identified the need to safely transfer content off physical media items in order to address the risks associated with obsolescence of media carriers and file formats, fragility of media carriers and the need for suitable back up of content.
The procurement of our digital preservation system means we can transfer the content off physical media and directly into the safekeeping of an actively managed digital repository.
This transfer work requires the use of a varied supporting cast of hardware and software including write blockers, floppy disk drives, and disk imaging tools to allow us to read media and access the contents for long term preservation and access. We are currently focused on the items which we can process in house using tools we have available to us – initially 3.5 inch floppy disks, CDs and DVDs.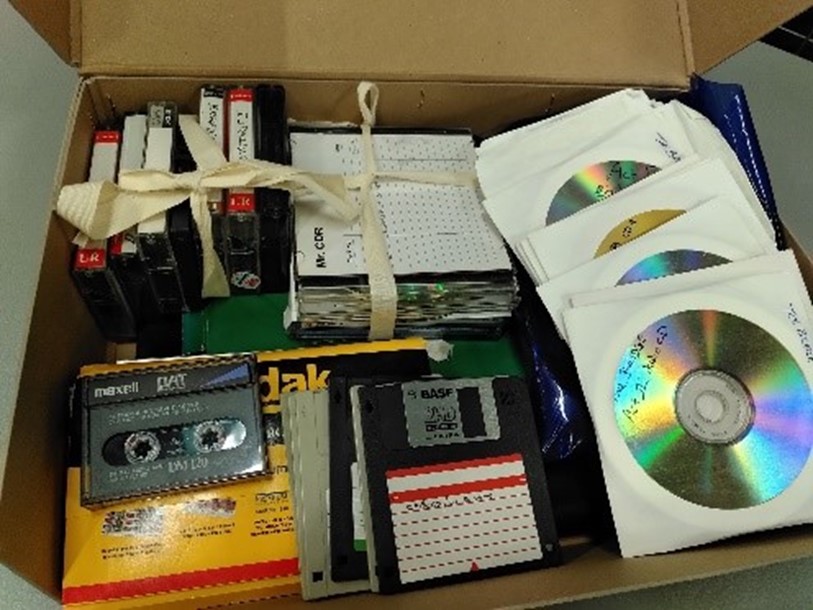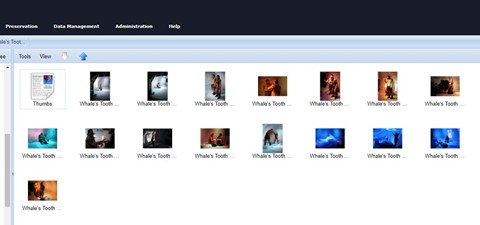 Example of some of the physical media items held in our collection Examples of hardware used to help us to transfer content held on physical media into our preservation system
As part of our work to transfer the contents of physical media items into our preservation system, we also take care of the original media item itself. We remove it from often unsuitable packaging in which it arrived and store the media together in appropriate environmental conditions.
We never quite know what we are going to find on the discs. The image below shows an amusing video created by Nottingham Student Union for their Easy Tiger safe sex and alcohol awareness campaign in 2009.

Screenshot of a video created for the Easy Tiger safe sex and alcohol awareness campaign, in the style of an old-fashioned information broadcast.
Even when we can read a disc, we may still struggle to make sense of the digital files on it. Many digital files will have been created in early word processing or publishing formats that have fallen out of use today.
Uploading this content into our digital preservation system allows us to analyse and report on risks to continuing access. We can make use of migration pathways provided in our digital preservation system and used within the digital preservation community to migrate some of these problematic legacy digital file formats into more user-friendly file formats for our end users to easily access today. Of course, we always preserve the original files as deposited with us.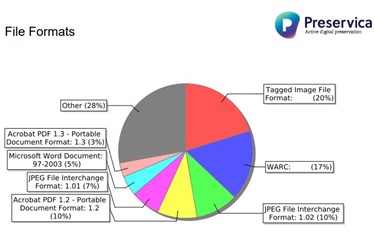 One of the many reports available to us in Preservica. We can look in detail at the files.
Active digital collecting
As we all know 2020 has been a challenging year surfacing unprecedented challenges for everyone including the higher education community.
Manuscripts and Special Collections have been very aware of the active role played by the University of Nottingham in responding to challenges posed by the pandemic and have been able to use new tools in our preservation system to enable the collection of web-based content such as websites, blogs etc via web harvesting to try to document the university community's experience during this time.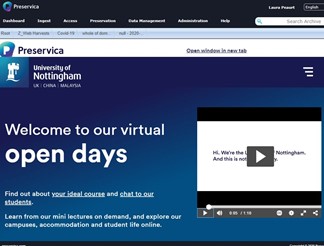 Preservica capture of UoN Covid-19 page on the University's contributions Preservica capture of UoN virtual open days pages
Building a community
I have been working with Rachel MacGregor and other regional colleagues to initiate a digital preservation peer support network in the Midlands region – current working title 'MidiPres'.
The idea is to provide an opportunity for informal sharing of practical experience, sharing of workflows and problem solving. One unexpected side effect of the move to working from home has been the growth in general use and familiarity with collaborative working tools (such as Microsoft Teams) allowing us to plan and hold online meetings in a way that might have seemed unfeasible in 2019.
This network will provide a great opportunity to share and get feedback as we continue to develop our workflows and practice with our digital collections over the next year.