The Digital Preservation Coalition (DPC) has made the next in its series of Technology Watch Guidance Notes, Choosing a Persistent Identifier Type for Your Digital Objects by Remco van Veenendaal of the National Archives of the Netherlands, available on general release today.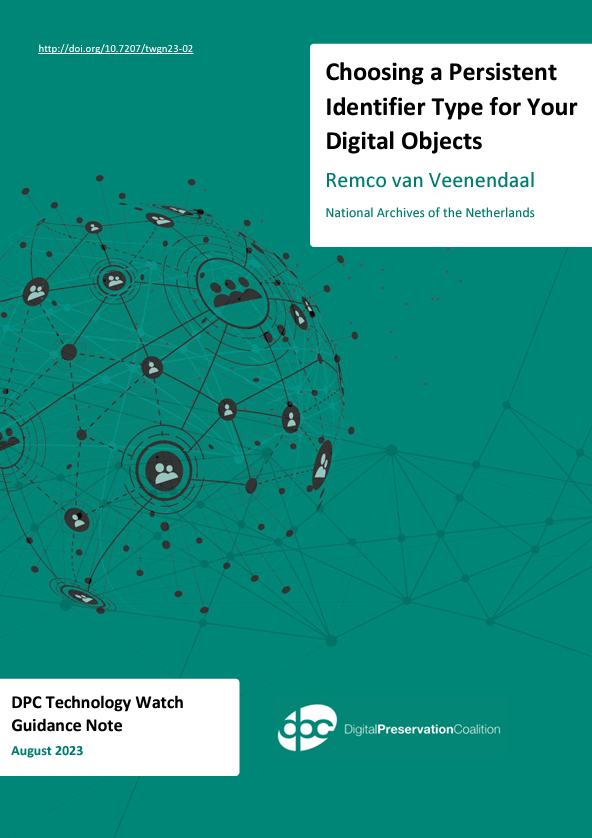 "Having been involved in work in the Netherlands to create a guide to choosing a persistent identifier type, I was happy to be asked to write this guidance note for the DPC and ensure that this work reaches a wider audience", the author says. "I hope this publication helps members of the international digital preservation community to move forward with choosing and using persistent identifiers."
The new Guidance Note seeks to help readers get started using persistent identifiers (PIDs) for digital objects. Its intended audience is people who are involved in digital preservation in heritage and research organizations. The report answers questions such as: 'What are persistent identifiers?', 'Why are they important?', 'Which type should you choose?', 'Are you ready for them?', and 'How should you implement them?'
The Technology Watch publication series is just one of the ways the DPC supports the digital preservation community. An international charitable foundation which supports digital preservation, the DPC helps its members around the world to deliver resilient long-term access to digital content and services through community engagement, targeted advocacy work, training and workforce development, capacity building, good practice and standards, and through good management and governance. Its vision is a sustainable future for our digital assets.
Click to: