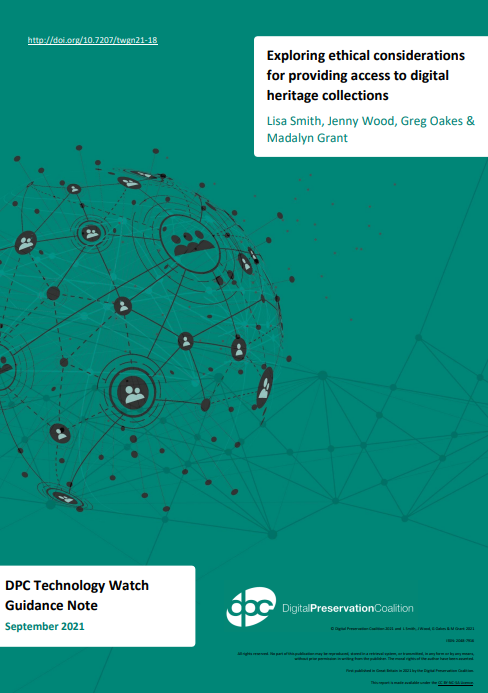 The DPC has released the next in its series of Technology Watch Guidance Notes on Access to digital collections. The new Guidance Note entitled Exploring ethical considerations for providing access to digital heritage collections by Lisa Smith, Jenny Wood, Greg Oakes and Madalyn Grant, is available as a one-month DPC Member preview from today.
The guidance note raises some considerations for providing ethical access to digital heritage collections in archives. It is illustrated through a case study of approaches and tools that have been useful for collection management professionals at the Australian Institute of Aboriginal and Torres Strait Islander Studies (AIATSIS) located in Canberra, Australia on the traditional lands of the Ngunnawal people.
"The authors are thrilled to see this Guidance Note sit alongside the publications that are coming out of the committed DPC community," says Lisa Smith. "Providing ethical access to digital heritage is an ongoing conversation as access will always be an important driver of preservation work, and we are pleased to have contributed to the discussion in this way."
With a one-month preview for DPC Members, this and other Technology Watch Guidance Notes are 'bite-sized' papers that contain information about a problem, a solution, or a particular implementation of digital preservation and provide short briefings on advanced digital preservation topics.
Further Technology Watch Guidance Notes on a range of digital preservation topics are planned for release in the coming months.
The Technology Watch publication series is just one of the ways the DPC supports the digital preservation community. An international charitable foundation and advocate for digital preservation, the Coalition helps its members around the world to deliver resilient long-term access to digital content and services through community engagement, targeted advocacy work, training and workforce development, capacity building, good practice and standards, and through good management and governance.
Click to: