World Digital Preservation Day is just around the corner. November 7th is just 5 weeks away which means, for me, the countdown has really begun!
We've chosen a theme - 'At-risk Digital Materials' - to tie in with the new edition of the BitList of 'Digitally Endangered Species' we're publishing on the day and work on that is underway in earnest, we've updated logos, added MORE logos in different languages, created event packs and stickers, posted them to all corners of the globe, invited a whole bunch of interesting bloggers to write for us on the day…so now it's getting exciting!
I know we have only had a World Digital Preservation Day (WDPD) for 2 years now, but it already feels special, a bit like Christmas (for me) or some other kind of jolly get together where friends and family gather to celebrate through food, drink, song, dance…people let their hair down and do things they might not normally do on an ordinary day. (I have seen all these things happen on World Digital Preservation Day!)
For those of you for whom World Digital Preservation Day is a new thing, and for those of you who participated in previous WDPDs as well, let me try and explain the World Digital Preservation Day effect in a series of highlights (which all happen to begin with 'c')….
The community
To take a step back to the beginnings of WDPD, we started in 2017 with a home-made logo and encouraged people to download this and add it to email signatures, event programs, tweets, anything relevant really. On the day, we were expecting quite a low key but fun 36ish hours of blog posts and tweets … but from these humble beginnings, boy has WDPD grown in 2 years?!
Comparing the levels of community engagement between the first and second years of WDPD shows that people have really taken to WDPD in a big way!
We started with logos in 13 languages, offered to us by obliging members of the digital preservation community, and this year we have 27!
In 2017 we published 70ish blog posts on the DPC website, in 2018 that more than doubled!
In 2018 the numbers of countries hosting WDPD themed events increased by 25%
Social media posts using the hashtag #WDPD2018 increased
Hits on the WDPD related pages on the DPC website increased
This handy infographic about WDPD2018 shows the rest…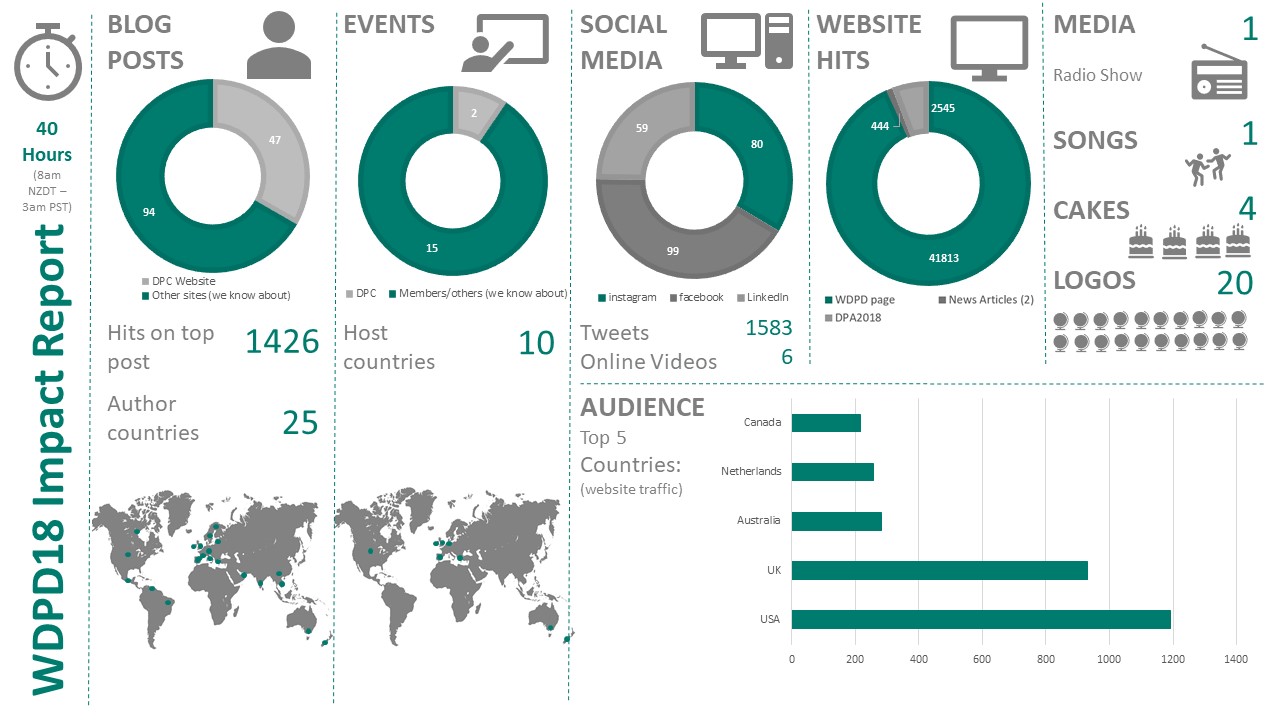 In short, the number of WDPD-ers is on the up! And we expect the WDPD effect to gather even more partygoers this year.
The contact
I was actually at a World Digital Preservation Day 'party' in Amsterdam with the rest of the DPC team last year. We held our bi-ennial Digital Preservation Awards on the day as our contribution to the celebration. Which was an experience in itself! You can see for yourself here…
But another fantastic thing about the WDPD effect is that you do feel like you are actually 'with' people – even if you are not, even if you are in your office following the day's proceedings online. The year before I was sequestered away in our DPC office in York but I 'met' new people around the world through their tweets and Instagram pics. I followed events that were taking place on the other side of the globe and on the blog read about institutions and collections and challenges and endeavors and achievements, in environments and situations I had never considered before.
I felt like I really made contact with people – and in fact have stayed in touch with some people I 'met' on past WDPDs. The presence of such a geographically diverse group all sharing and supporting each other has been a joy to be a part of.
The camaraderie
The camaraderie, the sense of togetherness, the noise we make about digital preservation online on a WDPD is OVERWHELMING! In entirely good ways.
People representing all parts of the community, whether they are subject matter specialists or play other important roles, all have a place on WDPD. Digital preservationists from all continents on the earth have a place on WDPD. People who create data and people who consume data, as well as the people who preserve data, all have a place on WDPD.
The WDPD effect unites us in an almighty digital-preservation­-appreciation-fest!
The creativity
But my absolute my favorite thing about the WDPD effect is the way it inspires creative ways to celebrate the day. You might think 'digital preservation, what can I do with that?' Well the answer is that the possibilities are quite probably endless!
World Digital Preservation Day in 2017 had already prepared me for some spectacular baked goods, but then in 2018 I saw these:
*Drumroll* Revealing the spectacular baked goods offerings for World Digital Preservation Day 2018, made by @ktaines ???? Behold: a cake rendition of the @digitalcuration lifecycle model AND #digipres workflow cookies #archivescake #WDPD2018 #AusPreserves pic.twitter.com/aSZUD4EzOQ

— Jaye Weatherburn (@jayechats) November 28, 2018
And these:
It's #WDPD2018 in Canada! Getting the celebrations started with some floppy disc cupcakes #nailedit pic.twitter.com/p7Ttz55Mm9

— Angela Beking (@AngelaBeking) November 29, 2018
I was not, however, expecting this artistry:
I asked some digital (and analogue) media why they *loved* World Digital Preservation Day sooooo much ...and this is what they said. #WDPD2018 pic.twitter.com/9mx08ea1nZ

— Jenny Mitcham (@Jenny_Mitcham) November 29, 2018
And never did I expect to encounter a digital preservation song, or dance, let alone a carefully choreographed song-and-dance entitled 'All the Corrupt Files (Single Ladies [Put a Ring on it] parody)' by the State Library of Queensland:
All the Corrupt Files (Single Ladies [Put a Ring on it] parody) from State Library of Queensland on Vimeo.
If you have not watched this already – you absolutely must! The bar has been set HIGH!
And then there was this:
World Digital Preservation Day aftermath just keeps going in these parts: stay tuned next week for a VERY exciting awards ceremony #AusPreserves #wdpd2018 #digipres #digitalpreservation @coates_serena @TaksNz pic.twitter.com/W3tDGhyMZy

— Jaye Weatherburn (@jayechats) December 6, 2018
There are no words…
So, with just 5 weeks until World Digital Preservation Day on Thursday 7th November, there is not much longer to wait until our third annual celebration of all things digital preservation!
And this WDPD effect is the reason I am so excited. I don't know what to expect this time. I am expecting the unexpected.
And if you'd like some suggestions about how to take part, I would be happy to oblige:
Share the love
The great thing about World Digital Preservation Day is that it's an opportunity for the community to celebrate its work and achievements – but we can also use this opportunity to tell others about digital preservation too! Does your organization have a public space? Could you organize a pop-up stand where the public might see? Could you spare an hour or two over lunchtime to talk to people about digital preservation, what it means, some small steps they could take themselves? We've assembled an event pack on the DPC website with some handy printable resources for just this sort of occasion – and you can order stickers to hand out too!
Tell us ALL about it
Like to write? Tell us about the trials and tribulations, challenges and solutions, failures and successes you face in a typical 'digital preservation day.' Take us behind the scenes and tell us about the at-risk digital materials you're working with, or know about. Or, do you consider all digital materials within your community to be at risk because the skills, infrastructure or resources do not exist to support digital preservation. In which case, let us know what is required to enable digital preservation to happen.
If you are a member, you can post directly to the DPC blog on the day (login first). If you have your own blog, post your piece there and send us a link to it and we'll add it to the WDPD2019 page, or send us your post in advance (by Monday 21st October) and we'll add it to the DPC blog for you.
Tell us about it (short version)
Blogging isn't for everyone but, using your social media channel of choice, can you encapsulate your 'digital preservation day' in 140 characters? Do you think you could persuade your organization to relinquish the corporate twitter account for the day, for you to tweet non-stop about digital preservation?! It goes without saying that we want this to be an international affair, so any language goes... just make sure you use the hashtag #WDPD2019.
Take a picture
They say a picture is worth a thousand words. Can you take a photo which sums up your 'digital preservation day' or the 'at-risk digital materials' you have identified? A stack of CDs or other fragile storage media filed 'safely' on a shelf, your preservation lab (I appreciate not everyone has one of these), a team meeting, a seminar, your obsolescent-media-cake?! Add it to your own Instagram/facebook/Flickr account using the hashtag #WDPD2019 or send it to us and we'll add it to ours.
Make a movie
Keep your eyes peeled for inspirational moments at digital preservation and related conferences between now and 7th November and record them if you can! If you are giving a paper at a conference soon, you're holding a webinar, or have done recently, see if you can record it and make a short video. If you are holding your own event or attending one on the day, or can capture a workflow at your desk, see if you can do the same. It doesn't have to be studio quality; record on your phone or even narrate a PowerPoint, and then add to your video-sharing platform of choice, remembering the hashtag #WDPD2019 of course.
Or, you could always write a song and choreograph an accompanying dance … ¯\_(ツ)_/¯
Come together
All this social media is fine, but nothing beats a proper get together. Take inspiration from some of our members who have come together to form their own local digital preservation gatherings; 'AusPreserves,' 'Digital Preservation and Cake' or 'AyePreserve' to name but three. Basically, get together, have a chat about digital preservation with likeminded folk and consume a foodstuff and/or beverage of your choice. What could be better? Or why not take the opportunity to gather colleagues from other departments around your organization, who you would like to know more about what you do and tell them! It doesn't need to be all day – an hour-long breakfast or lunchtime seminar would be perfect. If you are organizing an event, let us know and we'll add to the WDPD2019 page on the DPC website! And take a picture, and tweet it, or whatever you like to do.
However you choose to participate, enjoy and feel the WDPD effect! I am ready to have my socks knocked off, again.