Roxana Maurer-Popistașu is Digital Preservation Coordinator at the National Library of Luxembourg
---
National Library of Luxembourg's Digital Preservation challenges
As a national heritage library, the National Library of Luxembourg (BnL) has as a mission to collect, catalogue, enrich, and preserve the national heritage, both in print and in digital form. Since 2002, the BnL has been digitizing documents to not only ensure the optimal preservation of the originals weakened by their age and / or frequent use, but also to promote the published cultural and intellectual heritage, facilitate access to it and support new research methods. The digitized collection includes historical newspapers, books, manuscripts, postcards, and posters from the Luxemburgensia fund (publications from Luxembourg – legal deposit – or issued abroad by Luxembourg residents or in connection with Luxembourg).
Furthermore, like many other national libraries around the world, the BnL saw the importance of the digital challenge and has been lobbying for years for resources to develop further its digital offer to the public in general, and for digital preservation in particular. Without resources, the technological and organizational infrastructure cannot be implemented and thus the Three‑Legged Stool of Digital Preservation cannot stand. No easy task, as many people have repeatedly noticed, including at PASIG 2017: "It's really hard to convince stakeholders that [digital preservation] is something that's worth spending money on. It's not glamorous, it's invisible…". Unless you start losing your data and it finally becomes a priority, as it happened at the University of the Balearic Islands.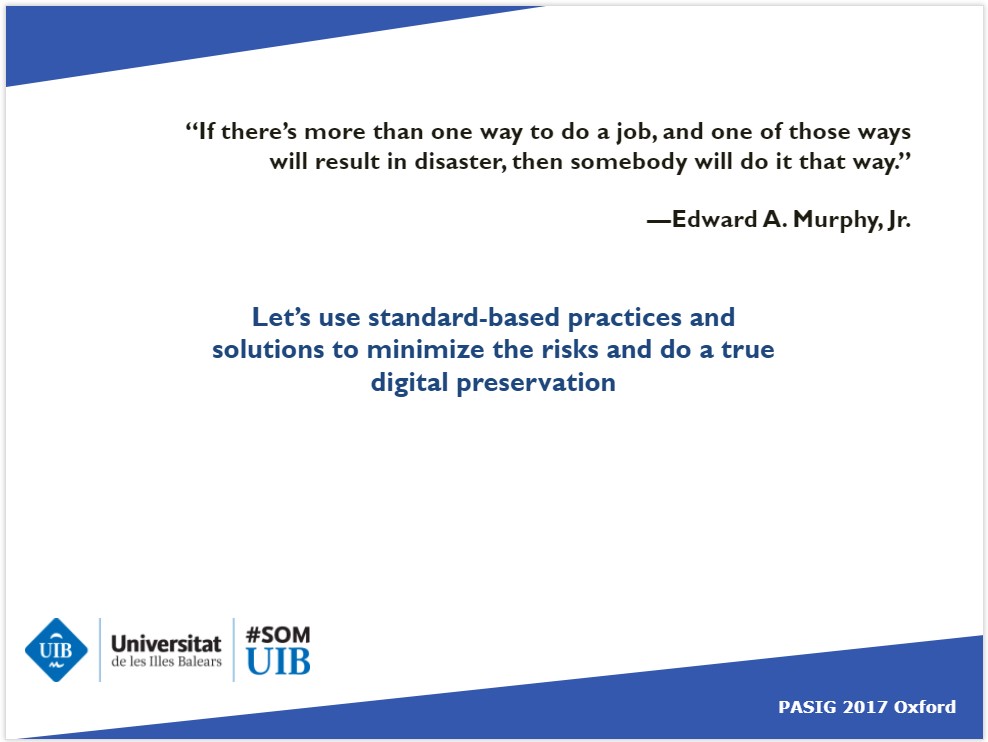 Eduardo Del Valle - Sharing my loss to protect your data. A story of unexpected data loss and how to do real preservation (PASIG17)
Fortunately for the National Library, after we teamed up with the National Archives and the State Computing Centre, the budget for a shared digital preservation system was approved. After a lengthy public tender, Preservica was selected and we are currently in the final phase before a switch to production. Having the Computing Centre responsible for bit-level preservation and system upgrades, means that we can focus on our digital preservation strategy, access and interoperability with our existing infrastructure.
Coming quite late to the Digital Preservation party, we want to take advantage of the experience gathered by national libraries and other institutions during the last 10-15 years, learn from their successes and failures, and not reinvent the wheel. That is why we find that people sharing their "Lessons learnt", as well honest presentations about success and failures at conferences such as PASIG or iPRES are very important to the entire digital preservation community.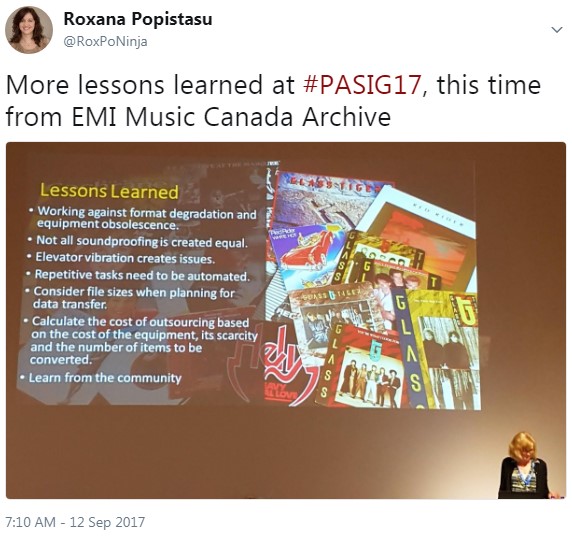 For us in particular, that means we still have a lot to learn and many questions to answer. Even some questions, which we thought we had answered, like format migration or emulation for our digital preservation strategy. For many years, we thought that format migration was the best solution for the BnL and we wouldn't even consider emulation. But that was until we saw the iPRES 2016 poster Project EMiL – Emulation of Multimedia Objects and Yale's Euan Cochrane live demo of linking emulation into Preservica. We realized that there are cases where emulation might indeed be the better, if not the only option. Although we shouldn't forget that migration versus emulation is a false opposition as Leslie Johnston rightly pointed out.

Deciding on the best way to collect digital objects and ingest them into the digital preservation system is not an easy task. We have a lot of experience working with digital objects coming from our digitization campaigns (METS/ALTO objects, containing multiple manifestations), but the same cannot be said about born-digital material. For our digital collections we are currently considering the electronic publications and web archives collected through digital legal deposit, the digital objects equivalent to print publications (so that the BnL wouldn't have to do digitization campaigns in the future), as well as other born-digital objects held by different departments of the library.
What are the best metadata standards to use for describing the objects? There doesn't seem to be a clear position within the community.
Should we already do a format migration at ingest time for objects not "preservation‑ready", like those not on Library of Congress Recommended Formats list, for example? If so, what do we do about even "simple" formats like e-books (epub), for which Pronom and other technical registries of file formats have no known preservation strategy?
How do we integrate our library cataloguing system with our preservation system, so metadata is not duplicated across platforms?
How do we automate collection-related tasks (of both digital objects and associated metadata) so that we reduce the workload for our staff and minimize the risk of errors?
Unlike most national libraries, the National Library of Luxembourg also has as a legal mandate to give access to its collections to the public. When it comes to the digital realm and the long-term access to digital objects, there are many questions we are currently trying to answer, so that we can find the best solutions for our users.
How do we give access to digital objects? Shall we index printed material, electronic publications and web archives in our discovery system (a-z.lu) or would it be better to have dedicated platforms for different types of collections? Do we want to have an integrated viewer for METS/ALTO (the BnL developed an open-source viewer), PDFs, e-books etc. or work with separate viewers?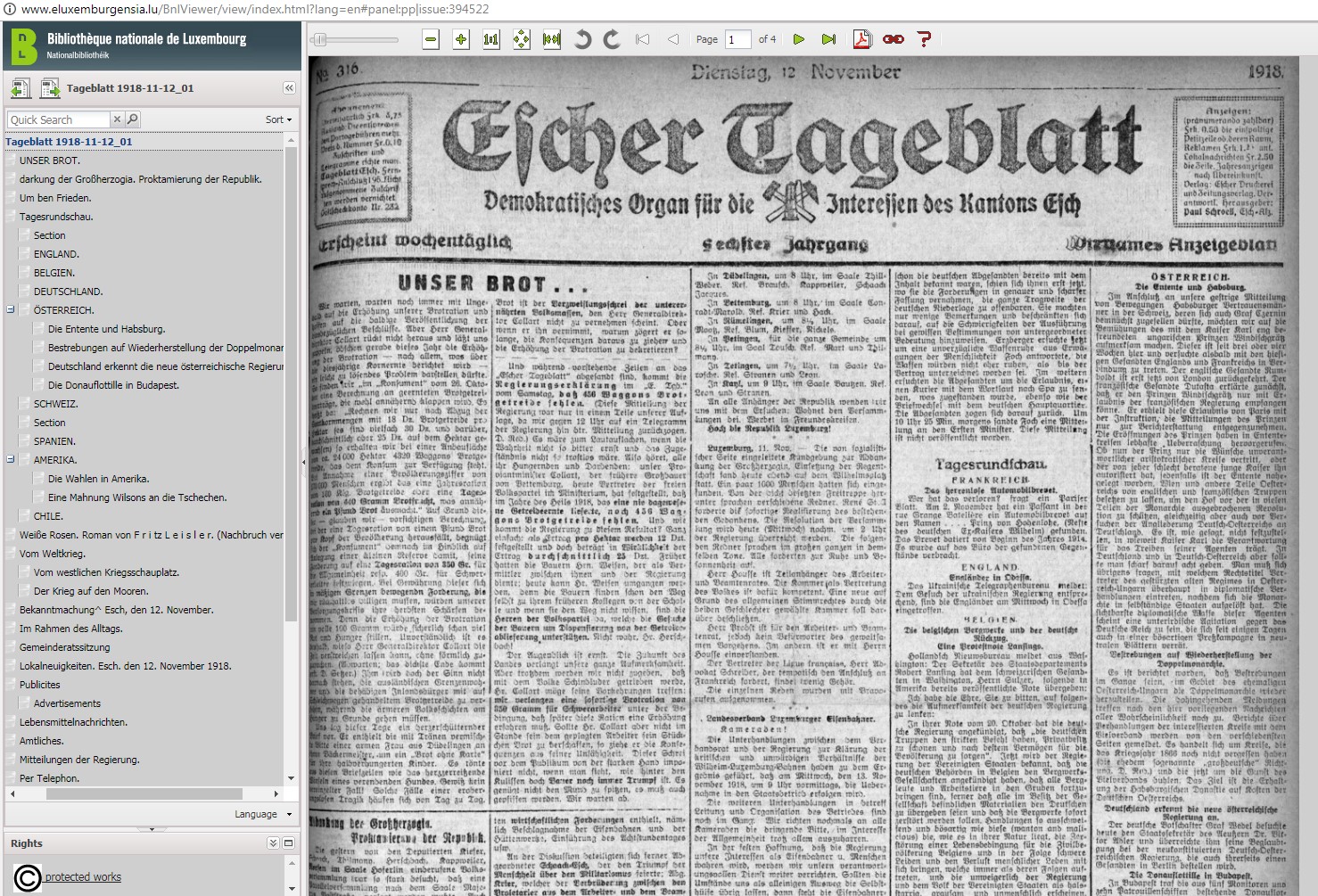 How do we ensure the long-term "citability" of digital objects? We are currently analysing the integration of the persistent identifier schema ARK with our digital preservation system.
How do we give access to the highest number of users, while complying with copyrights laws? We are looking for both organizational and technological solutions and we are working already with some Luxembourgish publishers in order to find solutions satisfying all parties.
How do we make sure we fulfil our mission to preserve the national heritage while at the same time we respect the rights of data subjects under the new EU General Data Protection Regulation (like the rights to rectification or the "right to be forgotten")? Do we implement technical solutions in our access systems or do we have to change (meta)data in our preservation system as well?
Last, but not least, the BnL is also the biggest research library in the country. Besides coordinating library network bibnet.lu and the Consortium for the acquisition and management of electronic scientific publications, the library collaborates with universities and research centres in various Digital Humanities projects. We are currently considering standardizing our organizational and technological infrastructure in order to offer our digital collections (digitized content, digital legal deposit publications, including web archives) for text and data mining projects.
If working with digitized historical newspapers was less problematic in terms of copyright, how do approach such projects with digital material still under copyright?
If users have the right to restrict and to object to processing for scientific, historical or statistical purposes, how do go about implementing this in our policies and technical solutions for text and data mining of both digitized and born-digital content?
The questions are in abundance, but the answers, unlike what the title suggests, are not always readily available. We are currently working on all of the identified questions, but we can only take it one step at a time. We will continue to learn a lot, work with the stakeholders and the community and try to find the best solutions for our institution and our users.