Kate Murray and Jesse Johnston are B2B3D Program Coordinators and work at the Library of Congress in Wasghington DC, USA
---
On November 2, 2018, the Library of Congress hosted Born to Be 3D: Digital Stewardship of Intrinsic 3D Data (#B2B3D), a small group forum to discuss stewardship of born digital 3D data. Born-digital 3D content is an emerging research and technology area. Digital preservation approaches and stewardship requirements for this content are not yet mainstream, but the impact and influence of this content is undeniable. In its role as a convener, the Library's goal for sponsoring B2B3D is to support and amplify existing research projects while also bringing together a "sampler" of 3D-related development across a wide spectrum of stakeholders. The publication of the Library's new Digital Strategy with renewed focus on driving momentum in our communities and building towards the horizon made this the ideal opportunity to engage in the building energy in the well-named Year of 3D.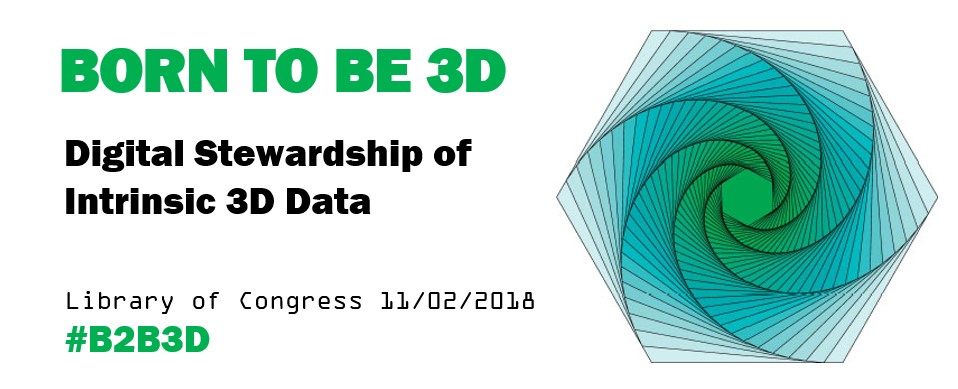 B2B3D at the Library of Congress.
Rotated polygon image in logo by Ismael Gutierrez Garcia from LaTex Forum. CC BY 2.5 license.
Over 50 participants from US federal agencies and cultural heritage institutions, including libraries and museums as well academic research institutions, engaged throughout the day starting with featured speakers highlighting current grant-sponsored research, followed by a set of shorter project-based talks and finally, a guided discussion around questions of supporting continued development and identifying gaps. The day ended with group reflections. For the full program, including all speaker slides, see http://go.usa.gov/xPxqd.
The day began with a set of three foundational talks about major efforts in the 3D workspace. The two IMLS-supported grant project, Community Standards for 3D Data (CS3DP) Project represented by Jennifer Moore, Washington University in St. Louis, and Adam Rountrey, University of Michigan and Developing Library Strategy for 3D and Virtual Reality Collection Development and Reuse (LIB3DVR) Project represented by Nathan Hall from Virginia Tech, brought participants up to speed with their areas of research and deliverables. Nicholas Polys, also from Virginia Tech, rounded out the first section with a rallying cry for the community to look for commonalities between institutions are doing to help inform stewardship of these complex data.
These were followed up by shorter talks about shared needs of 3D data and data management for geospatial and built environment information, and the use of this data in fields such as archaeology, medical research, digital humanities, and affiliated communities. Speakers include Heather Richards-Rissetto on Landscape analysis and 3D reconstruction of historical sites via MayaArch3D to MayaCityBuilder; Meghan McCarthy on 3D data management learned from the NIH 3D Print Exchange including 3D printing for molecular visualization and the development tools for access; The Smithsonian Digitization Program Office's Jon Blundell and Vince Rossi on their work to scale up 3D technology through production of open source tools and repository management; Marcia McIntosh from the Digital Libraries Division of University of North Texas Libraries on the 3Dhotbed project which seeks to advance the 3D History of the Book Education through low cost affordable and accessible tools; Zack Lischer-Katz from University of Oklahoma Libraries on challenges and preservation options for 3D and VR in digital scholarship; U.S. Geological Survey's Rob Dollison on the 3D Elevation Program (3DEP) which includes nationwide coverage to apply LIDAR technology to map bare earth and 3D data of natural formations to inform flood risk management, infrastructure, geological hazards, and more; Veronica Ikeshoji-Orlati from the National Gallery of Art on her teaching project to use digital tools to recontextualize museum collection items in a museum context and the challenges of what to preserve.
The latter part of the day was dedicated to conversation and discussion. Using the Library's Digital Strategy as a guide, participants congenially debated questions around driving momentum in our communities around 3D and support/encourage development in these and related "digital-forward" organizations as well as gaps analysis and the tools/infrastructure needed to support "software-enabled" content analysis, research, exploration, learning, and more. Will Rourk from University of Virginia provided an inspired and inspiring wrap up of the day's events including developing word clouds of the most frequently used terms across the speaker sessions.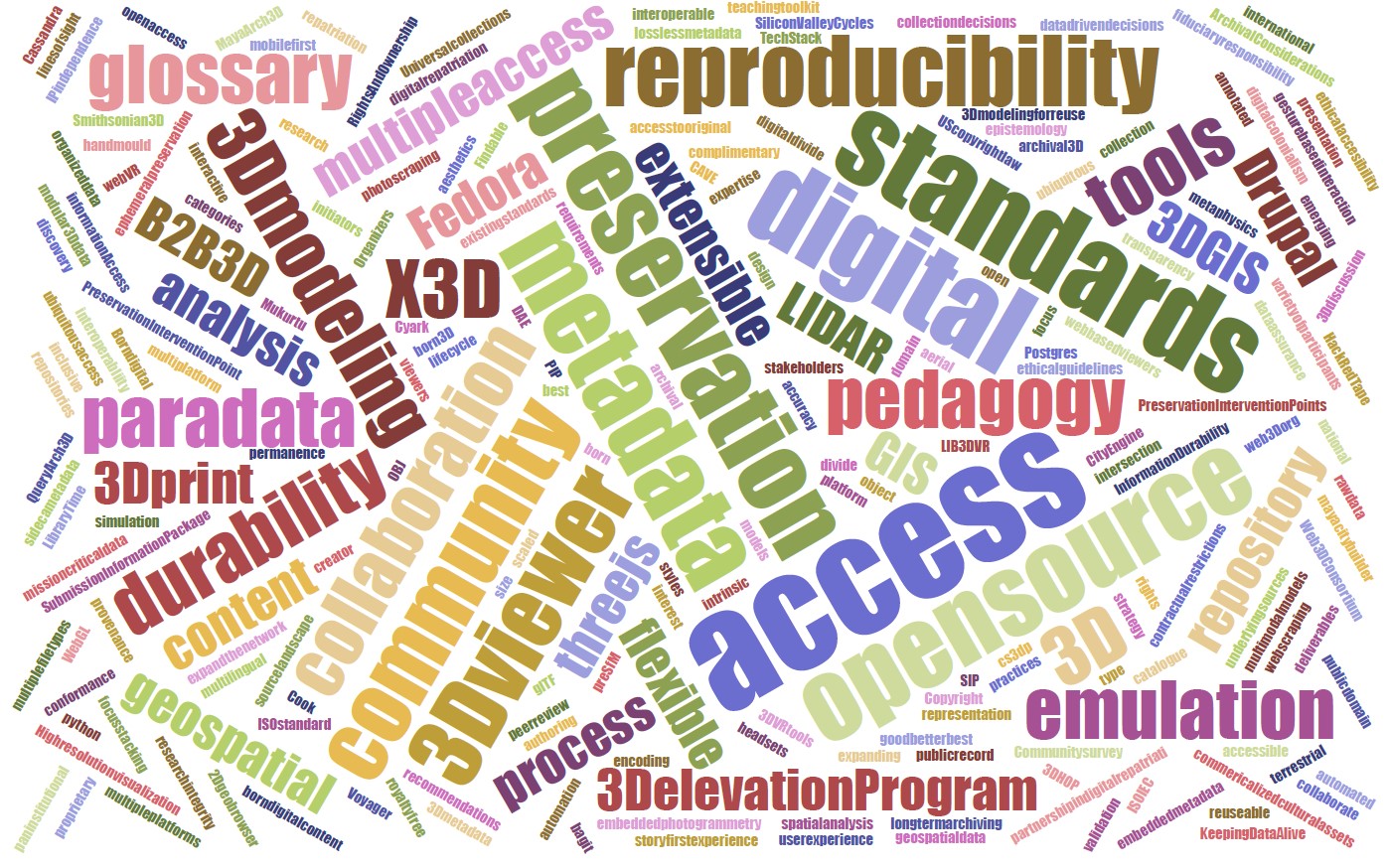 Word cloud of speakers' frequent terms courtesy of Will Rourk, University of Virginia, Scholar's Lab
While the community considers next steps, the Library of Congress already has some in mind. In addition to this #WDPD2018 blog post, a summary will also be published on the The Signal blog. All the discussions about formats will help inform updates and additions to the Sustainability of Digital Formats Web site. 3D formats will be a focus for us in the coming year and we have some 3D related formats already (U3D, LAS, RTI, PTM, STEP, IFC and more) but this meeting will help us rethink our priorities, including moving X3D up the list. These discussions will also help inform futures editions of the Library's Recommended Formats Statement which does not currently address any 3D formats. We look forward to the continuing cross-domain exploration and progress around 3D data stewardship issues.
We invite readers to learn more about the B2B3D event through these shared resources: