Kate Murray, Digital Collections Management & Services at Library of Congress.
---
The Federal Agencies Digital Guidelines Initiative (FADGI) Audio-Visual Working Group, a collaborative group of US federal agencies led by Library of Congress since 2007, has had a busy year! We've released three updated projects in September to support its ongoing work with developing good practice guidelines and open source tools for digital audiovisual content and digital preservation practices.

Figure 1: FADGI logo
The first is an update to its very popular Guidelines for Embedding Metadata in Broadcast WAVE Files and corresponding updates led by Jérôme Martinez from MediaArea for the open source BWF MetaEdit application. These revised guidelines, last updated in 2012, reflect a collaborative effort to respond to ongoing community needs and changing expectations. Project partners RiceCapades (Dave Rice and Ashley Blewer) conducted interviews with FADGI members from the Library of Congress' National Audio-Visual Conservation Center and the Smithsonian's Center for Folklife and Cultural Heritage as well as the broader user community represented by public radio station WNYC and Northeast Document Conservation Center's Audio Preservation Services to help identify the evolving needs of the audio preservation practitioners at large. Some of the most significant updates to the 2021 FADGI guidelines are guidance on the use of markers or "cues" in audio files with embedded associated labels or comments and expanded values in the CodingHistory element for sampling frequency, bit depth and mode beyond what is listed in EBU R98 to reflect current needs and tool capabilities as well as definitions for subelement labels. A complete change list is included in the 2021 FADGI guidelines.

Figure 2: Cue editor and sample metadata in BWF MetaEdit
The next project update is embARC which was first released in 2019 and is developed in collaboration with AVP and PortalMedia. embARC, short for "metadata embedded for archival content," is a free, open source software application that enables users to audit and correct embedded metadata to comply with FADGI guidelines for DPX, short for Digital Picture Exchange (Guidelines for Embedded Metadata within DPX File Headers for Digitized Motion Picture Film) and MXF, short for Material Exchange Format (SMPTE RDD 48: MXF Archive and Preservation Format) files.
Recent development in 2020-2021 has expanded the scope of embARC to meet the evolving user needs and workflows of the audiovisual preservation community. This most recent release is an important milestone, introducing the first beta release of the CLI as well as the first official release of the GUI which now includes functionality for the MXF file format. Links to all downloads, source code and extensive user guides are available on the FADGI website.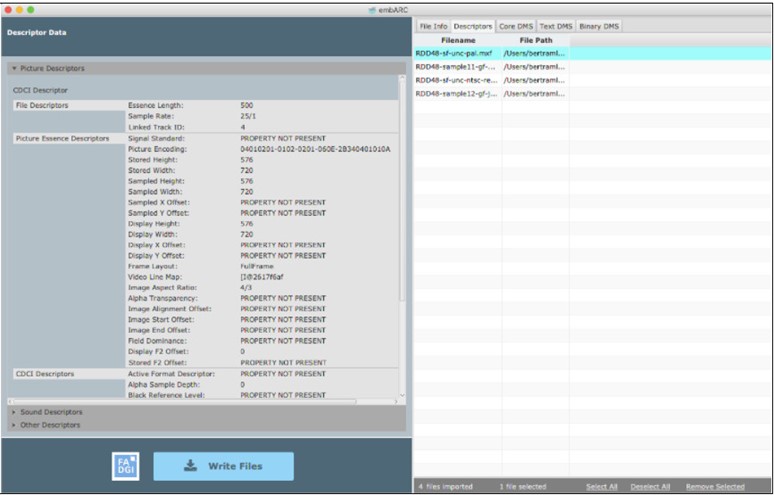 Figure 3: MXF descriptor data in GUI version of embARC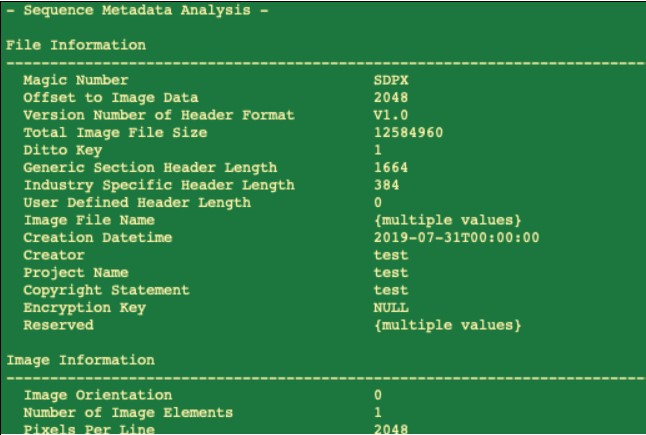 Figure 4: DPX sequence summary in CLI version of embARC
Finally, ADCTest, first released in 2018 with project partners AVP, now has a built-in signal generator to support evaluating performance of audio analog-to-digital converters (ADCs) in accordance with limited scope FADGI test and performance methods for low cost audio ADCs used in preservation reformatting workflows. It provides users with simple customizable pass/fail reporting preset to comply with FADGI guidelines but also provides more detailed options for advanced users. The signal generator included in the new version supports users who wish to test the performance of ADCs that are not immediately accessible to them which is especially useful for outsourced digitization. An example use case might be that the collections holding institution use ADCTest to generate a stimulus file for the vendor to run through their ADCs to determine if the results fall into the defined project parameters and if not, take steps to correct the issues. Using ADCTest for outsourced audio digitization ensures that both you and your vendor have a shared understanding about specific ADCs' performance over time to build confidence in your digitized audio files.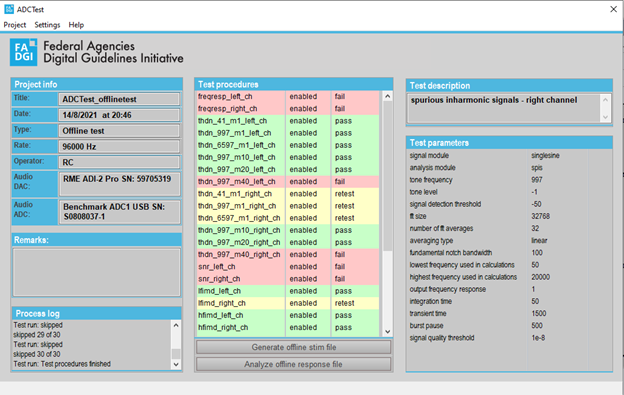 Figure 5: Pass/fail test results in ADCTest
All FADGI guidelines are available free of charge and carry a CC0 1.0 Universal license for worldwide use and reuse and FADGI sponsored open source software carry defined open licenses. For more information about FADGI, see the Federal Agencies Digital Guidelines Initiative website or contact Kate Murray at This email address is being protected from spambots. You need JavaScript enabled to view it..