Elisabeth Thurlow is Digital Preservation and Access Manager at University of the Arts London.
---
Whilst the first phase of the University of the Arts London (UAL) Digital Archives and Collections project aimed to introduce a digital preservation programme including the implementation of a new digital preservation system, the second phase focused on increasing access to the University's growing digital collections. This led us to the development and recent launch of a new Digital Collections portal.
The university-wide Project focused on digital materials found in its archives, museums and special collections - which include images, video and sound recordings, and an increasing number of born-digital artworks.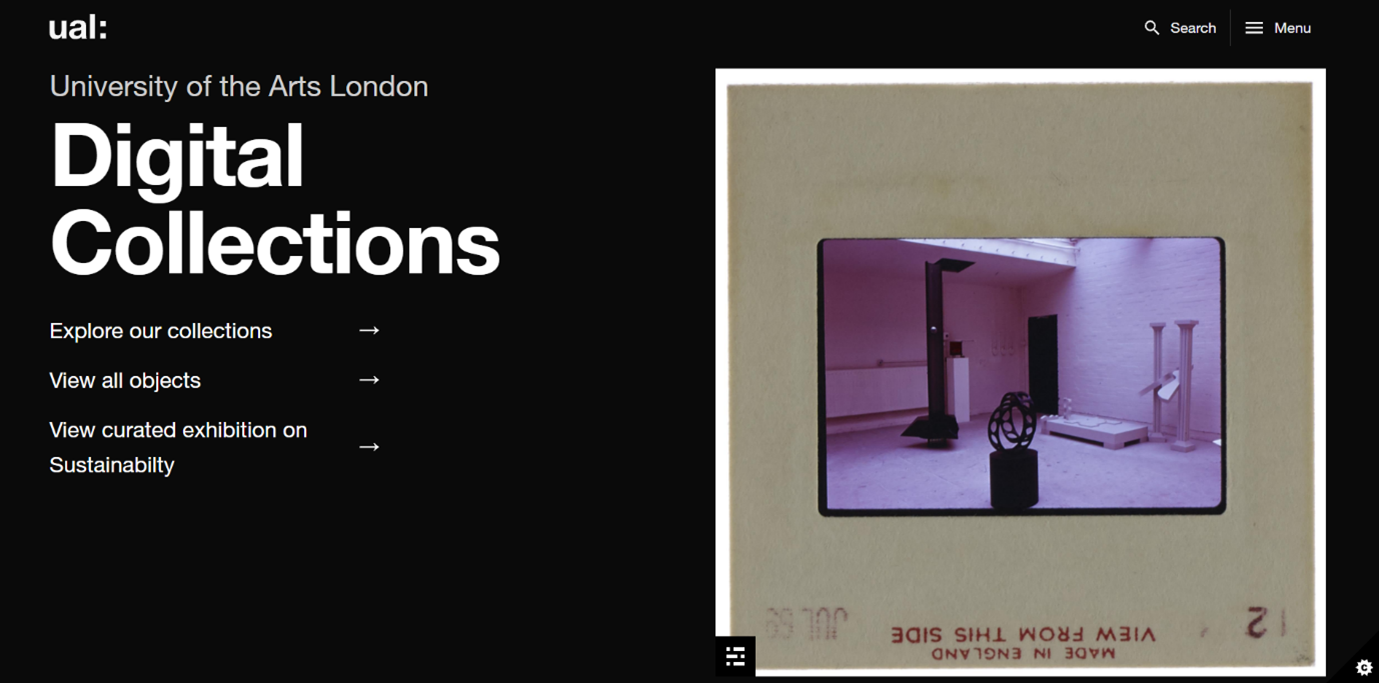 UAL Digital Collections homepage featuring a photographic slide for the 1969 Diploma in Sculpture degree show at Chelsea College of Arts.
Through their shared interest in digital curation, the first phase of the project brought together a group of curators, archivists, special collections librarians and IT specialists. The second phase of the project, and the development of the new platform, broadened this reach and included further colleagues, bringing web developers, designers, user experience researchers and others into the mix.
We partnered with Digirati and designed a decoupled architecture that would be delivered by a middleware responsible for making digital objects, held in our digital preservation system, visible as IIIF manifests.
As part of the middleware, we also developed other components that would keep metadata synchronised between our various source systems, of which the digital preservation system is one, but also our varied cataloguing systems, which are already a rich source of information about our digital assets.
The middleware exposes the digital objects through its own API layer. These APIs are then consumed by the user interface portal, built by our digital team. This includes an authority server where we are merging authority names and terms from our different source systems, to present a more simplified and consistent view. Whilst also making new item-authority relationships that are not present in the data source. These are presented to the user as searchable tags, which thematically group together related objects. These are based on shared characteristics including creator, medium and category. This gives us the opportunity to enrich existing terms, originating in those source systems, with additional authority information. Whilst also serving to create new digital connections which can be made between objects, which might be held in different collections and across different colleges.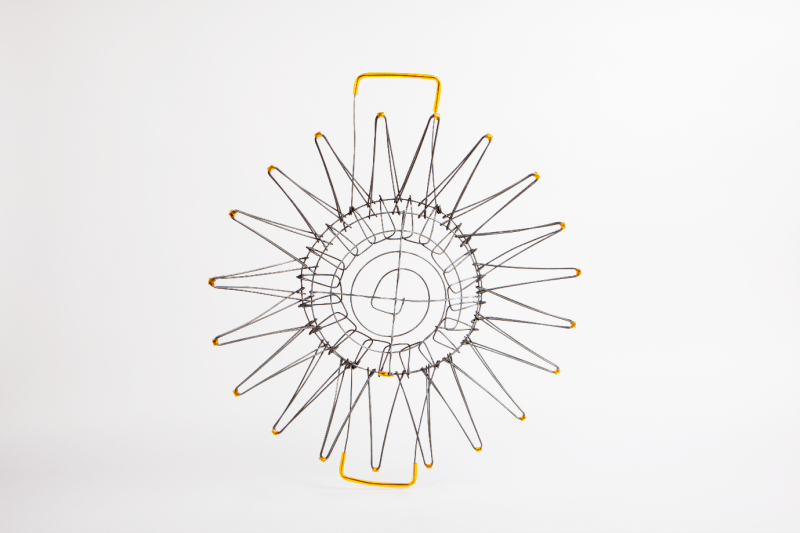 Salad spinner in the David Usbourne Collection, a collection of objects and tools which demonstrate form and function in 20th century design.
The creation of new asset tags is currently limited to collections staff, but the user testing stage demonstrated the great interest from students and academics in accessing more self-curation tools in the future, including user-generated tagging.
We launched the first iteration of the site, our minimal viable product, in mid-July 2021. Future developments for the site will be user-led. This will be influenced by user feedback, facilitating more input from users to broaden the representation of the collections across the site and increasing opportunities for self-curation.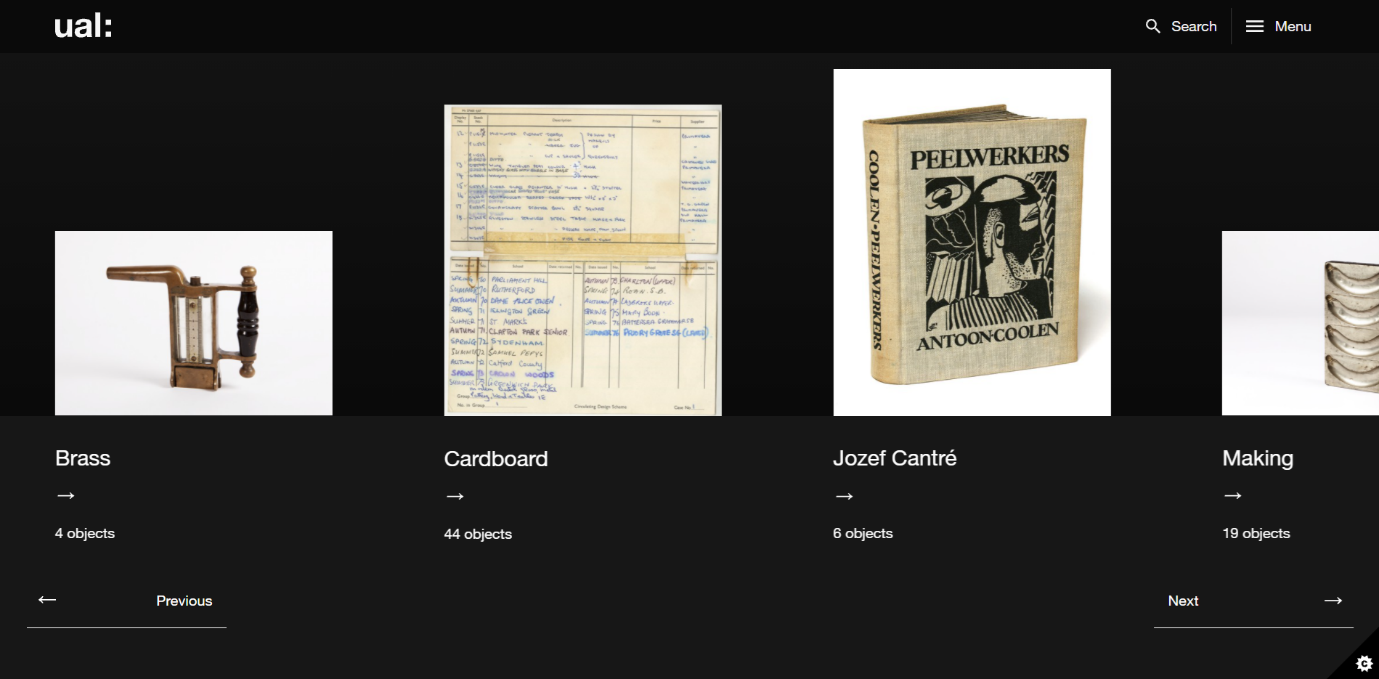 Screenshot showing examples of thematic groupings on the UAL Digital Collections site.
New materials are continuously being added and the site is already host to over 1,000 digital objects, with digital representations from 16 collections from across UAL. But as home to more than 140 collections, this is only a snapshot of the University's wider and often unique holdings. We look forward to sharing more in the future. As well as exploring future developments to the site to further unlock the potential of our digital collections and find new ways to make connections in this new digital space.