Serena Coates is the Lead of Preservation Services at the State Library of Queensland.
---
To say that 2020 has been a challenging year is somewhat of an understatement. In Australia, the year started with horrendous bushfires over much of the nation, and then of course, COVID-19 affected the world on a scale hitherto unknown to current inhabitants of planet Earth.
These history-making events were captured on our phones, shown on our televisions, discussed on social media, and will have a lasting effect on our psyches. As a collecting institution, State Library of Queensland has responded to these global events at the local level, by capturing the stories of 2020 and preserving them for future generations.
To date, State Library of Queensland has collected and archived over 2000 images, videos, digital stories, oral histories, ephemera, realia, and emails relating to Queensland's experience of and response to COVID-19. Through a mixture of donations from the public, commissioned works from documentary photographers and storytellers, and web archiving, we have captured a broad cross-section of experiences of Queenslanders during this challenging year.
This collecting initiative is in stark contrast to our holdings of Queensland material relating to the Spanish Influenza epidemic of 1919. A quick search of our catalogue for items relating to this historic epidemic, results in only 68 hits, predominantly photographs.
Until this year, the events captured in the photographs and newspapers of 1919 seemed like another world. And yet now, almost 100 years later, we are able to look at these historic images of families in masks, essential workers, and quarantine camps, and it feels all too familiar.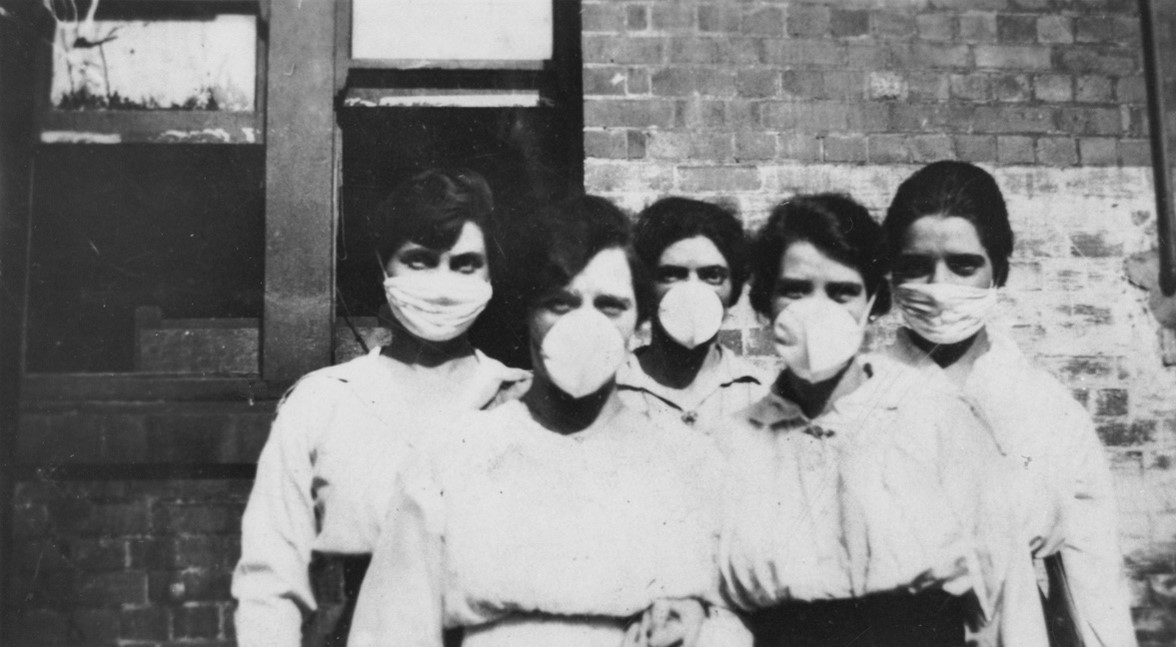 Women wearing surgical masks during the influenza epidemic, Brisbane, 1919
Negative number: 108241 https://hdl.handle.net/10462/deriv/90192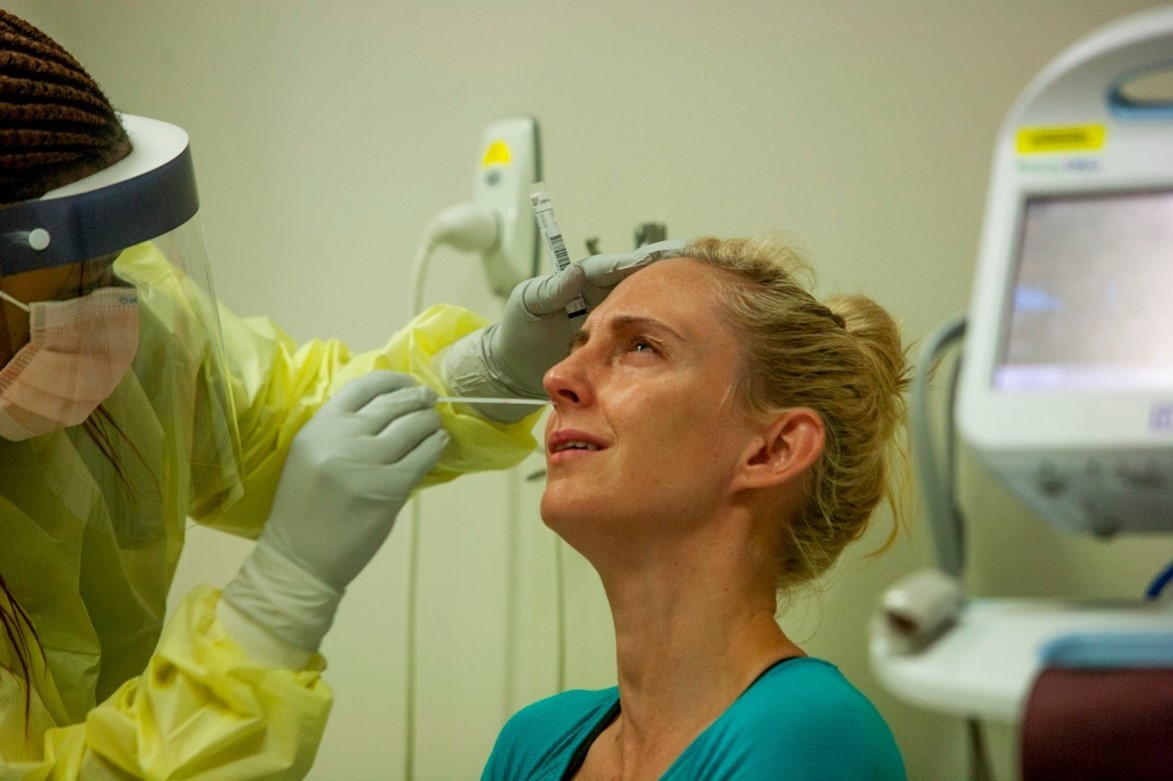 Nurse Nothabo Mbambo performing a nasal swab on patient Sarah Roettgers, Princess Alexandra Hospital, Brisbane, 7 April 2020
Photographer: Hamish Cairns
Image number: 18380432070-0001-0003 https://hdl.handle.net/10462/photosbd/0328511
Preserving these COVID-19 digital items presented its own set of challenges. The sheer volume of files being acquired in a short period of time (one single donation of more than 400 videos equated to approximately 9TB of data) put strains on our processes, and our storage. The collecting of different formats such as emails was a new field for us to be venturing in to – redacting personal information and making the files accessible to the public was a learning curve for staff. To assist with our decision making, we leaned on the local DP community in the form of the NSLA (National and State Libraries Australia) Digital Preservation Community of Practice, and Australasia Preserves, where our colleagues were going through similar experiences.
As is the case with many projects, we started with the low hanging fruit for some quick wins. Our processes for archiving and presenting digital photos, videos, and websites are well established, so these items were made available via our catalogue very quickly. Other files, such as the emails which are a new collecting area for us, are taking a little longer. The agreed approach was to retain and preserve the original emails (with no redaction), but to make redacted PDF versions for sharing with the public via our catalogue. It's not particularly sophisticated, and these collection items are not live yet, but we can rest assured that our content is safely stored in our digital preservation system, until such time as we are able to make them available.
Ultimately though, despite the challenges (both personal and professional) that this year has presented, the importance of collecting and preserving this material can not be overstated. This pandemic has been documented more intimately and in more formats than any other preceding it, and even though the content reflects a predominantly negative societal experience, it also gave us a chance to be responsive in our collecting activities during a very difficult time, and to collect and preserve this unique content so that in another hundred years, we will have a lot more than 68 items to share with future generations.
A musical interlude…
With 2020 being the year that it was, State Library staff looked forward more than ever to creating a video for World Digital Preservation Day. With hand sanitiser in pocket, and our COVID-safe plan in place, we weren't going to let social distancing get in the way of a parody video! Please enjoy this year's offering of Bad File (a spoof of Billie Eilish's Bad Guy) as we tell the digital preservation tale from the perspective of a corrupted file.