Lee-Anne Raymond is the Senior Coordinator (DAMS) at Museums Victoria.
---
The recovery rescue of valuable digital images from relative oblivion sometimes takes a pandemic lockdown to achieve. Whilst a viral outbreak of global proportion has delivered us anxious and uncertain times, it has also presented us with unique opportunity.
In late March 2020 as the Covid-19 Pandemic hit Australia's public institutions, including Museums Victoria (MV), were transformed overnight. Only those with essential worker status were permitted access, ensuring precious collections and infrastructure were safe. MV's essential workers variously relayed how strange it was to see the place so bereft of staff, volunteers and visitors "...the Museum is so quiet".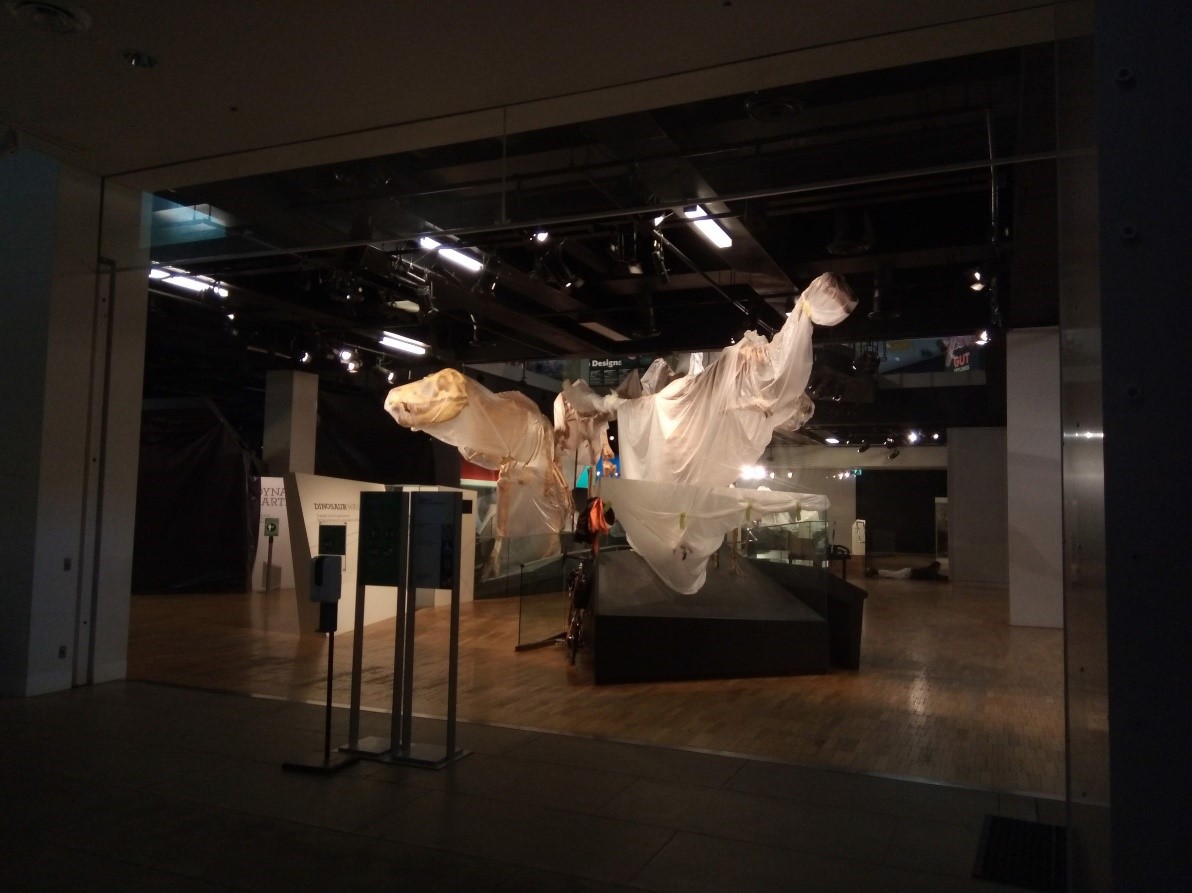 View of entry into Dinosaur Walk Exhibition with exhibits covered with dust sheets during Covid-19 Pandemic 2020. Source: MV / Image: Lauren Timms
I've often referred to my work place as being like a village. On the whole MV has community like characteristics, coming together and helping each other as a 'village' might, seeing any and all challenges through, together. Pandemic challenges hit hard and hit everyone and every business at the same time. The vast majority of us would work from home in support of government initiatives to limit spread of infection within the population. Notably in a relatively short time, anxiety and turmoil began to be replaced by evaluation and perspective. We could do a lot of good working remotely. The village was coming together. Our strong culture and our systems soon made it possible for us to ask the question: How could we best take advantage of this new reality and embrace the challenge of working at distance, whilst supporting collections and delivering on our public responsibilities?
The Numismatics High Res Recovery Work from Home Project emerged.
Thousands of high resolution digital images documenting Museums Victoria's significant Numismatics collection have patiently awaited systems, resources and importantly time to permit their long overdue retrieval from storage. The collection had undergone preservation level digitisation and were yet to be documented within our Digital Preservation processes and systems. Digital Preservation 101 has it that the digital asset be ingested by appropriate systems as close to creation or receipt inside the walls of the Museum. In this case valuable digital assets whilst safely stored were not yet ingested so they could not yet be classified as preserved, and indeed were at risk.
Whilst challenging, the lockdown delivered certain ideal conditions for collaboration and focus and a long overdue preservation rescue action could commence. The demands of this laboriously detailed and time consuming work were something only previously chipped away at by a very small number of staff (all 2 of us) in our 'spare time'. Suddenly a body of work that was notoriously prohibitive, by its resource heavy nature, became the ideal project. The pandemic having closed doors left ajar a window here and there.
Those familiar with Numismatics collection of coins and medals will be aware they are a complex item to document and describe as there are always two sides to every one. Coins, medals, tokens have an obverse (front) and reverse (back) depicting very different design elements and unique characteristics.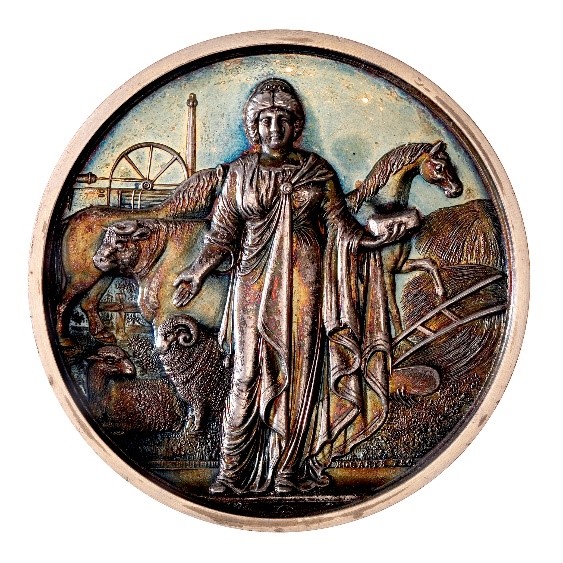 Obverse - Victoria standing facing holding a block of butter and surrounded by agricultural scene which
includes two horses, two sheep a bull a plough and a traction Engine. Source: MV / Image: Jon Augier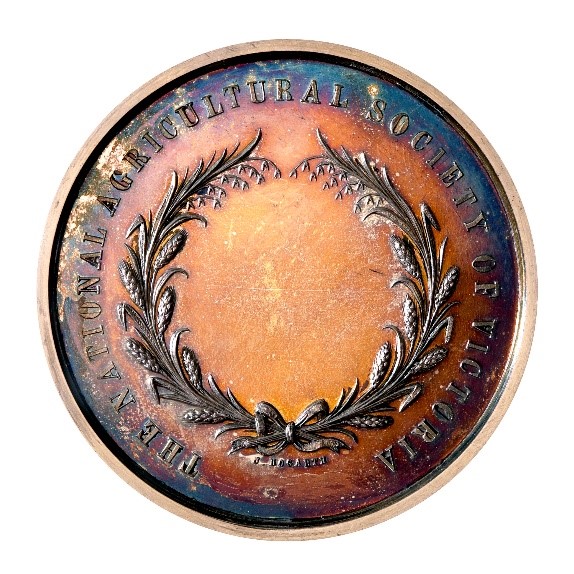 Reverse - Around wreath of wheat, the NATIONAL AGRICULTURAL SOCIETY OF VICTORIA,
within is a space to engrave winning details, below wreath in small letters the artist's name, J. HOGARTH. Source: MV / Image: Jon Augier
Challenges arise when photographing (digitising) these objects at scale where the aim is preservation level generation of a master file (preserved) and high quality post production access version from which multiple use formats may be generated (whilst securing the relationship of the formats). Processes ensure registration and descriptive metadata (obverse or reverse descriptor) linked to the Collection level record align with the image files. Even with strong workflows and processes in place the extended delay and contextual drift inherent with any legacy create complexity for future project teams to address. Additionally concerns heightened our urgency as the risk of loss also provided extra impetus to bring this project to the forefront.
Primary to preservation and management of the digital is that ingest is conducted at as close to time of creation as possible so as to limit loss, disassociation, damage and/or mishandling. Ingesting (importing) digital objects into systems secure and connect the underlying technical details of a file, preserving the Meta fingerprint, assuring file provenance and integrity. Systems as well create a safe access layer, supporting descriptive metadata for discoverability, rights management and use. Finally systems support or permit "fixity" checking at scale which determine a file is the same, fixed, as when first ingested.
Whilst relatively secure, digital objects in storage and over lengthy periods of time, are at risk of sudden irrevocable loss, through one or a combination of any of the following causes: oblivion (simply being forgotten), disassociation, obsolescence, and corruption ("bit rot"). Effectively these digital gems were at increasing risk the longer they remained adrift in storage, not independently accessible, undiscoverable and uncheckable.
In lockdown we were able to mobilise a project team comprising diverse individuals from the usual Technical and Collections arena but most significantly from our Visitor Engagement Officer (VEOs) Team. This cohort readily answered the call and were critical to this preservation rescue mission and are the ones who made it feasible. Painstakingly and enthusiastically they completed the forensic level identification task to first confirm digital asset to physical descriptive text. This quality check was necessary due in part to the time drift from original capture event and as an important alignment that would minimise flow on effects of errors which invariably only manifest later or in public publishing contexts. It is worth noting here previous experience had demonstrated that for such a situation we could not achieve the same level of quality programmatically.
The reason that digital preservation actions awaited these high value obverse and reverse Numismatics collection images, is because whilst we could create them at the time, our systems were not able to manage them. This digital legacy was born at a time when our device capture and post production software had advanced so rapidly it had outpaced our digital asset management and preservation system solutions. Pacing capability, preparedness, extensibility in terms of storage, access and preservation management is as critical to digital heritage keeping, as are state-of-the-art facilities and systems for analog material heritage keeping.
The State's Numismatics Collections digital assets "rescue preservation project" is now well underway. Stage One has been delivered in a fraction of the time prior 2020's Covid curve ball. Stage two has begun and images are being ingested. Upon completion more than 11,000 high value digital images of a significant collection will be preserved and made accessible through the Museums Victoria Collections Online portal. Preserved and available for access into the future.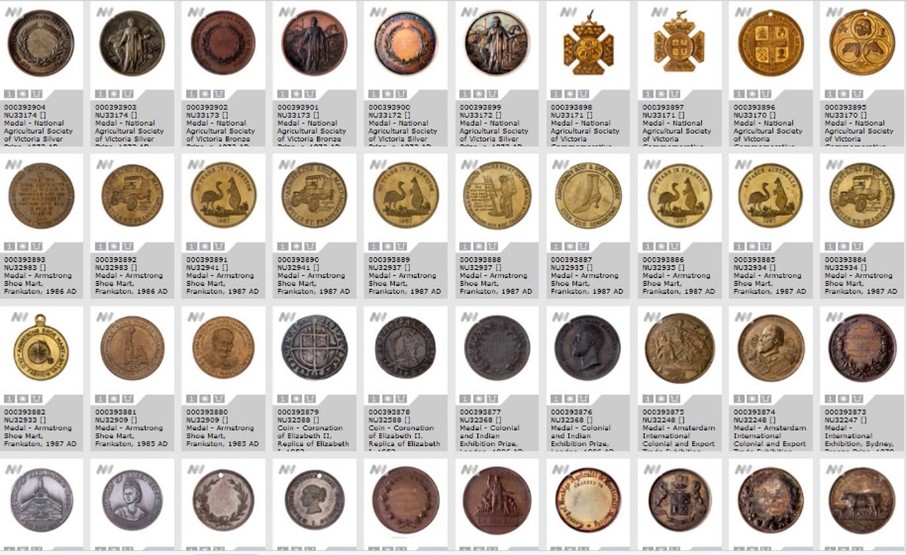 In systems – screen shot from MV Images, Museums Victoria's Digital Asset Management System
Working from home presented challenges for individuals and teams more familiar to working in studios, with physical collections or in face to face engagement with visitors across MVs several public venues. As we began to reconnect and adapt to the circumstances, it became clear we could achieve so much together. As an experience there is now precedent for future utilisation of this cooperative remote project work model. At least the thought that we might continue to harness this new cooperative super power (where applicable) remains tantalising. In a time of great uncertainty and turmoil everyone wanted to be doing something "real", tangible, and For the Good.
Mission accomplished.
#DigitsForGood