Dr Jane Maxwell is Manuscripts Curator at the Manuscripts & Archives Research Library, The Library of Trinity College Dublin. Dr Brendan Power is Digital Preservation Librarian at The Library of Trinity College Dublin.
---
When the enormity of what the COVID-19 pandemic threatened fully dawned eight months ago, every research-active institute, lab, and repository began to ask 'how can we respond to this in a manner which has long-term value?'. The archives profession was no different, concerned, as always, with ensuring that future researchers would have material upon which to base their enquiries. The Library of Trinity College Dublin, in collaboration with the Long Room Hub, the University's arts and humanities institute, initiated a COVID-19 archives-collecting initiative. Focused very much on capturing individuals' experiences of living in Ireland in 2020, the ambition of the initiative was three-fold; in the first instance we recognised that the private voice is a resource that is traditionally difficult to capture during major social upheavals. Secondly, we recognised that the recorded experience of a university community would represent a distinct snapshot of Irish life. Finally, in the early days at least, the Library saw this initiative as a valuable outreach activity, offering our community a concrete and valuable way to respond to the times we were going through.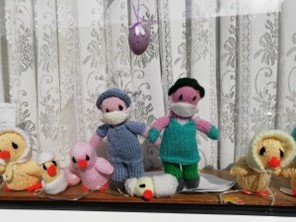 - Window display marking public respect for front-line workers.
In our original call for submissions we enumerated the many ways in which interested individuals might wish to engage. We mentioned diaries, photographs, videos, poetry, prose essays, and we offered the opportunity to engage in recorded interviews. We had ambitions for a truly hybrid collection, comprising both physical and digital material. However, in practice it is perhaps unsurprising that most of the material submitted was digital.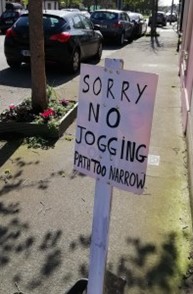 - Informal signage
This is the first born-digital collecting project that The Library of Trinity College Dublin has engaged in and this necessitated the development of new workflows. As we could not arrange for transfers of material on portable storage media, due to COVID-19 restrictions, alternative submission methods needed to be developed. These had to take account of issues such as IT security arrangements, data protection issues, and appropriate storage for content. We created a submission form which allows depositors to describe their content and provide invaluable contextual information. Due to IT security arrangements, it is not possible to allow all depositors to directly upload content to our infrastructure using the submission form and we created two separate submission streams, one for internal depositors who have an active university account and one for external depositors. Data protection issues are also a concern. The project completed a data protection impact assessment to ensure that we identified the risks associated with personal information and implemented appropriate measures to mitigate these risks. We have also secured appropriate storage for this content through a mixture of cloud and on-premises storage. We have measures in place to ensure that we will have access to multiple copies of these files to mitigate against data loss. These include nightly incremental backups, the generation of a full server image on a weekly basis, with a full operating system image generated on a monthly basis. At present, we do not have a digital preservation system and our initial focus in on ensuring bit-level preservation of these objects to provide a firm foundation for preservation planning and future preservation activities.
These all contribute to ensuring that we have appropriate measures and practices in place to fulfil our ambitions with this project. More than ever, people have a variety of ways through which to create information and document their experiences. Throughout the COVID-19 pandemic, these experiences will reflect how people responded to often new practices such as remote working, social distancing, limits on household visits, and extended periods of separation from loved ones. The preservation of materials that document these experiences will serve to complement official records such as government plans and the statements of politicians. Archives must be responsive to this and ensure that people from all walks of life can see themselves and their experiences reflected in the archival record. This in turn will inform the production of historical knowledge through broadening the archival base from which researchers can analyse a wider variety of experiences.
More information on the project can be found here: https://www.tcd.ie/library/lockdown-living/
---