Fiona Bourne is the Archives Manager at the Library and Archive Service for the Royal College of Nursing in Edinburgh.
---
It's a strange feeling to be quietly working at home with a laptop and a cup of tea one day, to suddenly be addressing the world at large about digital preservation the next. Many archivists around the world have been doing just that this year, at home keeping pets off the keyboard and family off-screen or battling against appalling internet connections. They have been struggling to keep their archive open, the collections safe and to progress their projects. But the benefits to digital record-keeping and preservation have evidently been immense as I found out at the iPRES 2020 conference. As DPC award finalists we were asked to do a lightning talk about our nominated project, A new way of sharing nursing history – Royal College of Nursing member and public digital archives
My organisation is the Royal College of Nursing (RCN): a professional association and trade union for nurses and healthcare workers with over 470,000 members. We provide guidance on clinical and professional practice, legal representation in employment relations, pay negotiations and political lobbying. The organisation is over 100 years old and is known as the 'voice of nursing' for the UK. Sharing that history is a critical part of my role, but the ease of digital accessibility has blurred the lines I work within. Historical record series' now run right up to the present bringing new audiences and new problems. A public digital archive website provides access to selected records, such as publications and annual reports, but many of our records cannot be shared publicly.
This project is not just about sharing records, it's also about how we manage access whilst respecting data protection. Members are the decision-makers for the organisation, but they are also trade union members and we must preserve their privacy. RCN Congress and the AGM are strategic decision-making events which we record each year. Records of trade union meetings could be distributed directly to each member, but it is so much more useful, cheaper and quicker to have a comprehensive online resource covering decades of nursing issues and achievements.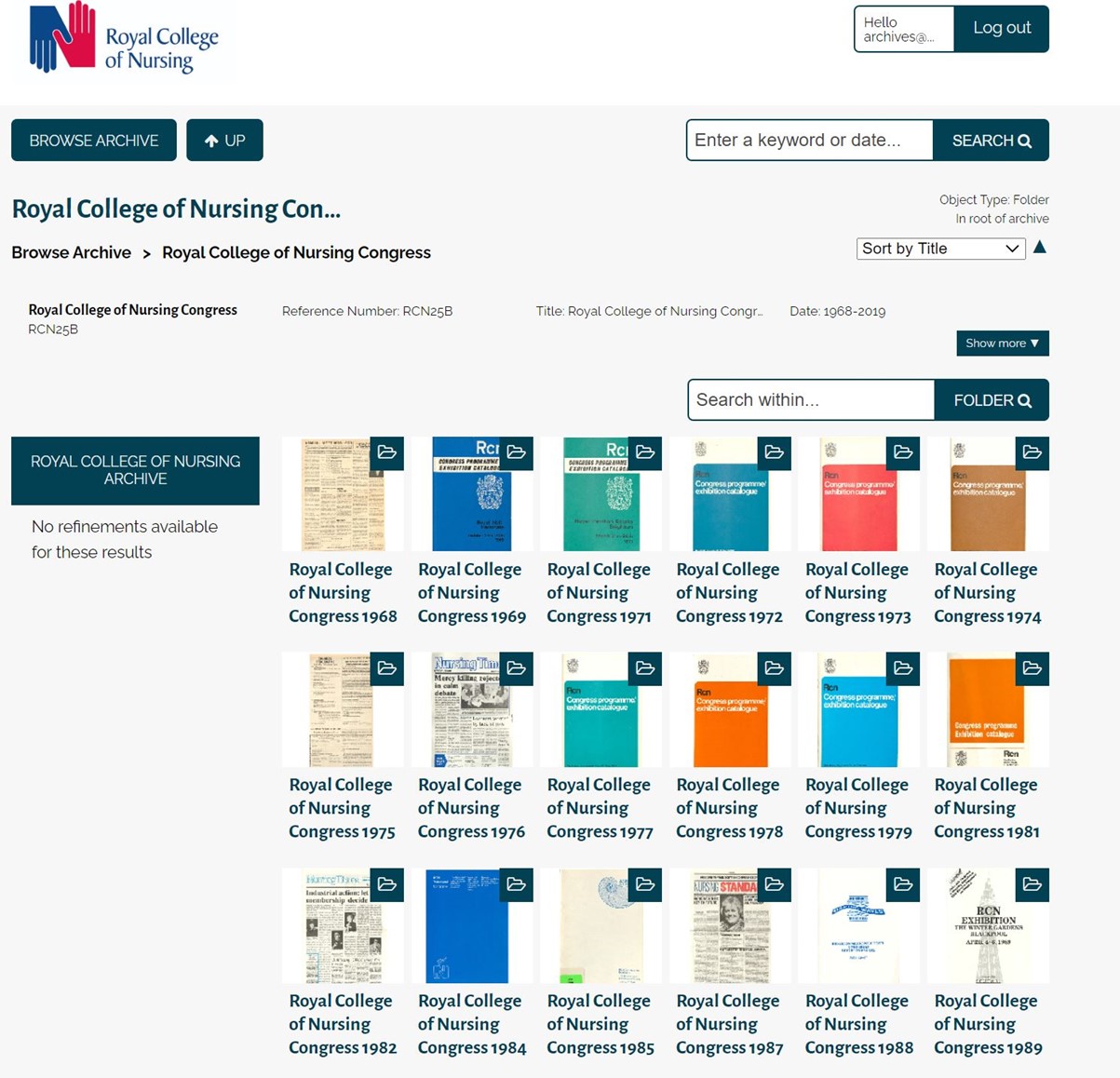 The main page of the Congress collection showing an icon representing each year. The 'show more' button above displays the full catalogue record for the series.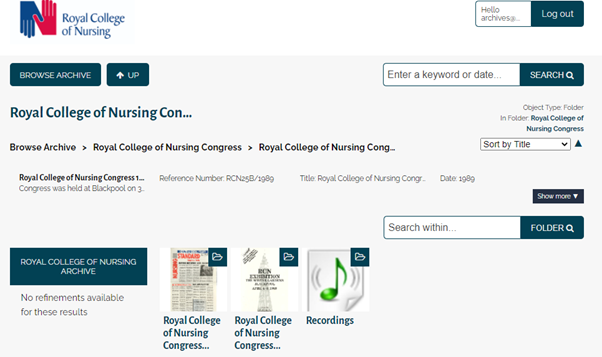 Each folder contains digital surrogates of documents and recordings (audio and video) of the debates. These are displayed in a pop-up reader.
Looking around the archive sector for answers to our dilemma, we found a lot of people like ourselves struggling to differentiate levels of appropriate access to records for a variety of reasons. Digital access expectations are high. If you can access online it you should be able to, right? Not advisable or legal. So, we decided to stick with our existing software and create a second virtually identical digital archive website but this time sitting behind a member login. Thanks to the clever folks at Preservica who made that second site happen.
The member login works by verifying an individual's membership credentials with our highly secure member database. They don't exchange data. The membership database says 'yes' or 'no' to the website which then logs in the member. That means the archive team don't have to risk data security breaches or maintain encrypted records.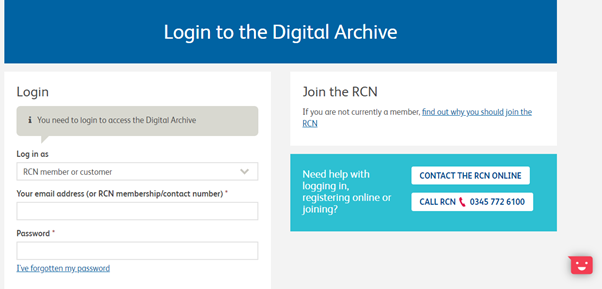 This is the generic login page used by the organisation for all accessible resources covering commercial as well as free ones. The SAML system gives staff from across the RCN Group access as well as members.
The member digital archive website works by labelling appropriate records in the digital archive as being available for member access. This sends an image of the record to the member site only, and not the public one (https://rcn.access.preservica.com/). We continually strive to improve the look, content and functionality of both sites as we take our public profile seriously and aim to provide the right services to the right audiences rather than prioritising or denying either one.
With these two factors in place we could deliver data to the right audience. This is something which could be done with other groups, for example students, using different login systems so we wanted to share it with everyone. That's why we applied for the DPC award, to reach a wider professional archival audience – people who can make things happen.
When we started this project we had only considered covering our significant decision-making meetings, but it quickly became apparent that the online COVID-19 information provided to members and other key records of the organisation's response to the pandemic would eventually need to be made available. Regularly updated resources and advice were created for members as the international emergency spread; data collected on PPE access; the enquiries call centre went into overdrive and staff were ever-present at government meetings including on BAME healthcare inequalities.
Having a digital archive and a remotely accessible network meant we could keep working to collect these records as they were created. We're currently recording these activities and resources, including archiving the RCN website, but someday soon we will need to make them available too. Both to our members and to the public so they can have the transparency needed to evaluate the response made by the UK's largest independent nursing organisation and our role in how Britain handled the pandemic. We will do this using a combination of both digital archive websites to provide the right records to the right people, even if we do have to keep working on it from a laptop at home with dodgy wifi.