The British Library is many things to many people. We are a place of research, a place of academic endeavour. We are a place of content, a dizzying array of content to marvel the minds and stimulate the senses. We are a place of exhibitions, of outreach, and of engagement. We are a place in the bustling heart of London, a place in the quiet countryside of Yorkshire, and a place online. We are a place of experts applying their expertise, of free Wi-Fi, and of reasonable coffee. We are a place of opportunity.
We are also, of course, the place which is tasked with preserving the nation's published heritage, in both analogue and digital form. Our analogue collection comprises over 200 million items, the oldest of which dates back to approximately 1500BC (Chinese oracle bones, seeing as you ask). We maintain a task force of skilled and expert conservators to ensure these items are preserved and conserved for future generations. And we do something similar for our digital collection content too. We've been the national repository for published digital content since the Non Print Legal Deposit Regulations came into force in 2013, collecting and preserving digital materials such as eBooks, eJournals and the UK Web. But our digital collection actually dates back much earlier than that, to the veritable dawn of the personal computing era in the 1970s. So we maintain a task force of skilled and expert digital conservators and technical experts to ensure that these items are preserved and maintained for future generations too.
The Library has been growing its digital preservation and archiving expertise since the early 2000s. We've built our own digital repository, which is now home to over 175 million objects and almost a petabyte of data. Since our dedicated digital preservation team was established in 2005, we've participated in several externally funded digital preservation projects looking at everything from cost models for digital preservation (LIFE, APARSEN) to scalable technical solutions (PLANETS, SCAPE), quality assurance (SPRUCE, AQUA), quick fixes (ArchivePress), and repository preservation and interoperability (Preserv), and significant properties. Complementing this is a range of work taking place internally, on everything from risk assessment to audit and assessment, emulation and migration, scalable preservation planning, digital forensics, policy, software preservation, and scalable integrity checking. There's not much we haven't considered, at one point or another!
What you might not know though, is that our digital repository is actually a shared service: we maintain it on behalf of all of the legal deposit libraries in the UK. Our infrastructure supports acquisition, preservation and access to non-print legal deposit content not just for the British Library but also for The National Library of Wales, the National Library of Scotland, the Bodleian Library in Oxford, Cambridge University Library, and Trinity College London. So we also have experience in maintaining a shared digital preservation and access service, and in collaborating with other collecting institutions to understand and meet their needs. We know that this is a valuable thing to do. And we're starting to explore options for how we might scale this up to provide a shared preservation and access service for other UK institutions too.
Why now? Well, in part it's the timing. We're about to go to tender for a new digital repository solution to replace our own bespoke development, the DLS. This is a strategic move, in line with both our 'Sustaining the Value' Digital Preservation Strategy released earlier this year, and the Corporate IT Strategy approved by the British Library Board last year. But it's also because of a much larger piece of strategic thinking: the corporate Living Knowledge Strategy. 'Living Knowledge' sets out the British Library's vision for its future development as we look to 2023, the year of our 50th anniversary as the national library of the UK. The Strategy clearly identifies one of our priorities as development of 'our collection management capacity at Boston Spa in Yorkshire to offer shared services that help deliver efficiencies for other public organisations.' And this applies not just to physical items but digital ones as well. Living Knowledge underlines our aspirations to make Boston Spa a major collection management hub, offering both shared services and bespoke expertise.
Because let's be honest: the national approach to digital preservation is currently fragmented. Aside from our legal deposit libraries collaboration, everyone has responsibility for managing, preserving, and providing access to their own digital collections. In a world where digital preservation is an established and understood discipline this wouldn't be an issue. But digital preservation remains an emergent and niche discipline and the challenges of preserving digital collections over the long term remain significant.
This fragmented approach to print and digital collection management is costly, resulting in increased capital expenditure. An integrated approach presents an opportunity to deliver economies of scale and reduced cost not just to individual institutions but also to the public purse overall. There's an opportunity to maximise the experience and knowledge already available within the British Library so that other organisations can benefit from it, not just from a skills and infrastructure perspective, but from a budgetary perspective also. We know already how important collaboration is in digital preservation, it's been written about more times than anyone can still count, so let's see what we can do.
The thinking behind this proposal is still in its early stages. You might have seen a few tweets about it from the UNESCO event back in April when the UK National Commission for UNESCO launched their Policy Brief on UNESCO's 2015 Recommendation on Preservation and Access to Documentary Heritage, including in Digital Form. We mentioned it then because the proposal has potential to support those recommendations. And we're mentioning it now because we really want to start engaging with the wider community and get input into the types of services they might find useful. We expect there are several different types of digital preservation and access services we might offer, and different ways in which we could offer them. And we need input from potential users to understand what might work best.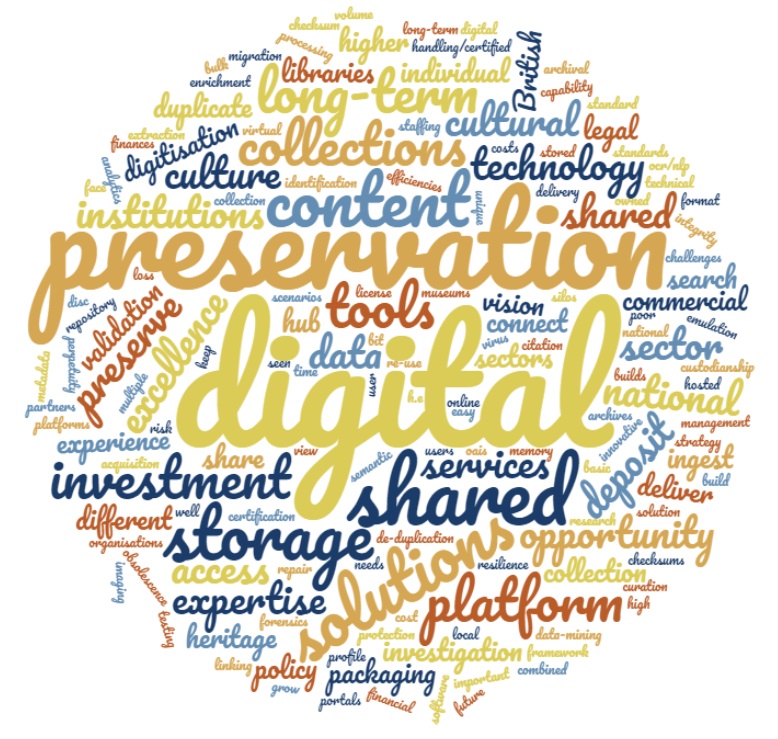 The DPC Unconference on Wednesday will be a great forum for us to start engaging specifically with DPC members and we hope to see some of you there. If you're not a member but want to know more then you can get in touch with us directly at the email addresses below.
- Maureen Pennock - maureen.pennock @ bl.uk
- Paul Holmes - paul.holmes @ bl.uk
(Post edited 19/06 with updated figures on collection size)