Two years ago today was my first day working at the Digital Preservation Coalition as Head of Good Practice and Standards. My main task, a big project to turn my attention to...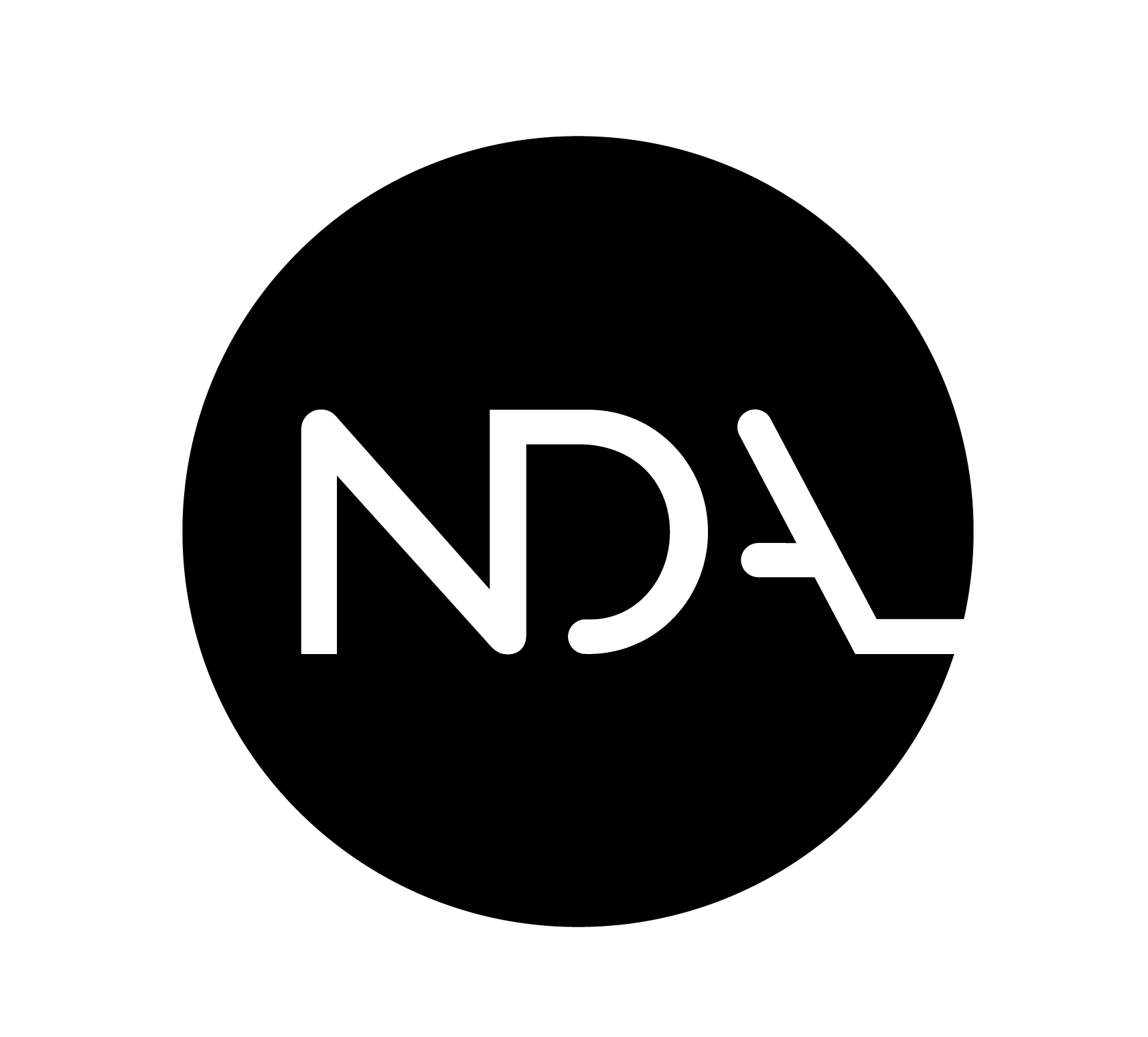 I was employed to work on a project called 'Reliable, Robust and Resilient Digital Infrastructure for Nuclear Decommissioning'. This was a collaboration with the UK Nuclear Decommissioning Authority (NDA), with the aim of helping them establish digital preservation policy and procedure.
I'm reading back on my notes from our first project kick off meeting two years ago and it really seems an age ago that I was trying to get my head around the important work that the Nuclear Decommissioning Authority does, and understand the specific digital preservation challenges they face. It was a very different context from the higher education world I was used to working in and, at the time, and those differences stood out more than the similarities.
Let's start with some background
The NDA's mission is to clean up nuclear sites in the UK and there are important records that are created as part of this process. Records of radioactive waste packages are extremely valuable. This waste is going to remain hazardous for many years to come, so the records that describe the nature of the waste, how it has been packaged and when it was last inspected must be preserved for future generations. Particularly long timescales are at play here - radioactive waste may remain hazardous for many thousands of years, so the records must also persist (in some form) for these extended time periods.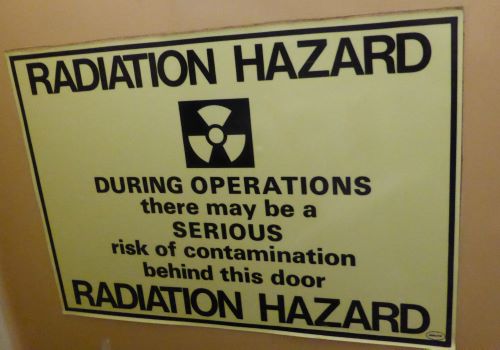 'For reasons of safety and security, photography was not allowed on the nuclear sites we visited.
I took this photograph at English Heritage's York Cold War Bunker last year and use it for illustrative purposes only!'
Also important are records relating to land quality. Our current nuclear sites won't be nuclear sites forever - as a site is decommissioned, buildings are deconstructed and the area is made safe. Eventually the land will be made available for other purposes, but records of previous nuclear activity must remain available for future generations for many years to come.
Health records of the people who have worked or lived on the sites are another type of record that needs to be carefully preserved for the lifetime of those individuals.
So, the NDA has important and unique records that it needs to preserve for the long term and digital preservation must be in place to support their mission of delivering safe, sustainable solutions to the challenge of nuclear clean-up and waste management.
Some digital preservation challenges
The NDA has a distributed estate, with several different organisations and sites sitting under the umbrella of the NDA. A distributed estate can of course lead to a lack of consistency in approaches to information management. It is almost inevitable that different organisations will have developed their own ways of doing things, will have their own document management systems, and that valuable records and archives will be held in multiple locations.
Much work has been done to move towards more centralised approaches to information management at the NDA and this idea is already well embedded in policy and strategy. Nucleus is now established as the Nuclear Archive and records store and work is well underway on a 'sift and lift' programme to move physical records to this site. Digital records will follow once the new archives management system becomes available for use.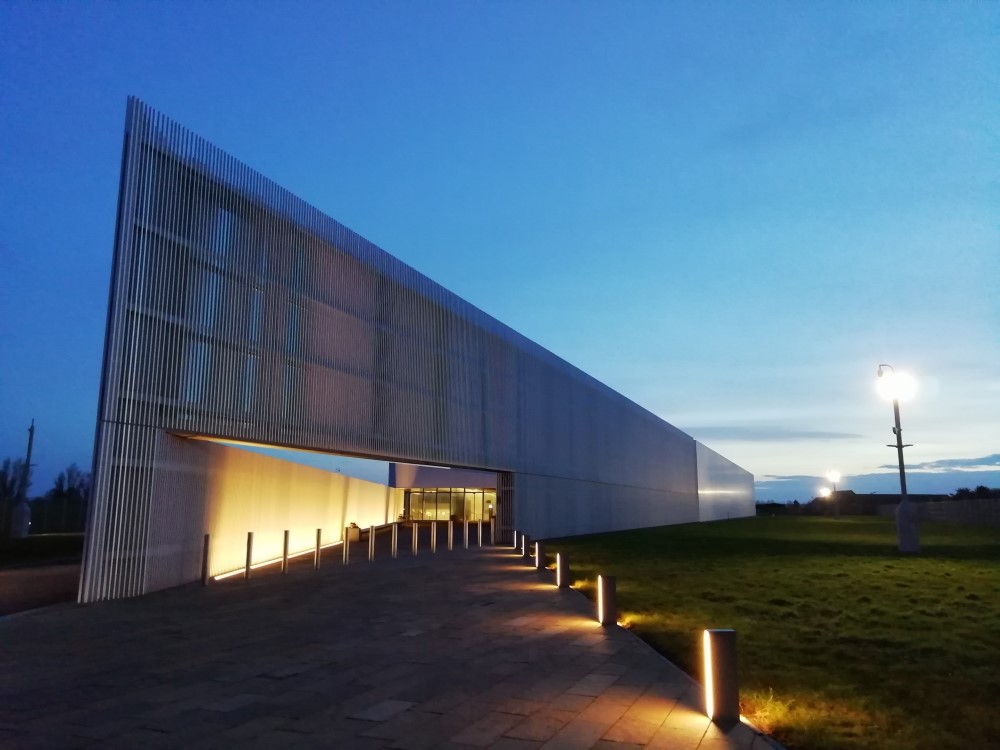 'I was really lucky to be able to visit Nucleus, the nuclear archive. An impressive building in Wick, Scotland'
The NDA Group are very good at creating large quantities of information - they have been doing this for many years in a highly regulated and professional way. One of the key challenges they face is establishing exactly what should be kept and for how long. Of course they have retention schedules but these typically don't go right down into the details of which exact pieces of information constitute a particular record. There can be an understandable tendency to keep everything 'just in case'. It is easy to see why, given the necessary emphasis on security and safety and the potential reputational damage if they are not able to produce the right evidence at the right time - but of course keeping too much information brings its own challenges. It becomes harder (and more expensive) to manage, preserve and locate the really important information.
So whilst it is important to dispose of information that is no longer needed, it can be a challenge for information managers within the NDA Group to provide detailed advice on exactly what to keep as they can not be specialists in all the data that is being generated.
Knowledge management is also an important consideration for the NDA. Once a nuclear site is decommissioned the site will be closed and there will no longer be any staff there to explain how or why a particular record was created or where the documentation that should go with it is located. Records will be sent to the archive at Nucleus where they will be preserved and access will be provided as appropriate. The Open Archival Information System (OAIS) has a useful concept around ensuring the independent utility of the data. This essentially boils down to the question, 'can the record be understood without consulting the person who created it?' Ensuring that the important information that is in people's heads is documented and sits alongside the records themselves in the archive is crucial if future users are going to be able to make sense of much of this information.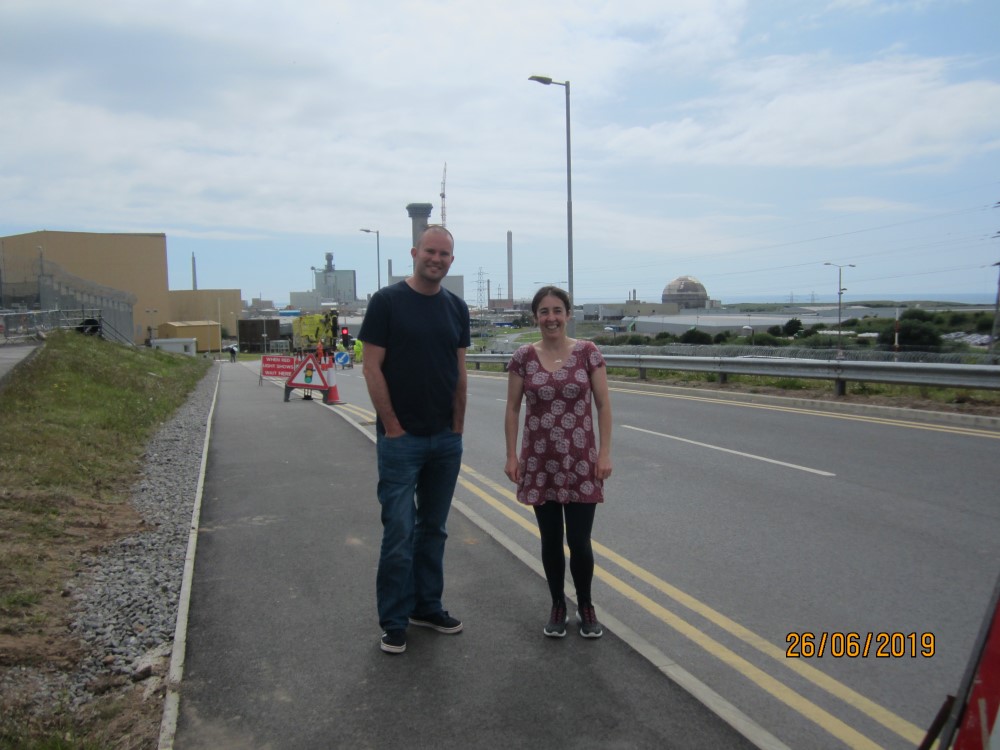 'At Sellafield and other Nuclear sites in the UK, there is a need to capture the knowledge of the people working there as well as the digital records.
Myself and Paul Wheatley spent a fascinating day at Sellafield finding out more about their information management challenges. One of many interesting trips during the project.'
Ultimately, the information management and digital preservation goals of the NDA are to ensure the right information is available to the right people at the right time. This applies whether providing evidence to a regulator next week or facilitating access to information about a radioactive waste package in 100 years time. It applies whether we are considering data in legacy plant management systems, an old instance of Lotus Notes, an EDRMS or a 3D 'digital twin' of a building. It applies equally for digitised and born digital records. Of course in a nuclear context there is a tension between the desire to make information available and the need to provide adequate security and protection for those records that should not yet be made available. There is a careful balance to be struck here.
Different, yet the same...
In many ways the digital preservation challenges of the NDA are not that different to the challenges other DPC Members have. It is the similarities rather than the differences that now strike me as I look back at the last two years. In my mind, some of the strongest parallels come from research data management, a field I worked in prior to taking on this job at the DPC.
Anyone working with different academic departments in a university will be aware of the challenges of working with data creators with different cultures and ways of working. The physics department will undoubtedly be producing and managing their data in a very different way from the philosophy department. It is not unusual for organisations to have challenges aligning and centralising approaches to information management across sections that have traditionally been used to doing their own thing.
Similarly, in a research data context, providing precise advice on what to keep is difficult. If a researcher from the chemistry department was to approach library and archives staff with a query about which elements of their data they need to keep for others to re-use, they may not recieve a clear and precise answer. Without a deep understanding of the discipline, the context and the specific data that has been generated it can be difficult to advise. A set of broad principles and guidelines on selection and disposal can be helpful in moving those conversations forward.
Knowledge management challenges are also not unique to the UK nuclear industry. I talked a lot about documentation when working with academic researchers. This is what helps ensure that future users can make sense of the data. We can not assume a researcher will be at the same university or even in the same country if we need to go back and ask them questions about their data. Documentation helps ensure the independent utility of the data: Data + Documentation = Information. I think this applies whichever context you work in.
Access controls relating to sensitive and confidential data are also discussed a huge amount in the context of academic research data. Not all research data can be made openly available but there is widely adopted desire to ensure that data is 'as open as possible, as closed as necessary' (often mentioned in the context of open science and FAIR data principles).
So what have we been doing?
Given that the digital preservation challenges of the NDA are similar to the preservation challenges of other organisations, it seems logical to tackle the challenges in a similar way. There are a few obvious steps to take when getting started with digital preservation (more about this in the Digital Preservation Handbook).
Understand the organisational context and mission - this was something that the DPC spent the first few months of the project doing, both meeting people and reading existing policy and strategy documents. It is hard to move forward in a productive way until this work is done.

Understand the digital content that needs to be preserved - it was made clear to us from that first kick off meeting that the most important records to turn our attention to are records of radioactive waste packages, but of course many other types of record exist, some with long retention periods. Having early sight of the NDA Records Retention Schedule was helpful in understanding the digital content.

Assess organisational readiness - gaining an understanding of organisational maturity is a really important step at any stage of a digital preservation journey but particularly so when starting out. It helps highlight areas of good practice and flag up those areas where more work is needed. We developed DPC RAM, our Rapid Assessment Model, to help the NDA assess their digital preservation maturity and this model is available for anyone to use. DPC RAM has helped the NDA understand where they are now and where they want to get to.

Carry out internal advocacy - advocacy is really important when working in the field of digital preservation. It is important to get understanding and cooperation from stakeholders at all levels within an organisation. Not just those in charge of the budget, but also those who are creating the records. Initially this work can focus on ensuring people know what digital preservation is and why it is important, but it can and should lead to advice and guidance on what to do about it. As this project has progressed. The DPC have chatted to lots of people within the NDA Group and presented at a number of meetings. Digital preservation advice and guidance has also been embedded into one of the NDA's key information management documents.

Develop preservation policy - establishing a policy that sets out high level digital preservation principles is another important step. Even if this policy is aspirational, it will help set a clear direction of travel for the organisation.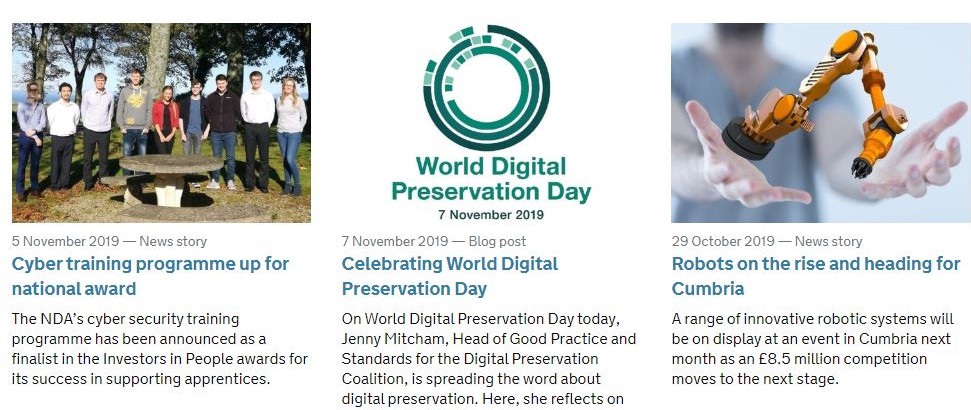 'A piece of advocacy for digital preservation on World Digital Preservation Day 2019 with a digital preservation piece on the NDA blog
Always good to see digital preservation featuring alongside cyber security and robots!'
...and what next?
Today marks the end of our two-year project but not the end of this collaboration. We have further work planned with the NDA and we hope to be able to share news on this soon.
In the meantime, DPC Members can sign up for a webinar and panel discussion with the NDA on 3rd December where we will discuss the work of the project and next steps. We'd love to tell you what we've been up, what we will do next and hear your questions and feedback so do join us.