The Build-Up
As I've already shared on this blog, on Twitter, by email, to anyone willing to listen…. DPC colleagues and I have been super busy the last few months working on a new online training endeavour, funded by The National Archives (UK), Novice to Know-How (N2N). The project officially finished on 31st March and we went straight into a soft launch to help iron out any wrinkles. But the question then remained, how do we create a fanfare about the official launch in these extraordinary times?
Thankfully, there was already a precedent established. On 17th March, we had launched our Melbourne office with a very jolly online party. There had been short presentations, discussion, dressing up, a quiz, and the first time we'd hit several pages of people on Zoom gallery view! You can read a recap by Jen Mitcham here: https://www.dpconline.org/blog/digipres-launch-party. We decided to steal all of these ideas for the N2N launch as it had been great fun. A date was set, registration opened, preparations were under way and we crossed our fingers that we could attract at least 30 or 40 people to join us.
Turns out there was no need to worry, on Monday 4th May, 125 people joined our online launch party to hear more about Novice to Know-How! Lots of people had dressed for the occasion and as it was May the 4th, there were even some Star Wars dressing-up on display!

The Featured Performers
We had a starry line-up of DPC staff and invited guests along to talk about the context of the project, what happened, the outcomes, complementary resources, and what's next:
After a welcome from William Kilbride, Simon McKeon of The National Archives (UK) recapped the TNA/Jisc survey on digital capacity in the UK Archives Sector and the resulting programme "Plugged-In, Powered Up" https://www.nationalarchives.gov.uk/archives-sector/projects-and-programmes/plugged-in-powered-up/ Which has 20 strands, 3 of which looking to develop digital preservation skills and guidance.

Amy Currie, Training Officer at the DPC, discussed the pilot phase of the N2N project: the overwhelming number of wonderful volunteers and the rich feedback that was received. Which all went into improvement of the training content as the project progressed.

Sam Case of Bacardi, a pilot participant, spoke about her experience of the training. Having attended previous DPC face to face training, she said the online learning compared favourably, offering a similar quality of experience.

I then took to the mic to provide an overview of the project that has produced the beginnings of a new skills framework, and a learning pathway, with 6 courses, that contain 25 individual modules. Attendees were then offered a brief demo of the learning portal and some of the content.

Next up we had some Q&A from attendees, and I've included questions and answers from this below.

We then took a break from the more serious stuff for a quick digital preservation "pub" quiz run by Jen Mitcham. Congratulations to Sarah Mason of Artefactual for grabbing top prize!

Kevin Bolton, an independent archives consultant, introduced one of the complementary resources developed by himself and colleagues as another strand of "Plugged In, Powered Up", Digital Preservation Workflows https://www.nationalarchives.gov.uk/archives-sector/projects-and-programmes/plugged-in-powered-up/digital-preservation-workflows/. The workflows describe 4 stages of digital preservation activity, providing advice on possible steps and useful tools.

Melinda Haunton of The National Archives (UK) then joined to talk about future work from the TNA. This has been only the first year of three for "Plugged In, Powered Up" and more on training and other schemes such as peer mentoring are rolling out.

I then returned to give an update on how N2N will be kept up to date, how access will work and future plans for training and workforce development resources from the DPC. These include more online courses, a review of the Digital Preservation Handbook, and resources to support recruitment, skills audit, and continuing professional development.

William wrapped things up by thanking the speakers and all involved in delivering what had been a challenging but ultimately rewarding project that will hopefully have a significant impact on the community.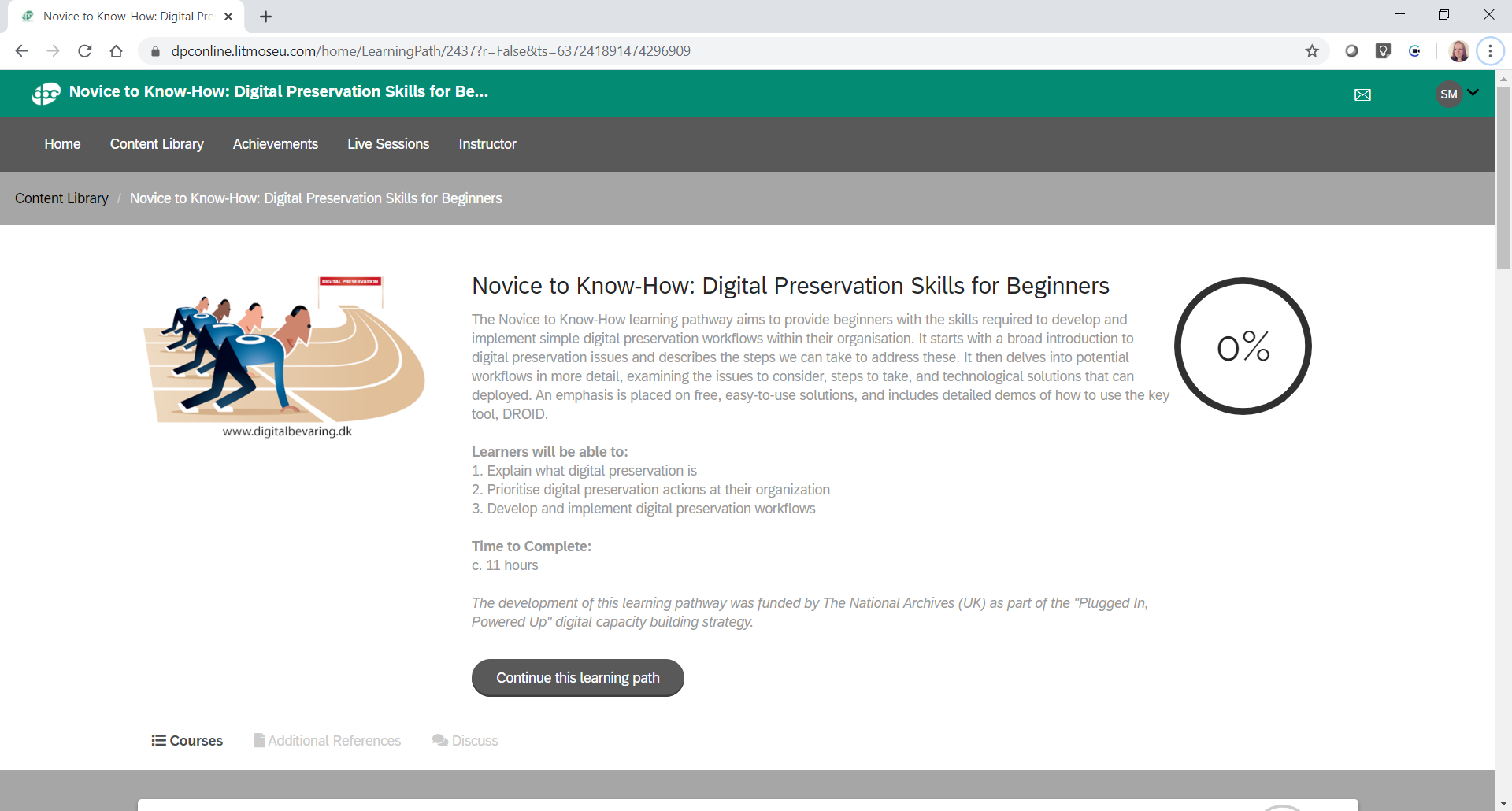 Audience Q&A
As promised, let's also have a recap of the questions that were asked on the day:
Is there a list of the courses that were tested [in the pilot] somewhere?
The courses tested where "Introduction to Digital Preservation" and "Introduction to Bitstream Preservation". The 2nd course no longer exists as it did during the pilot, the modules were subsequently redistributed into a different structure based on pilot feedback.

Is there a cost to signing up for the course?

There will be a limit to the number of the places available per month, but there will be no cost for undertaking the learning pathway.

Do you need to complete the course in a specific time or is open ended?

Learners will have access to the course for 4 weeks, starting on the 1st of each month. We estimate that it takes 2-3 days to complete the full learning pathway, but this time can be spread over the 4 weeks.

Has the web accessibility of the resources been considered? Or is this a potential future development?
There are some accessibility considerations already built into the learning platform, and one improvement from the pilot has been adding closed captions to all of the video/audio content. We will be investigating further what improvements can be made.

Priority will be given to those in the sector - does that include volunteers / prospective students?
Yes, we'll be using a broad definition of the "UK Archives Sector" and this will definitely include volunteers and prospective students. Some have already undertaken the course or are registered for future months.

Have other organisations thought about how they might incorporate this into their new staff induction programmes?
We know several organizations are considering this, but we've not heard any details yet. It's something we'll be following up on.

Will this course available for participants from India?
In time, we hope that anyone from around the world who wishes to access the course will be able to. Priority will be given to the UK archives sector and DPC members in the first instance, but we are welcoming those from outwith these groups to join a waitlist for any unclaimed places.

Are you capturing statistics about who is signing up?
Yes, we're capturing some basic statistics through registration. The Learning Platform also provides quite detailed stats on use, as well as supporting Google Analytics. We'll be assembling regular reports on usage for the TNA and DPC Members.

It would be brilliant to offer K2KH to people working with community archives - is this possible?

Yes, we definitely welcome registrations from community archives!
Coming Soon
The response to the N2N project has been phenomenal, with the first 3 months of access "selling out" in under a week. In response to this we're opening registration for August, September, and October earlier than planned. There will also be ongoing work to extend the DPC's online training offering.
Towards the end of the party we asked attendees to let us know what topics they were interested in to help guide future online training development. The topics listed were the current leaders from a still open survey of DPC Member training needs. So keep an eye out for more training (and maybe more parties?) coming soon!