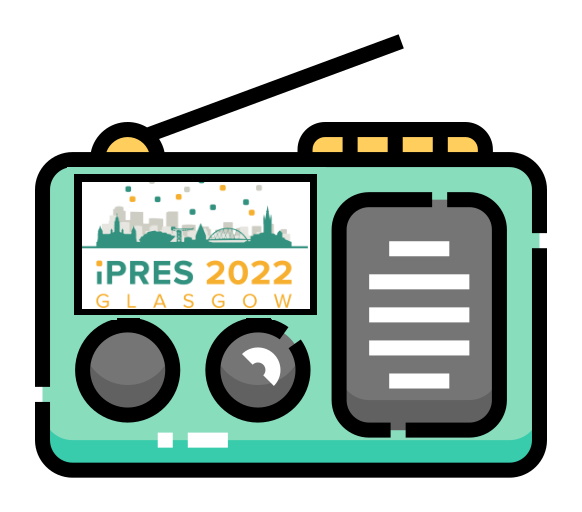 Robin Wright is Head of Australasia and Asia-Pacific for the DPC
During iPres this year, online delegates from Australasia and the Asia-Pacific had an additional way to engage with the iPres program and other attendees from their region by tuning in to iPres radio. This was a series of five half hour open zoom sessions run by the DPC's Head Australasia and Asia-Pacific each day at 14:00 AEST (12:00 SGT, 16:00 NZST) that was designed for online delegates from the Australasia and Asia-Pacific region.
It provided an informal forum for delegates from the region allowing them to interact and find out more information about events at iPres at a convenient local time. The sessions also provided an introduction to the iPres Sunrise sessions being held later that day at 7.30am Glasgow time (16:30 – 18:00 AEST, 14:30 – 16:00 SGT, 18:30 – 20:00 NZST).
The content for each day's iPres radio session included an informal chat with participants plus videos and images from events at the conference including the welcome video from William Kilbride, DP Award nominees, and poster presentations. Local iPres presenters who had recorded their sessions for the main program participated 'live' allowing them to show additional material or answer Q&As. There was also less formal content shown such as some of the 'Scots word of the week' videos from Sharon McMeekin and videos from 'our correspondents in Glasgow' - delegates from the region attending iPres in person who recorded some of their own experiences for replay on iPres radio. The sessions enabled networking between online delegates from the region and allowed participants to meet other attendees they might not have otherwise.
iPres radio was a lively interaction between a small band of late-night online iPres attendees. It helped to bring virtual attendees from the region together and avoid some of the isolation sometimes felt when participating in conferences from a remote time zone. By including photos and videos of some of the less formal aspects of iPres, such as the tartan give-aways, the excitement of awards presentations and the cèilidh after the conference dinner, iPres radio offered an enhanced online experience of the event. As the week progressed, participants began to report back on events they had attended the day before (either live online late at night, or as recordings from earlier sessions) and suggest sessions others might like to catch-up on or that might make good later local 'watch parties' in the Australasia and Asia-Pacific region.
iPres radio was intended to enhance the experience of online attendees from remote time zones. As well as highlighting live content from the iPres program, it provided a platform for participants to meet, discuss the conference and share their thoughts and ideas. Most importantly it created the feeling of a local community in the region around the online experience of iPres that was welcoming for anyone who wanted to log-in.
I hope the model of iPres radio can be used again at future iPres conferences, not only to support online delegates wherever they are in the world, but to expand the idea of a hybrid conference and allow online delegates an opportunity to interact more closely and comfortably with the event in their own time zone.