This blog was written by Frederick Alexander (Archivist, Digitisation) and Iram Safdar (Digital Archivist), from Historic Environment Scotland
---

What do a Dutch shipwreck and file format migration all have in common? These topics might seem dissimilar, but they were both a part of a four-year project in Historic Environment Scotland's Archive.
In 2018 Historic Environment Scotland Archives launched a digital project with the goal of making 750,000 new digital records available for public access through the Canmore website. This project has generated digital records through digitising our physical collections, as well as cataloguing our externally deposited born-digital records. Additionally, this project has improved organisational knowledge of digital preservation through advocacy, research, and cross-departmental collaboration.
Through cataloguing digitised and born-digital records we ensure intellectual control of our collections. Ingesting this material into our secure digital repository infrastructure means we are protecting HES Archives collections from deterioration and obsolescence. This work helps to preserve Scotland's heritage record for posterity.
The volume of new born-digital accessions has increased annually since the late 1990s.Despite this the ability of the digital archive to process these collections had not been able to keep up. The Digital Projects identified cataloguing and disseminating this backlog of digital accessions as one of its main goals, coming under the project's remit of reducing HES Archives 'invisible' collections.
One of the collections in this backlog was a project archive deposited by Headland Archaeology Ltd in 2012. This collection detailed the survey and assessment of a shipwreck of possible Dutch origin, found in the intertidal zone on the island of Fuday, Barra. This wreck is usually covered in white sands. Yet due to tidal movements this wreck emerges from the sand in roughly ten-year intervals. The wreck emerged in 2008 to an unprecedented degree, allowing Headland Archaeology Ltd to conduct a preliminary survey of the ship. The resulting report suggested the wreck may have been of Dutch origin and provisionally dated it to 16th or 17th century. The Digital Projects team were able to catalogue and promote this collection, which is now available for public access on Canmore.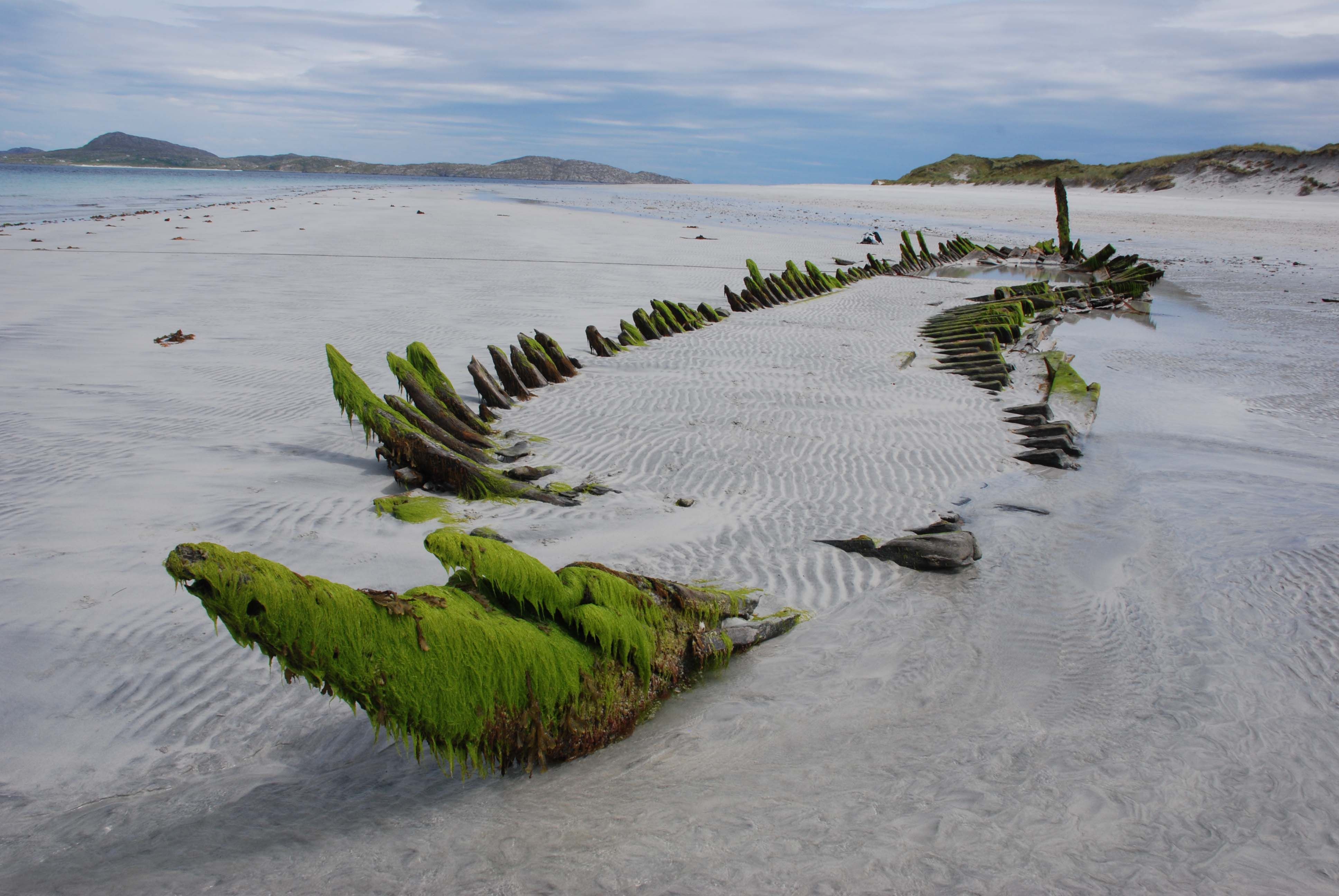 A photograph of the wreck at Fuday, 2008
One of the goals of the digital project was to strengthen digital preservation at Historic Environment Scotland. As part of the projects' scoping and preparatory work, we identified over 400 unique file formats across thousands of digital files held within the digital archive. Many of these file formats were proprietary or identified as 'at-risk' by organisations like the Digital Preservation Coalition. The project team undertook research with internal and external stakeholders for the digital archive to identify preferred and accepted file formats for long-term preservation. We used this experience to improve HES internal standards, guidance and workflows for archive stakeholders, and to publish revised guidance and accepted file formats for depositors.
Our digital archive material is becoming increasingly complex; HES Archives is a repository for specialist digital objects, including 3D photogrammetry models, LiDAR data, and geophysical survey data. The Projects team assisted in researching emerging best practice for preserving this data and collaborated with practitioners to establish an open discourse between data generators and digital archivists. Despite these challenges, the Digital Projects has raised the profile of digital preservation within Historic Environment Scotland and gained a renewed commitment of organisational resources.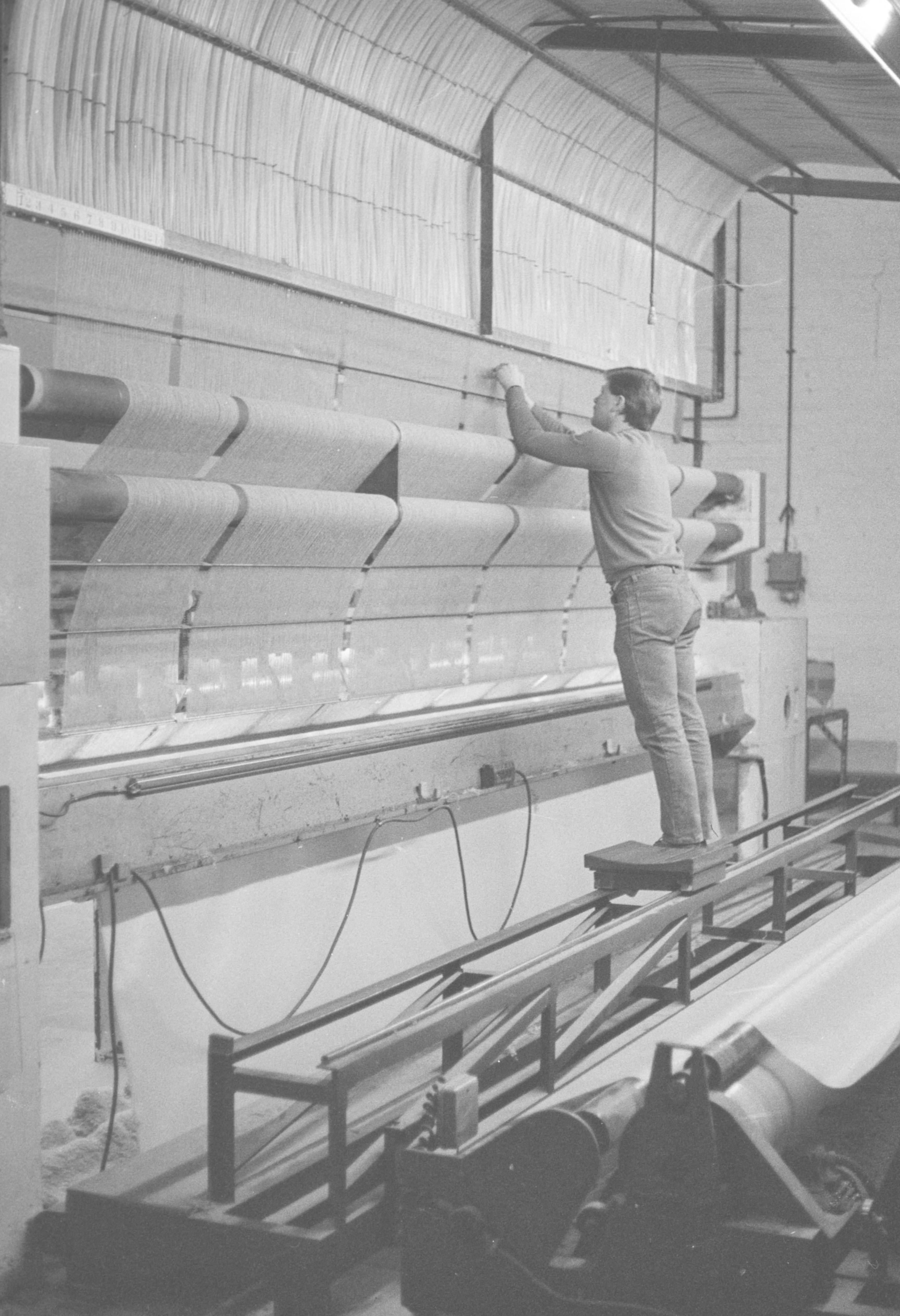 Staff at Seafield's Work, Dundee
This large-scale digital archive project, the first of its kind at HES Archives, provided the opportunity to innovate new workflows and methods to achieve our goals, with the aim of informing future archival processing. With the support of our database developer, we implemented a new ingest method that automated the creation of new item-level catalogue records for digitised photographs, generating metadata from existing batch-level catalogue records. This new development meant we could efficiently catalogue and make available hundreds of thousands of digitised photographs utilising existing catalogue hierarchies.
Alongside our technical developments, we also worked to improve standards in the archival description of born-digital collections as part of our commitment to reducing the born-digital backlog. We established an archival description standard for cataloguing digital material, with a focus on archaeological and architectural project archives, as these comprise the majority of our born-digital deposits. This has standardised captioning and metadata across archives staff working with digital collections, improving retrieval and searchability.
The Digital Projects comes to an end in March 2021.However, the work undertaken by the team will continue to improve accessibility to digital heritage material, improve digital processing and cataloguing standards, and strengthen HES Archives' digital preservation programme for years to come. The Digital Projects team has learnt so much and we are excited to contribute our skills and experience to support digital preservation, archive and heritage management efforts across Scotland and further afield.
You can find out more about the Digital Projects andview some highlights, in our online showcase: Beyond the Physical | Canmore