As we invite new nominations to the Bit List, we have invited DPC Members who have used this resource in support of their own advocacy work to share how they did it and what the results have been.
Audrey Wilson is Partnerships and Engagement Manager for Scottish Council on Archives and starts us off on this series of 'Byte-sized Bit List' blogposts...
---
For the iPres Conference in 2022 we used the Bit List for the basis of a poster which set out the key issues surrounding Community Archives and invited contributions from digital preservation professionals to explore ways of helping community groups with their digital requirements.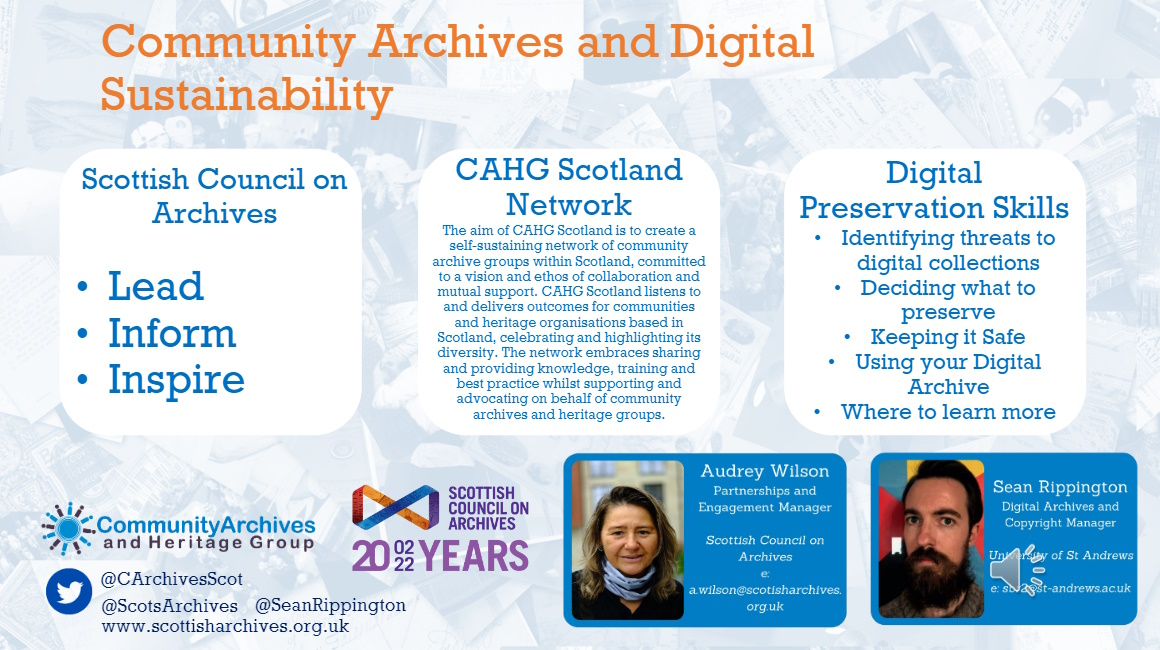 The digital archives of community groups are listed on the Digital Preservation Coalition 'Bit List' as 'Critically Endangered'. The Bit List mentions: poor documentation; lack of replication; lack of continuity funding; lack of residual mechanism; dependence on small number of volunteers, lack of preservation mandate; lack of preservation thinking at the outset; conflation of backup with preservation; conflation of access and preservation; inaccessible to web archiving; dependence on social media providers; distrust of 'official' agencies as some of the key factors behind the extreme vulnerability of digital community archives.
The Bit List also states that "Typically born digital material is more at risk - community groups may not know about the risk of loss. Many are unaware of digital preservation terminology. It is the ad-hoc nature of these groups and projects which is of great concern."
As a member of the Bit List Council in 2023, the Scottish Council on Archives will recommend that better access to resources, and more suitable resources, are required in order to empower community groups to take steps towards preserving their own digital collections. As part of this action, the iPres 2022 poster was partly responsible for a webinar series we are offering for the Community Archives and Heritage Group called Developing Your Digital Skills (Part 2) - a follow on from a first series last year. Within this series, digital preservation professionals will contribute by offering practical advice through presentations and workshops.
If you would like to contribute to the nest DDS series or find out more, please contact This email address is being protected from spambots. You need JavaScript enabled to view it.