Last week was an exciting one for us, and action packed, I've only really had time to pause and reflect on our achievements now.
For those of you who missed it, the DPC was presented with the IRMS Innovation of the Year Award for the fantastic Digital Preservation Handbook!
Turning up for the awards, I was secretly hoping we'd win one of the three – yes three – awards we'd been nominated for, but didn't expect it at all. Over our pre-dinner glass of fizz I even asked William in jest whether he had prepared 'a few words' – ha ha ha! But, having settled in for a fancy dinner and an evening's entertainment, we were in fact back on our feet straight away to accept the first award!
Sara and I (who were sitting as far from the front as you could be) had a bit of a race to get to the stage before William (who was practically dining from the podium) scooped the prize without us. But we did, and with a quick handshake from Iron Mountain's Tim Callister and IRMS Conference Director Ren Leming, a pose for the official photo, lots of clapping and cheering, that was it! Hurrah!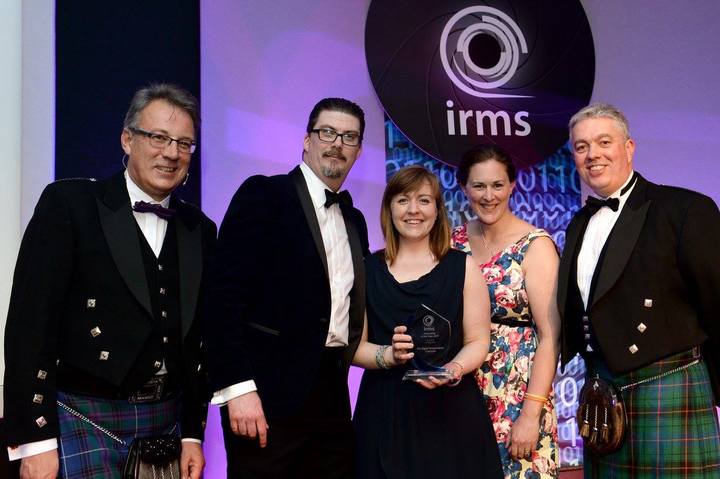 The official winners photo, courtesy of IRMS
So actually, there was no time to give an Oscar-worthy acceptance speech even if we'd had one prepared, but here's what I would have said if there was:
---
"Thank you, thank you <pause for applause>
I really really want to thank my mum, and my dad… <faux sob> No! Not really. I really really want to talk about the Digital Preservation Handbook!
This fantastic resource was first released in 2001 and for the following 15 years proved to be the most popular piece of work the DPC has ever produced.
That's because it was accessible and it was useful. It addressed people working in digital preservation at every stage of their journey, and it addressed organisations of all types and sizes. It offered advice, guidance, resources, and practical ways to get started with the ever-changing challenge of managing digital information.
But that ever-changing challenge meant that even our most popular resource needed refreshing after so long.
Supported by a group of external funders, the new handbook was developed by an expert community of international authors, under the editorship of original author Neil Beagrie, in a series of 'booksprints,' ensuring it spoke to as wide an audience as possible whilst retaining a deep understanding of the topics covered.
Not so much a handbook now, our new responsive website is still free-of-charge and available for everyone. It still does all the things it did before, but now also offers: case studies, videos and online content which captures the state of the art in managing data for the long-term. It includes interactive functions, allowing readers to add examples, comments and updates, while a completely new section called 'Getting Started in Digital Preservation' supports the DPC's programme of introductory workshops.
But this fantastic resource would not have been possible without a dedicated group of people and supportive organisations:
Project funding was initiated by The National Archives. And the DPC Board, eager to revise the Handbook provided DPC staff time from my colleagues William Kilbride and Sharon McMeekin who headed up the Editorial Board, also ensuring that material costs (such as the website) were supplied at no cost. Member funds were also put forward to support the development of the resource, which means that each and every one of our members is in part to thank.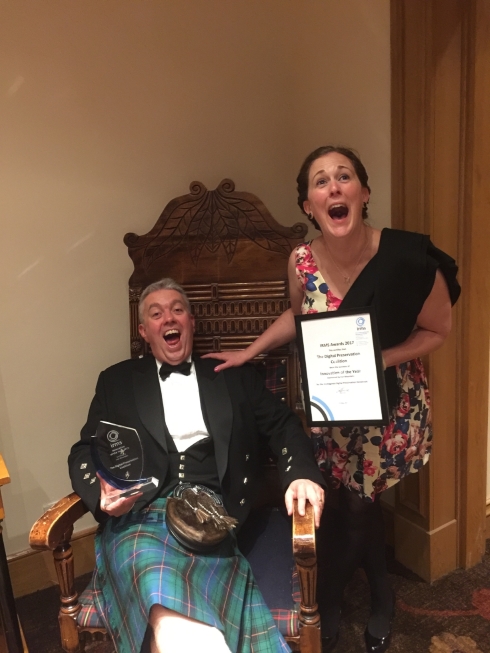 Charles Beagrie Ltd joined the consortium as editorial partner to undertake original research, develop content and design, and co-ordinate quality assurance. And recognising that research data managers in higher education would be well placed to use the Handbook, Jisc also joined the collaboration. Jisc's funds enabled the development of the three content specific preservation sections and the 'book sprint' methodology.
The British Library's contribution enabled a comprehensive needs assessment and survey which formed the basis of the revised table of contents. And, after a period of content development and proto-typing, the Archives and Records Association (ARA) provided funds to ensure that draft texts were systematically and comprehensively peer-reviewed prior to release, and that the DPC was able to take the Handbook 'on the road' in a series of training events accessible to ARA and other non-DPC members too.
Finally, funds were supplied from the National Records of Scotland to enable dissemination and a timely launch.
But that's not all, because I haven't even mentioned our contributors. More than 80 individual contributors, from all corners of the digital preservation community around the world, gave up their time over 12 months to create a resource that reflects where we are now with the digital preservation challenge.
I'd like to say that I personally found it a pleasure to work on… but I didn't actually contribute to the content. I came late to the game, assisting in getting the website infrastructure in place to make the Handbook available and accessible to its users.
What was a pleasure, and continues to be a pleasure, is working as part of such a fantastic community of people and organisations. And I am delighted that this combined effort has been recognised by another community of people who will find it invaluable to their work too.
And, I also hope this means that we will continue to work in alliance with the IRMS and the rest of the information management community for the foreseeable future, because after all - look what we can achieve when we collaborate."
'How about we engrave the data on platinum hard drives and bury them in a salt mine?'
Thank you Rachel MacGregor for the caption!