When I took on my new job as Head of Good Practice and Standards at the DPC I was told by several people not to stop blogging.
Luckily, the DPC is an organisation that actively encourages blogging - not just from its staff but also from members.
Note to members - Sarah has a blog schedule and you will be on it somewhere - but don't feel limited by the schedule - you can blog at any time, it really is a great way to share information and make contact with the wider community.
When working as a digital archivist at the University of York I found that one of the challenges of the role was simply keeping up with new developments and initiatives in this ever evolving field...whilst simultaneously juggling meetings, deadlines, projects and other commitments. I tried my best but had to accept that I was fighting a losing battle - there would never be enough hours in the day.
In my new role at the DPC I feel it is all the more important for me to have my ear to the ground and to have a sense of what is going on out there so this challenge continues. Developments around 'Standards' should be relatively well defined and perhaps a bit more quantifiable, but 'Good Practice' is a harder one to keep on top of. I will do my best but no doubt will still find that there aren't enough hours in the day!
So, I'd like to blog occasionally* and update you on what I'm doing and what is going on in the world of standards and good practice.
Here are a few highlights and updates from the last few weeks.
It was great to see the full proceedings of last year's iPRES conference released online - especially useful for those of us who couldn't make it there in person. I can't pretend I have read more than a couple of these papers so far but there is a wealth of interesting content here which I hope to start to tackle on some of the long train journeys I have coming up.
Speaking of reading on train journeys, I finally finished reading "The Theory and Craft of Digital Preservation" by Trevor Owens this month on a busy train from Warrington to York (with limited elbow room for working on my laptop).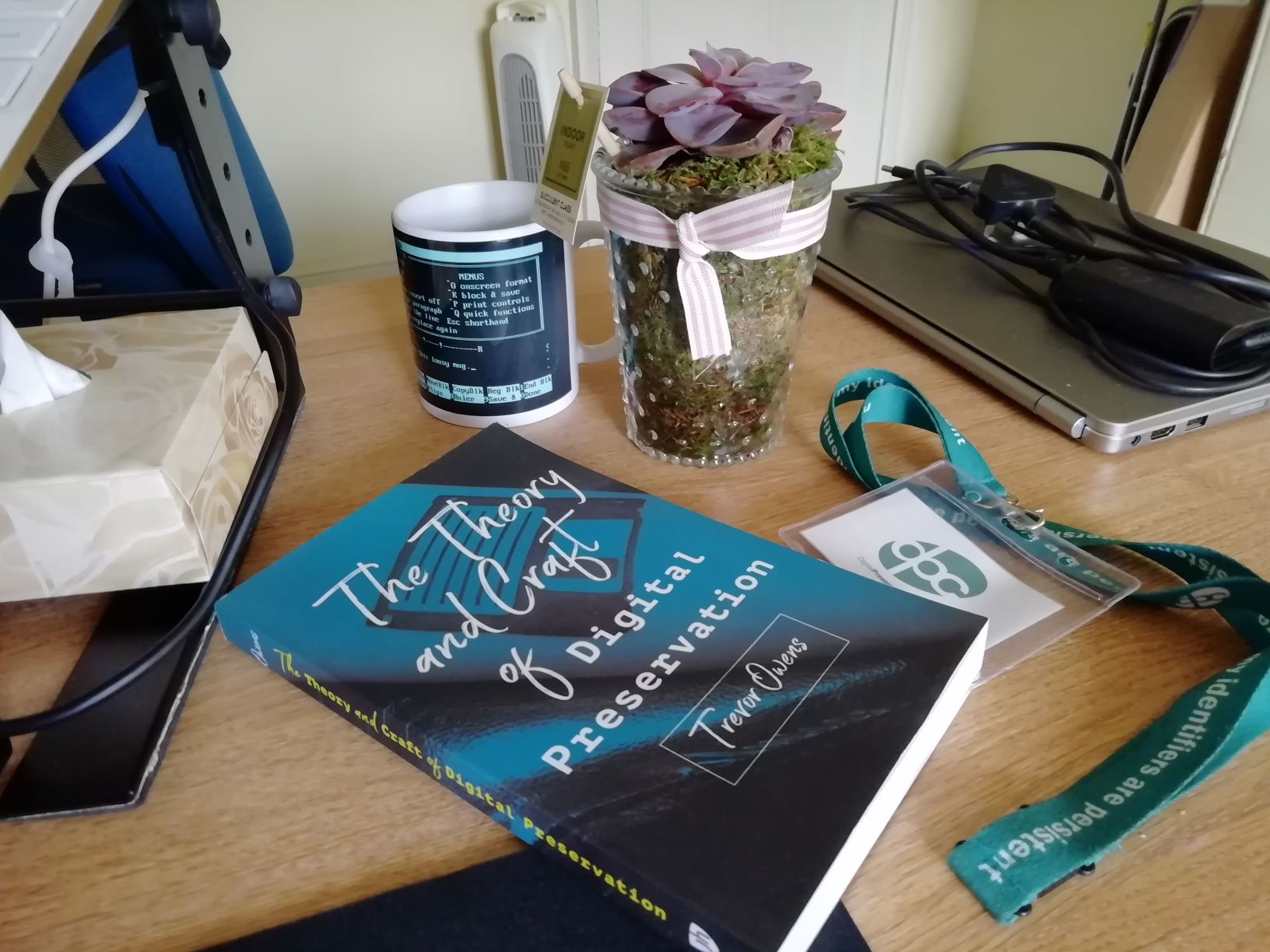 This book was a particularly well chosen leaving present from colleagues at the University of York (OK, I did ask them for it). It is an excellent read which I would recommend if you haven't already come across it. Trevor writes in an accessible style and doesn't overwhelm the text with too much detailed technical information. The book is packed full of interesting case studies that help to illustrate some of the challenges we face in this field of practice and why the answer to almost every digital preservation question is "it depends".
I'm going to be quoting this book for some time to come.
I also came across a Q&A with Trevor about his book which gives a sense of why he wrote it and what it is all about.
You can buy the book or you can download the pre-print here.
If you don't have much time, I suggest just diving into the first chapter and reading his Sixteen Guiding Digital Preservation Axioms. It includes statements such as "Tools can get in the way just as much as they can help" and "Nothing has been preserved, there are only things being preserved".
Warning: you might just find that you want to carry on reading the whole book...
This month I also read a new ISO standard that quietly emerged at the end of last year - ISO 22299:2018 Document management -- Digital file format recommendations for long-term storage. The purpose of this standard is to provide "guidelines for selecting the most appropriate file format(s) for the storage, usability, and exchange of data with a long-term management objective". So clearly very much in scope for those of us working in digital preservation.
However this standard is not a magic bullet - it covers only a limited range of data types (such as word processing, vector and raster image and AV) and does not really answer the question "what preservation file format should I use?".
Perhaps the most useful part of the standard is a set of generic guidelines on selection methodology - a list of things to think about when selecting a file format for long term preservation (for example: Does it have an open specification? Is a reader available?). That said, I do not think there is anything particularly new here - this topic is already well covered in freely available resources such as Malcolm Todd's "File Formats for Preservation" Technology Watch Report (written ten years ago but these basic principles haven't changed much) and the Sustainability of Digital Formats website from The Library of Congress.
On the subject of another standard (currently out for consultation), I tuned into a couple of OPF webinars this month.
Aside from blinding me with this visualisation of the metadata universe, the webinars talked about the work of the E-ARK project and in particular the eArchiving specifications they have created.
The project has created a hierarchical set of specifications, including for the OAIS information packages (SIP, AIP and DIP). If adopted by preservation software supplies and the wider community, this could lead to greater interoperability between different digital preservation systems, thus making it easier to move from one system to another in the future. This was certainly one of the hot topics at DPC's repository migration event 'So long, and thanks for all the bits…' last year so if this interests you do take note.
These (and other) specifications are currently out for review until 24th February and DPC Members and Supporters may wish to provide feedback on this. This particular task is on my 'to do' list for next month.
The last activity I'm going to report on in this post is the review that is underway of the NDSA Levels of Preservation.
I was a big fan of the NDSA Levels in my previous role and had them printed out and stuck on my notice board. However, when using them to benchmark and assess our own preservation processes I did find a few grey areas where they could be subject to different interpretations.
I sit on 3 of the working groups for this initiative, all of which held meetings last week (I was able to attend 1.5 of them).
The importance of working internationally on standards like this became apparent last week when the group responsible for revising the levels had a discussion about the meaning of the word 'inventory' (as a verb). It is clear that US and UK English differs subtly in their use of this word, with folks in the UK tending to talk about 'creating an inventory of files' and US colleagues who 'inventory their files'. So we really do get down into the nitty gritty of semantics in these meetings to try to ensure that we use language that makes sense internationally. Choosing simple and clear language that can be easily understood is more challenging than you might think!
My hope for the re-boot effort is that we end up with an updated set of levels that retain their simplicity, can still be printed out on one piece of paper or put on a Powerpoint slide and have greater clarity. It really is great to have the opportunity to collaborate on this project.
That's all for now. As ever, I'm happy to make this a conversation rather than a monologue - so do let me know if you have any comments or give me a shout if there are things you think I should know about.
* Note, I deliberately make no promises about how often I will blog!