The Digital Preservation Coalition (DPC) has been presented with the Jury's award for Best Poster at the international conference on digital preservation (iPRES 2019), in Amsterdam.
The winning poster presents the Executive Guide on Digital Preservation, a resource which provides practitioners with a combination of generic and specific messages and motivators designed to communicate with senior executives, legislators and budget holders, as well as decision and policy makers with a view to embedding the value of digital preservation at the core of every organization.
Sponsored by Data and Archiving Networked Services (DANS) and presented by their Deputy Director, Ingrid Dillo, the award recognizes the clear design, quality and creativity of the poster, and its supporting video.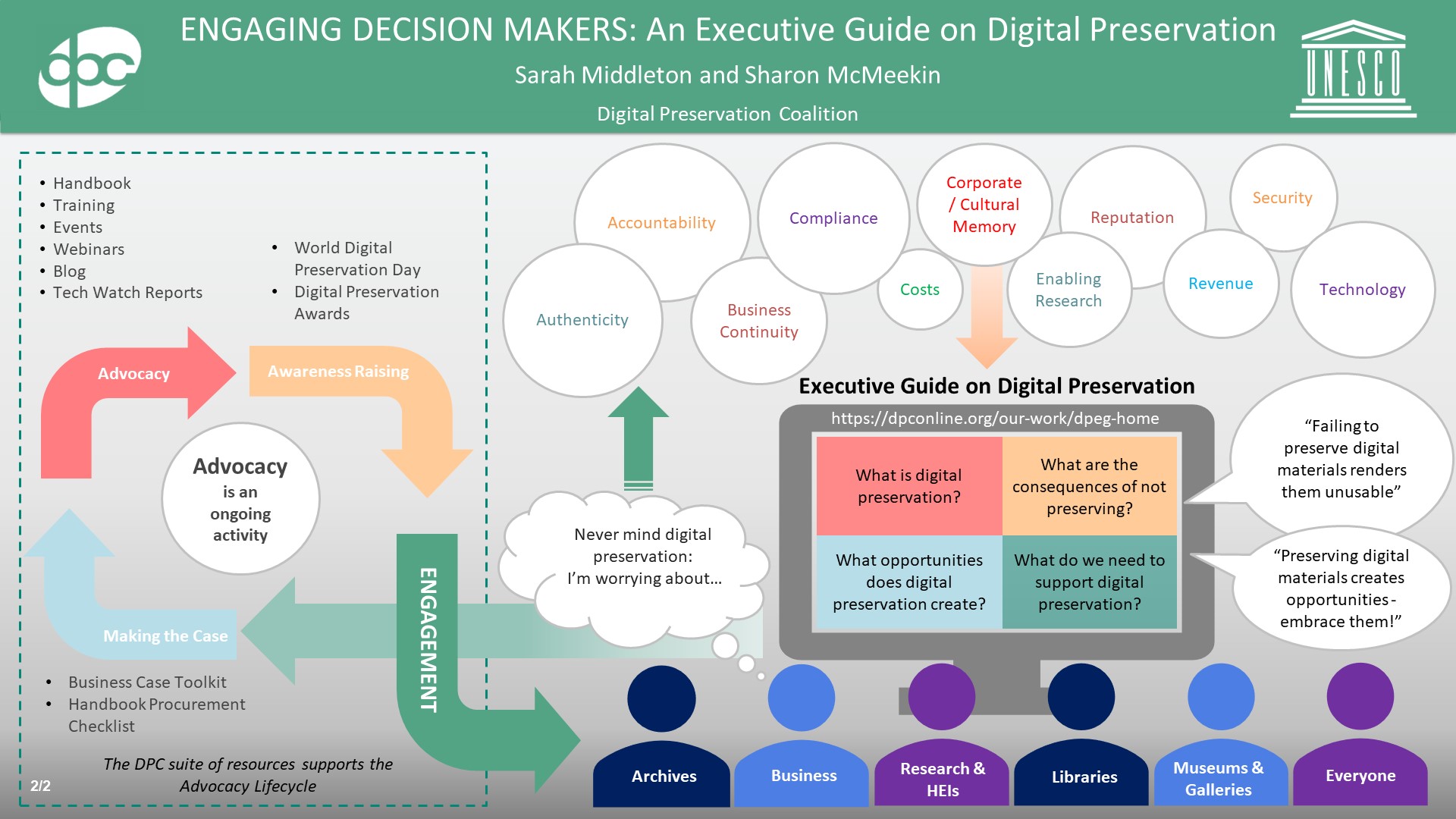 "The Executive Guide on Digital Preservation was written by DPC members for the whole of the digital preservation community," explained the DPC's Head of Advocacy and Community Engagement, Sarah Middleton as she received the award at the iPRES 2019 Conference dinner. "It's free and available for anyone to use from the DPC website. The more people who use it, the richer it will become!"
The development of the Guide is supported by UNESCO whose member states each have a role in implementing the UNESCO Recommendation concerning the Preservation of, and Access to, Documentary Heritage Including in Digital Form. In order to support the UNESCO member states, and all organizations, in their mission to preserve our digital heritage the Guide aims to be as broad reaching as possible.
Recognizing that even within the same sector or state, every organization is different, has different priorities, risk factors and motivators, the Executive Guide on Digital Preservation presents a set of generic and sector specific statements, which may be selected and tailored by individual organizations to assist in their internal advocacy work and in the application of the UNESCO recommendations.
The not-for-profit DPC is an international advocate for digital preservation, and the Executive Guide on Digital Preservation is just one of the ways it helps the digital preservation community around the world raise awareness of the need for resilient long-term access to digital content and services. The Coalition also supports its Members through community engagement, targeted advocacy work, training and workforce development, capacity building, good practice and standards, and through good management and governance. Its vision is a secure digital legacy.