ICA's "Managing Digital Archives" online learning course is unique in the depth and breadth of content and in its accessibility and affordability to archivists, records managers and affiliated professionals around the world. It is learner-paced training which provides a thorough grounding in the management of archives in digital formats. By the time learners have completed the course they will have gained the understanding and knowledge they need to set up and/or run their own digital archives programme.
ICA conducted a membership training needs survey in 2017 and 73% of those responding identified digital records and archives management as the subject area where they most needed development opportunities. This course is a direct response to members' needs. In the context of ICA's Training Programme it is intermediate level as learners need to be familiar with the principles and practice of managing archives in physical formats in order to fully understand the content. They also need to be proficient in the use of computers for everyday personal and office requirements and have a basic understanding of the potential and implications of information technology for archives management.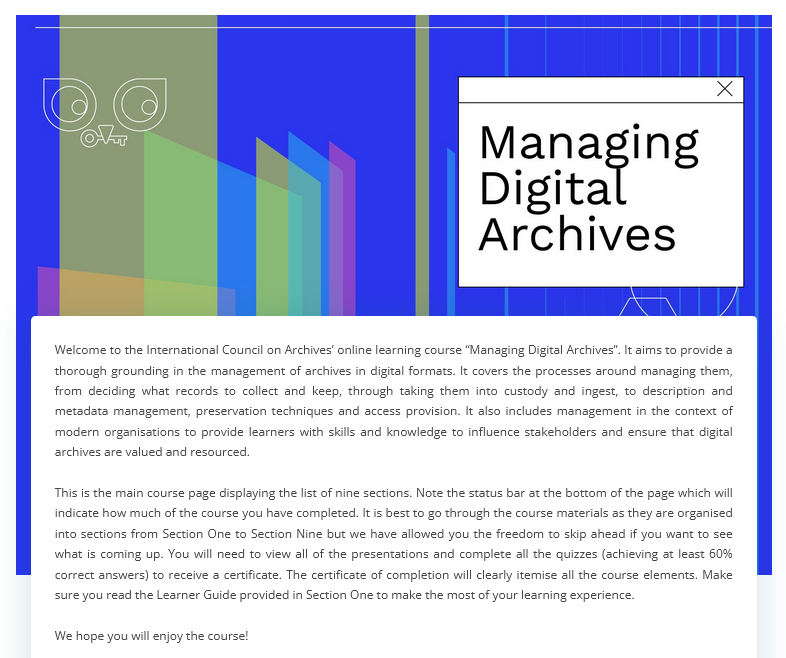 The course structure and content is the brainchild of Dr Nancy McGovern, an international expert in digital preservation with a solid background in managing archives in all formats. This course fills the gap between university course modules on digital archives management, on-the-job learning and short training courses. It also provides an opportunity for learners in locations where options for professional development and instruction may be more limited. It is unique in content, in the way it delivers content to learners, and its emphasis on learners reflecting on what the subject matter means in their own practice. It also encourages learners to see the course as part of their own development journey which is on-going and will require them to join and contribute to the community of digital archives and preservation practice. The course is currently available in English and in French.
"Managing Digital Archives" provides learners with the knowledge to develop the infrastructure to manage their digital archives now and provide contemporary access as well as preserve them over time to ensure their survival and access in future, distinguishing real-time digital archives activities from over-time digital preservation to maximise efforts and resources. It also suggests options for learners to continue to develop their knowledge and skills, building their confidence and empowering them to build digital archives management capacity in their organisations. The course explains how to manage digital archives with examples to illustrate the optimal way to look after digital materials while relevant technologies emerge and practice evolves in response. It emphasises practical steps to start or advance digital archives management with limited resources and is grounded in the standards and practice that provide a foundation for the ongoing stewardship of digital archives. The course not only covers digital preservation principles and practices but also all aspects of managing digital archives.
The course consists of seven substantive sections as follows: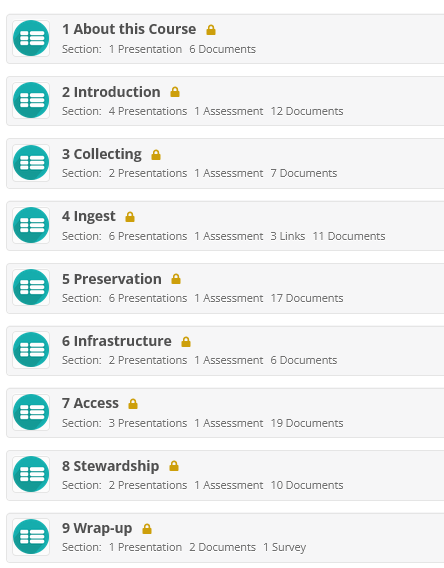 'Introduction' explores key challenges of managing digital archives, core concepts and terminology including a disambiguation of digital archives and digital preservation and in-depth introductions to essential standards that are used throughout the course.

'Collecting' engages learners in understanding the importance of appraisal and collecting priorities for building sustainable digital archives.

'Ingest' deconstructs and demonstrates options for scalable and standards-based workflows for the controlled intake of digital content with extensive examples and illustrations from a range of contexts. 'Preservation' delves into the standards, management tools, functions and implementation options for long-term preservation to ensure ongoing access to digital content.

'Infrastructure' examines the organisational and technological infrastructure elements necessary for managing digital archives across generations of technology, building on concepts and examples introduced in previous modules.

'Access' covers how to plan, manage and deliver access to digital archives for researchers and other stakeholders

'Stewardship' uses the essentials of the preceding modules focus on building capacity to sustain digital archives, including ongoing investment in knowledge and skills, and ways to assess and demonstrate success in managing digital archives.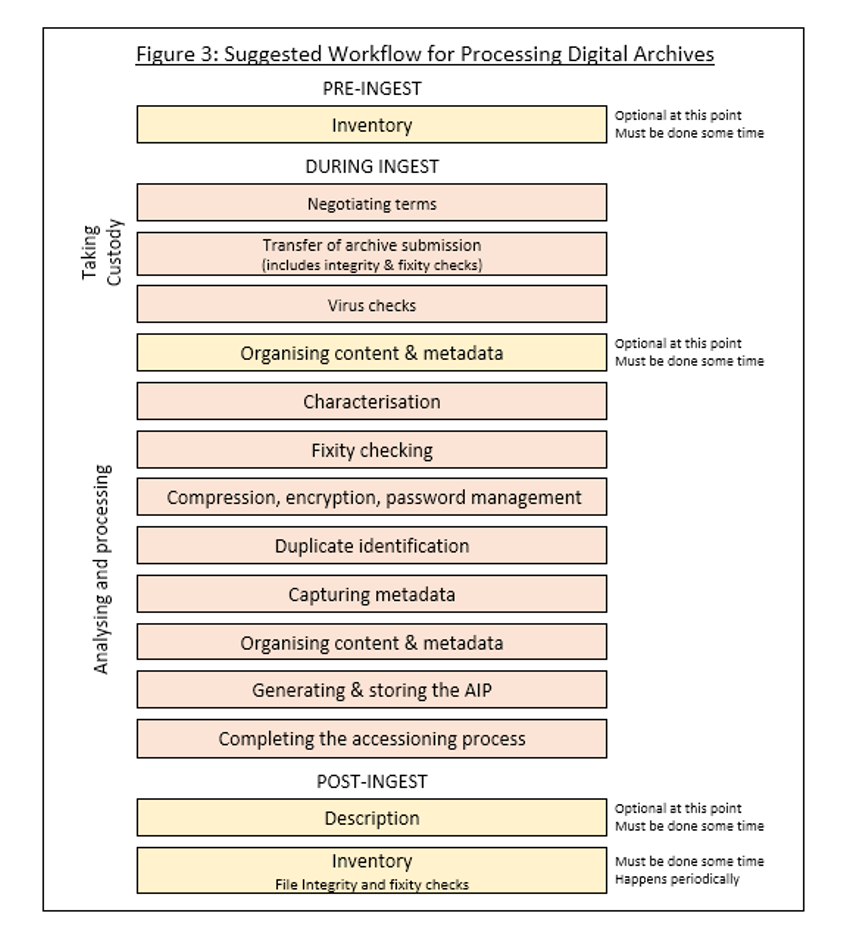 The course takes approximately 60 hours of study time and learners have four months to access the materials via ICA's online learning system in which to complete it. Materials are delivered via ICA's online learning system. Learners can register for the course for a modest fee and access it at their own pace. Although the course is not designed to include active tuition, learners can contact the course authors if they have any queries about or difficulty understanding the materials. Each course section consists of video presentations, original background texts, additional resource lists, links and downloads and a quiz. Scripts of presentations and static slides are provided to give additional support to those for who are not totally fluent in English or French as well as those who have limited bandwidth and/or infrequent access to computers. The course also contains a set of optional exercises specially designed to give learners a focused and practical way to reflect on what they are learning. The exercises build up into a portfolio that not only documents what is learned but may also be the basic documentation on the learner's own digital archives programme.
The course includes several specially created documents and presentations. The 'Special Topics' provide in-depth explanation of the most important and useful standards and guidance for digital archives management together with how to use them in everyday digital archives practice. There is an overview of OAIS-based Information Packages which explains the constituent parts. There is a 'Working Definitions' list to provide a glossary for the technical language but also to accustom learners to understanding and explaining the terms and concepts they will need to use in managing digital archives.
Quizzes consist of multiple choice, matching concepts and true/false style questions. Learners must score 60% of the questions correct to download the certificate of completion. They can take the quiz as often as they like. They are also obliged to fill out a course evaluation to provide feedback on their learning experience.