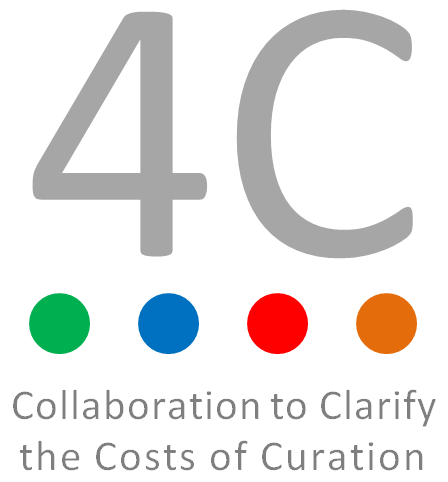 4C - the 'Collaboration to Clarify the Costs of Curation' was aimed at helping organisations across Europe invest more effectively in digital curation and preservation. Research in digital preservation and curation has tended to emphasise the cost and complexity of the task in hand. 4C reminded us that the point of this investment is to realise a benefit. With this in mind the 4C research encompassed related concepts such as 'risk', 'value', 'quality' and 'sustainability' leading to the conclusion that organisations that understand this will be more able to effectively control and manage their digital assets over time, but they may also be able to create new cost-effective solutions and services for others. Visit the 4C website for more information.
Project highlights:
The 4C Roadmap: an outline of the steps that should be taken in the 5 years leading up to 2020, in order to maximise the efficiency of digital curation.
Curation Costs Exchange: Understanding and comparing digital preservation costs to support smarter investments.